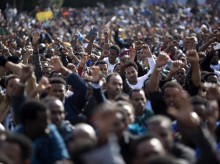 African migrants chant slogans during a protest in Rabin Square. (AP Photo/Ariel Schalit, File)
JERUSALEM (AP) — A government plan to deport tens of thousands of African migrants has sparked an unexpected backlash from liberal Israelis and their American Jewish allies who say Israel — established in the wake of the Holocaust — should never be turning away those in need.
The showdown could come to a head on April 1, when the state plans to start expelling Africans, some of whom have been in Israel for years and have children who know no other home, to an uncertain fate.
In recent weeks, groups of Israeli pilots, doctors, writers, former ambassadors and Holocaust survivors have all appealed to Prime Minister Benjamin Netanyahu to halt the deportation plan, warning it was unethical and would cause grave damage to Israel's self-described image as a light upon the nations.
Even Yad Vashem, Israel's official Holocaust memorial, has weighed in. While rejecting any comparisons between the plight of the migrants and the victims of the Holocaust, it said the issue nonetheless is a "national and international challenge that requires empathy, compassion and mercy."
"The experience of the Jewish people over generations heightens this obligation," it said in a statement. "The authorities in Israel must make every effort so that there is no person who arrived in Israel with a sword over his neck that did not receive refugee status."
Even such an inference has struck a raw nerve, with the government accusing some critics of cynically invoking comparisons to the plight of Jews in Nazi Germany.
"This campaign is baseless and absurd," Netanyahu said. "Genuine refugees and their families will remain in Israel. We have no obligation to allow illegal labor migrants who are not refugees to remain here."
Advocates dispute that, noting Israel's poor record of processing refugee requests. They note that of some 15,000 African refugee status requests, only 11 have been approved, citing this as evidence that Israel is being disingenuous and not living up to international standards.
"These are lies on the backs of the weakest people," said Dror Sadot, from the Hotline for Refugees and Migrants advocacy group. "It's unreasonable that only in Israel these are 'infiltrators' and everywhere else in the world they are refugees."
The Africans began heading to Israel in 2005 after neighboring Egypt violently quashed a demonstration by Sudanese refugees in which at least 27 were killed, and word began to spread of safety and job opportunities in Israel. Since then, Israel has been grappling with how to balance the country's history as a refuge for Jews fleeing persecution against the fear that the swelling numbers would threaten its Jewish character.
About 60,000 migrants crossed Israel's previously porous desert border with Egypt before a barrier was completed in 2012 along the 130-mile (220-kilometer) frontier.
Since then about 20,000 have left either voluntarily, via a United Nations program or with the encouragement of the government, which offers each about $3,500 and a plane ticket to leave. Others have found themselves locked up for lengthy periods in a massive detention center in the remote southern desert, keeping them away from their menial jobs in hotels and restaurants.
Still, thousands of migrants are concentrated in neighborhoods in south Tel Aviv, where ethnic food shops and phone card stalls line the streets, and the area has become known as "Little Africa." This has sparked tension with the working-class Jewish residents who have been putting pressure on the government to find a solution.
The government, dominated by nationalist parties, has championed the cause of the residents. After years of delays, the Cabinet recently voted to begin shipping out the remaining 40,000 migrants, even against their will, to an unnamed third African country with which it has reached a secret agreement.
The country is widely reported to be Rwanda, though it denies it, and Netanyahu has cryptically referred to it as what "the U.N. considers it to be one of the safest countries in Africa."
Justice Minister Ayelet Shaked said the vast majority of Africans in Israel are young men seeking work, rather than refugees, and Israel had a right to dictate its immigration policy.
"Israel cannot be the unemployment office of Africa," she told Israel's Army Radio on Tuesday. "They are not being sent to their death, they are going to work somewhere else."
The Africans' advocates say this is not so. They say Rwanda has not absorbed them, with most moving on to Uganda and then elsewhere in Africa.
Nearly all hail from Eritrea, where men are often forced into a military service with slavery-like conditions, and Sudan, which was torn by a 22-year-civil war and a genocide in its Western region of Darfur.
Unable to return to their home countries, the activists say the migrants have been pushed into a second refugee ordeal, where many have been tortured, extorted and raped in Libya or drowned trying to make it to Europe. In one well-known case, an Eritrean Christian who had left Israel was beheaded on a Libyan beach by the Islamic State group in 2015.
Israel's Interior Ministry, which oversees policy toward the migrants, declined comment. But at a recent parliamentary debate, Interior Minister Arieh Deri, an ultra-Orthodox Jew, said it was "Jewish morality to deport the infiltrators."
Such rhetoric has outraged some of Israel's greatest supporters. The Anti-Defamation League and the Reform Movement are among the leading Jewish American groups to express concerns over the pending deportations in recent weeks.
Joey Low, a New York-based philanthropist who has donated millions of dollars to Israeli causes, said the country must freeze its deportation plans and establish a thorough mechanism to evaluate each individual asylum seeker. Should it not, he said he would be so ashamed he didn't think he'd be able to invest or even visit Israel again.
"If they do it, it will forever be a blemish on our history," said Low, himself a son of a refugee from Nazi Germany. "It's an attack on our core values. It's what makes Israel special and what makes Jews special."