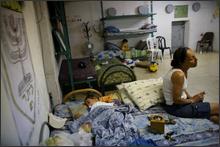 Ester Vaknin, right, sits inside a bomb shelter. (AP Photo/David Guttenfelder)
KIRYAT SHEMONA, Israel (AP) — Israelis in northern Israel welcomed the Sabbath at synagogues and with traditional festive meals on Friday, but the continuing threat of Hezbollah rockets and an uncertain future loomed large.
Abraham Weitzman, 58, said services at the "Beit Yaakov" synagogue in Kiryat Shemona would proceed as usual, only faster.
"Today, they'll be less singing," he said, rubbing the skullcap on his head. "We'll pray and then we'll run."
Kiryat Shemona, like other northern towns, has been a frequent target of Hezbollah rocket fire from Lebanon and the army has recommended residents stay in bomb shelters.
Weitzman has been sleeping in the public shelter just below the synagogue for more than two weeks. Daily visits to the synagogue are among his few above-ground excursions. He said there was no way he would miss Friday night services.
"Especially because of the situation we should come to synagogue more, maybe it will help," he said. "We are doing something good and believe that he (God) will help us, despite the difficult days."
But the Orthodox congregation has trouble even gathering a minyan, the minimum of 10 Jewish men required to start services at the synagogue. Most of the regular attendees have fled town and prayers are delayed for 20 minutes before enough members arrive.
Shaul Malca, 65, said the turnout would be better if services were held in the shelter below, but that was not an appropriate place for prayers.
"We pray everyday to God to help us," he said, as the sounds of artillery fire echoed outside. "When we are here, we feel safe."
Some, like Uriel Kolticker, 38, come to give thanks. Earlier Friday, a rocket landed next to his house. His home was damaged and he was treated for shock.
In the battered Haifa neighborhood of Bat Galim, wary residents also kept their distance from public places of worship.
One synagogue was closed because its windows were shattered by a rocket attack, and six men had to wait a half hour at another for a minyan.
"People are not coming. They are too scared. In regular times there are about 50 people every Friday," said Moshe Tubul, one of the worshippers.
At home with her husband and two children, Tatiana Bulanovitch prepared a traditional dinner. Their house is just one block from a building that was destroyed by a direct rocket hit. On Tuesday, another rocket landed some 65 feet from their house and shattered all their windows.
Though not religious, recent events have put Bulanovitch in a more spiritual mood.
"At least in religion you can find something secure," she said. "In times that we live in you think more about religion."
Bulanovitch said she never observes Friday night rituals, such as lighting candles and reciting a prayer for the wine and bread but would have liked to do so now.
"But I am afraid that if I do it my kids will understand that there is something not normal," she said. "I don't want to show my kids that I am scared."
In Kibbutz Hagoshrim, near the Lebanese border, residents also got together for a non-religious Friday night service. It was the first time they had done so. Instead of prayers, however, they recited folk songs accompanied by an accordion.