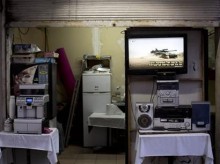 A TV screen shows the ongoing fighting between Israel and Gaza at the entrance to a coffee shop in downtown Tel Aviv. (AP Photo/Oded Balilty)
HOD HASHARON, Israel (AP) — A morning siren in this middle-class Israeli town sent some fleeing inside for shelter — but others ran outside, curious to catch a glimpse of the incoming rocket being shot down from the sky.
Thanks to Israel's "Iron Dome" defense system, Israelis seem to fear less for their lives than for their lifestyles as they adjust to the anxiety of random, potentially deadly, yet generally harmless rocket attacks.
Whereas the residents in northern and southern Israel have years of experience in coping with militant rocket fire, the people in central Israel are new to the reality and still getting used to hearing sounds of explosions.
"It just doesn't make any sense that this is happening," said 18-year-old Taly Shlomo, who exited a Hod Hasharon bakery to watch the fireworks above. "It's not scary because nothing terrible has happened yet but it's something you can't get used to. It's crazy."
In Gaza, Israeli strikes have left a trail of devastation, with more than 200 people dead in just over a week of fighting — a quarter of them children, according to the United Nations. Southern Israel has experience with the dangers too, battered for years by militant fire from Gaza that has caused deaths and frequently sends residents rushing for safety. But in central Israel, residents have long cultivated a sense of distance from the region's conflicts — and their main concern now appears to be that it not be shattered.
Residents are struggling to decide whether to carry on with their routines or take emergency precautions, whether to keep up with the nonstop TV coverage of the fighting or tune out entirely for their own sanity. Parents are debating whether to rush their children to shelters at the sound of each siren or take their chances but not convey panic.
"We live in a weird and distorted reality," said Maya Elharar, a 36-year-old mother of three. "The anxiety is there all the time. It's very sad that people have to endure this."
Her husband Roni was sitting across from her, outside the restaurant they own, as his iPhone beeped from an app informing him of another nearby rocket attack warning. He said daily life hadn't been altered, just disrupted, and it was something that could not be sustained over time, particularly for children.
A striking photo of some 20 young children lying on the floor of their Hod Hasharon kindergarten during a siren with their hands covering their heads was featured prominently Wednesday in Israeli media. The images from Gaza have been far more harrowing, with funerals of children and scenes of others huddling with their families in refuges after their homes have been destroyed.
Israel suffered its first fatality of the fighting Tuesday, when a civilian delivering food to soldiers near the Gaza border was killed by shrapnel from a mortar. At his funeral Wednesday, a eulogizer prayed he would be the last victim of this offensive.
Most Israelis say they are willing to stomach the abnormal reality a while longer to avoid repeating a similar situation again, having already faced three rounds of fierce rocket fire over the past five years.
"The rockets have to stop once and for all. Either they stop it or we need to stop it for them," said Said Shabi, 64.
When asked if he feared for his life, he shook his head and pointed a finger toward the sky. But it wasn't divine protection he was referring to.
"I feel safe thanks to 'Iron Dome,'" he said.
The high-tech missile-defense system has made the 1,300 rockets fired from Gaza since July 8 more bearable for Israelis, as most of those aimed at civilian populations have been intercepted. Those that have landed have mostly produced minor damage and distant booms.
Shabi's wife, Racheli, said the economic fallout has been more painful. She shut down her flower and gift shop in recent days because clients were staying home. "No one is the mood to buy presents these days," she said.
The emotional toll was even harder to calculate.
"As a mother, I am always worried," she said. "I know the chances of being hit are so small but I still think my kids are going to need treatment someday because they are scared all the time."
Yotam Dagan, the director of community outreach at Israel's Trauma Center for Victims of Terror and War, said the fear was warranted.
He said research showed that some 20 percent of those exposed to large explosions would develop some form of post-traumatic stress disorder, Israelis and Palestinians alike.
For most it would be fleeting, though, and he said Israelis have evolved since a wave of suicide bombings a decade ago.
"Our communities are much more resilient than 10 years ago. We've learned to move from normalcy to emergency in minutes," he said. "Israeli society is getting more mature but when a missile lands near you it takes something out of you."
Alroyee Ben-Tzadik, 35, said he promised his wife that he would head to shelter in case of a siren but defiantly said he would adjust easily if the attacks became commonplace.
"It doesn't bother me too much and it won't affect my life," he said. "This country is hard. Life in not simple. Those who live here know that."