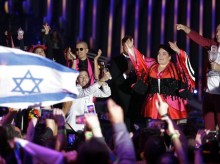 Israel's Netta Barzilai celebrates after winning the Eurovision Song Contest grand final in Lisbon, Portugal. (AP Photo/Armando Franca)
TEL AVIV, Israel (AP) — Thousands of Israelis took to the streets early Sunday to celebrate their country's victory in the Eurovision Song Contest.
Fans flooded Tel Aviv's Rabin Square in front of City Hall, with some euphorically jumping into a public fountain, after Netta Barzilai was announced the winner in Portugal with her techno dance tune "Toy." The City Hall building was lit up to spell "Toy" and electronic signs throughout the city congratulated her.
The 25-year-old Barzilai, popularly known by her first name, has become a sensation in Israel thanks to her oozing confidence, charisma and spastic performances, which include a clucking sound like a chicken and barely decipherable words, as well as the use of a looping machine and synthesizer.
The win — Israel's first since 1998 and fourth overall — means it will host next year's contest.
Here's a look at what the win in the hugely popular song contest means for Israel:
NATIONAL PRIDE
In a country with a perpetual sense of siege, Israel tends to go gaga over any international success that reinforces its image of itself as a normal country.
Even minor sporting and cultural achievements are disproportionately celebrated, and the Eurovision is regarded as the crown jewel of them all. Many Israelis see it as proof that the Jewish state can overcome those seeking to boycott it over its treatment of the Palestinians.
"Hallelujah" became the country's unofficial national song after it won the contest for Israel when it hosted the event in the late 1970s, and Dana International became a national hero and global transgender icon when she won with "Diva" in 1998.
This year's contest smashed overnight TV ratings records, and Netta fielded congratulatory phone calls from the nation's leaders, including Prime Minister Benjamin Netanyahu, who called her Israel's "greatest ambassador."
"It's a moment of joy that makes everybody together, it's a consensus," said Izhar Cohen, who won Israel's first Eurovision crown 40 years ago. "Because we are separated with so many views and political sides and all that, this contest made us one country, one people and I'm so happy for that."
___
NEXT YEAR IN JERUSALEM
The prospect of Israel hosting next year's contest in Jerusalem shines a spotlight on the contested city just as Israel marks the annual Jerusalem Day, the anniversary of what it refers to as the city's "unification" following the 1967 war, and a day before the United States is set to officially open its embassy in the city.
Israel captured east Jerusalem, along with the West Bank and Gaza Strip, in the 1967 Mideast war. It later annexed the eastern sector in a move not recognized internationally. The Palestinians claim east Jerusalem as the capital of their future state, a position with wide international backing.
When the Eurovision hosts turned to each country to hear their votes, Jerusalem was the only capital city not mentioned by name. As she picked up her award, Netta shouted to the audience "I love my country. Next time in Jerusalem!" There will be no escaping the issue next year unless the competition's rabid fans in coastal Tel Aviv get their way and manage to host it instead.
___
GOOD TIMES IN ISRAEL
The Eurovision win comes as Israel is enjoying an unparalleled grace period. It just concluded a successful hosting of the start of the Giro d'Italia cycling race, the first Grand Tour event ever held outside Europe. The government is also relishing in Trump's warm embrace, his recognition of Jerusalem as Israel's capital and his nullifying of the nuclear deal with Israel's arch-enemy Iran.
Netanyahu chose to open his weekly Cabinet meeting Sunday by noting Netta's win. "These days Jerusalem is being blessed with many gifts. We received another one last night with Netta's thrilling and suspenseful victory," he said. "The gift is that the Eurovision will come to Jerusalem next year."
___
WOMEN'S EMPOWERMENT
The winning song's main chorus is "I'm not your toy, You stupid boy, I'll take you down." Netta has referred to it as a song about women's empowerment, and the message seems to have resonated with fans — the song racked up more than 20 million views on Eurovision's YouTube channel even before Saturday night's event.
Netta's physical appearance has upended traditional notions of what it takes to be a female pop star, and she has become a model for plus-size women. She has been unapologetic about her weight, the loud colors she wears and the funky chicken moves that have become her trademark.
On Saturday night, she won out over a sultry, hip-shaking pop star from Cyprus who wore a glittering outfit that bared her navel and flat stomach.
"Thank you so much for choosing different. Thank you so much for accepting the differences between us. Thank you for celebrating diversity," Netta said in her victory speech.