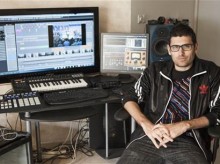 Israeli musician Noy Alooshe poses for a photograph in his studio in Tel Aviv, Israel. (AP Photo/Dan Balilty)
TEL AVIV, Israel (AP) — One of the most unlikely stars of Israel's election campaign is a musical artist whose popular video remixes of stump speeches have rocked YouTube, leading some of his most prominent targets to try to recruit him.
Drawing his inspiration from the world of hip-hop, Noy Alooshe splices together catchphrases, awkward facial expressions and catchy dance music to skewer politicians across Israel's chaotic political spectrum. Aside from the creative satisfaction, Alooshe says he is relishing being a new player in the national political conversation. "It's not only the music that matters for me now," the 35-year-old says.
Working from a one-bedroom apartment in a bohemian Tel Aviv neighborhood, he samples speeches online and melds them into songs using a keyboard and a flurry of electronic beats. He then uploads the creations to his Facebook page and YouTube channel, where they regularly get tens of thousands of hits and become national water-cooler conversation pieces.
"This is the kind of thing that rules the Internet today," he said.
He's not the first to find success with the genre. The Gregory Brothers in the U.S. have produced a host of mashups and Auto-Tune hits that include "The Bed Intruder Song," a remix of a local TV report about a botched home invasion that drew more than 120 million views on YouTube.
But Alooshe's focus is politics. His first clip, "Livni Boy," was Israel's answer to the hit "Obama Girl" video of the 2008 U.S. presidential campaign. It featured a Tel Aviv man seductively crooning his admiration for former Foreign Minister Tzipi Livni before the 2009 election she narrowly lost to Prime Minister Benjamin Netanyahu.
Alooshe's big breakthrough came in 2011 when he laid down a fiery speech by then Libyan leader Moammar Gadhafi onto a techno track. The resulting "Zenga, Zenga" video attracted more than 5 million YouTube views, and Alooshe says other versions of the song took the viewership to well over 10 million.
He said the light bulb went on when he saw Gadhafi threaten to go alley by alley — "zenga zenga" in Libyan Arabic — to track down the rebels who would eventually overthrow and kill him.
"It's like 'baby, baby' of Justin Bieber or 'Waka, Waka' of Shakira. It's 'Zenga, Zenga.' All I need to do is take a beat and make it a dance song and this is what I did," he said.
Alooshe followed it up with "Bibi Shake," making fun of Netanyahu's boast in a TV interview that Israel is an island of stability by mixing it with images of a massive social protest movement. Netanyahu rhythmically waves his hands from side to side in Alooshe's signature style of making politicians appear to dance.
The exposure led to a slew of commercial opportunities for Alooshe, including ads for companies like McDonalds and Coca-Cola, and he now makes a living from his craft. He also launched the official Facebook page of former President Shimon Peres with the clip: "Be my friend for peace." A picture of him with Peres is one of two hanging on the wall of his spartan apartment. (The other is of Kramer, of "Seinfeld" fame).
In the run-up to the March 17 election, he has unleashed a series of videos, with every new release showcased on national TV. He says politicians have started lobbying him to remix phrases from speeches that they've included with him in mind.
"Noy Alooshe has become a political celebrity," said Roei Deutsch, head of digital media for the centrist Yesh Atid party. "He's become the 'it thing' in politics that everyone wants to be a part of. It's almost like if you are not there, you're square."
Alooshe, who describes himself as a "rational," secular Israeli who doesn't lean right or left, says a number of parties have tried to recruit him but that he has thus far resisted in the name of creative independence.
One of Alooshe's favorite targets is Miri Regev, a populist hard-line Likud lawmaker known for her sharp tongue and penchant for waving the flag. Alooshe highlighted her antics in hopes of curbing her popularity. Instead, Regev has embraced the attention and earned new supporters. Last week she surged into fourth place in the Likud party primaries to become the most powerful woman in Israel's ruling party.
"They (the politicians) understand that if they did not join the party everybody would laugh at them," said Alooshe. "There is no such thing as bad publicity, and I think that Miri Regev understands this."
He said he even turned down a request from Regev to produce a clip for her. Regev refused to comment.
He has also taken on Cabinet Minister Naftali Bennett, the leader of the nationalist Jewish Home party, who is widely regarded as having the most Web-savvy staff in Israeli politics.
Alooshe was invited on Israeli TV recently to assess a Bennett video. Bennett's staff quickly turned Alooshe's on-air critique into a remix of their own in his style, and Alooshe soon retaliated with a counter-remix. Bennett's campaign refused to comment, but Alooshe pointed to it as an example of his influence.
"This is like the kind of thing that says you are a brand," he said. "Even the minister finds time to mess with your stuff."