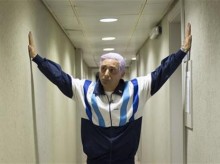 Comedian Mariano Idelman, who typically portrays Israel's Prime Minister Benjamin Netanyahu. (AP Photo/Ariel Schalit)
HERZLIYA, Israel (AP) — For many Israelis, the country's election campaign has only truly begun with the recent return of "Eretz Nehederet," a biting TV satire that is Israel's equivalent of "Saturday Night Live." The show provides a cultural touchstone for a famously combative political environment that, as the vote draws near, is becoming surprisingly laced with humor.
With all sides seeking a popularity edge ahead of the March 17 election, the 12th season of the show is keeping politicians uneasy that they could become the butt of the next national joke.
"For a show like this, war and elections are its ultimate fuel. What's not good for the country is good for Eretz Nehederet," said Roy Bar-Natan, a comedian who portrays Israel's main opposition leader, Isaac Herzog, on the show, poking particular fun at Herzog's notoriously nasal voice.
But it's Prime Minister Benjamin Netanyahu who is the show's omnipresent target of first choice. The executive producer, Muli Segev, rejects charges that the program is overtly hostile to the right-wing nationalist bloc headed by Netanyahu. He insists it's just a satirist's job to mock the powerful — and there's nobody more powerful at present than "Bibi," as the Likud Party leader is known.
"We don't let anyone off the hook and we definitely do not act on behalf of anyone's political interest," Segev said. "Naturally we focus more on who is in power."
A season-opening "Star Wars"-themed skit set the tone by portraying Netanyahu as the evil emperor, Foreign Minister Avigdor Lieberman as Darth Vader, and Herzog as Luke Skywalker. Herzog's light saber goes flaccid when upstaged by his more dynamic ally Tzipi Livni, a.k.a. Princess Leia.
Israel's political elite acknowledges the show's influence and audience — its season opener drew 1.1 million viewers in this country of 8 million — both in word and deed.
Netanyahu even has attempted to harness the comedic zeitgeist by starring in Likud campaign commercials in which he mocks pretty much all of his rivals: not just Herzog but even rival leaders from his own coalition government.
His latest ad features Netanyahu arriving at the door of an affluent Israeli couple expecting a baby-sitter. Instead, Israel's leader since 2009 tells the shocked parents, "You got a Bibi-sitter." Netanyahu asks who they'd rather have care for their children: him or "Bougie," Herzog's somewhat unfortunate nickname since childhood meaning "little doll" and pronounced "Boo-ji."
"Bougie? Our children would have to take care of him!" the father protests. "By the time we got home, we wouldn't have a house left," says the mother.
An earlier ad has Netanyahu playing the role of kindergarten cop to a range of small children symbolizing his own coalition partners, struggling to share toys and behave. The message is clear: Bibi's the only grown-up in the Knesset.
Both Netanyahu and U.S. President Barack Obama have paid homage to the popularity of "Eretz Nehederet," which means "Wonderful Country" in Hebrew.
When Obama addressed Israeli youths during a 2013 visit, he dismissed reports of friction between him and Netanyahu as "a plot to create material for Eretz Nehederet."
"We just wanted to make sure the writers had good material," Obama said to laughter.
Netanyahu took a more direct approach that year — and went on the show to riff with the actor who portrays him, Mariano Idelman, wearing a matching suit and tie. Idelman typically portrays Netanyahu as a slick, cigar-smoking hedonist fond of warmongering and scare tactics.
"So let's get down to it: Which ministry do you want, education or finance?" the prime minister said to the pretend-Netanyahu, reflecting the fact that several Israeli celebrities have transitioned into politics. "I know you people, you all end up in politics, so let's just get it over with!"
Some compare the show's cultural presence to "The Daily Show With Jon Stewart" in the United States, which is often described as a primary source of current affairs information for its viewers. But whereas Stewart actively champions left-wing arguments, media analysts say the content of "Eretz Nehederet" reinforces a sense of ill will against politicians of all hues.
"Eretz Nehederet" enhances feelings of "alienation and cynicism toward politicians," according to communications lecturer Meital Balmas-Cohen of Hebrew University, who did a 2012 research paper on the show's impact.
The show appears to respect no taboos. The current season already has lampooned religious Jews in the military and racism toward the country's Arab minority. Previous seasons have taken on the Holocaust, sexual assault and terrorist attacks.
Even before former President Moshe Katsav was imprisoned for rape and Netanyahu's predecessor, Ehud Olmert, was convicted of corruption and handed a still-pending jail sentence, the show ridiculed their transgressions.
The latest episode features a fake ad recruiting people to join the School of Government and Corruption. Its alumni, including Olmert, are proudly displayed on a wall of fame, while its cafeteria offers all customers inflated receipts for expense-fiddling purposes.
Foreign Minister Lieberman, who immigrated to Israel from the Soviet Union decades ago, is another favorite target. He's portrayed as a menacing, Russian-accented thug with totalitarian inclinations.
In the "Star Wars" skit, Israel's ultra-Orthodox Jews are portrayed as stormtroopers, their white uniforms topped by black hats and sidelocks. Ultranationalist leader Naftali Bennett, a proponent of West Bank settlement construction, is seen lobbying for finances to build Jewish settlements on Pluto.
In a stab at the political missteps of left-wing leaders, former Israeli President Shimon Peres is cast as Yoda, the wise Jedi master — who disappears when asked by an apprentice how to win an election. The 91-year-old Peres, despite serving as prime minister several times, never managed to win election to the post outright.
Eyal Kitzis, the show's straight-laced fake news anchor, said Israel was in many ways a comedian's dream, but the brutal or bizarre reality could sometimes be difficult to lampoon. "The reality here sometimes goes way beyond any satire," he said.
Segev said no viewer could miss the rich irony of the show's name.
"After you watch a show and see all the things we touch upon," he said, "the conclusion that we have a wonderful country is kind of wishful thinking."