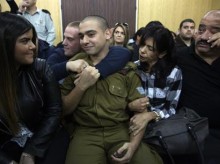 Israeli solider Sgt. Elor Azaria waits with his parents for the verdict inside the military court in Tel Aviv. (Heidi Levine, Pool via AP).
TEL AVIV, Israel (AP) — The rare manslaughter conviction Wednesday of an Israeli soldier who fatally shot a badly wounded Palestinian attacker exposed a deepening rift between proponents of the rule of law and a burgeoning nationalist movement.
The military court verdict against Sgt. Elor Azaria marked a victory for commanders seeking to preserve a code of ethics, but it also brought calls for a pardon from prominent hard-line politicians, led by Prime Minister Benjamin Netanyahu, who expressed sympathy for the soldier or depicted him as the victim of a detached elite.
In a statement on Facebook, Netanyahu urged the public to "act responsibly" toward the military, Israel's most respected institution.
"We have one army that is the basis for our existence. IDF soldiers are our sons and daughters, and they must remain above all disputes," he said. But making no direct mention of the military court, he said: "I support granting a pardon to Elor Azaria."
With the statement, Netanyahu plunged into a visceral dispute that has deeply divided Israel, where military service is compulsory and support for young soldiers is widespread.
Since the March shooting, the military leadership has come under unprecedented criticism, as members of Netanyahu's coalition accused top generals of abandoning a serviceman on the battlefield. The uproar helped fuel the resignation of Defense Minister Moshe Yaalon, who staunchly defended the army from the assault from within.
It is rare for a military court to rule against a soldier over lethal action taken in the field, not only in Israel but also elsewhere in the world. But for a country that claims to have the "most moral army in the world," it had no choice but to come down hard on a soldier that the top brass was convinced had strayed, said Amichai Cohen, a senior fellow at the nonpartisan Israeli Democracy Institute think tank.
"If you want the justice system to be taken seriously, you have to punish something like this," he said. "The court can't be influenced by the changing political climate."
Azaria, an army medic, was caught on video by a human rights worker fatally shooting Abdel Fattah al-Sharif, a wounded Palestinian attacker who had stabbed a soldier in the West Bank city of Hebron. Al-Sharif was on the ground, unarmed and virtually motionless, when Azaria fired a single bullet in his head as other soldiers milled about.
The head of the three-judge panel, Col. Maya Heller, broke down Azaria's defense arguments in painstaking detail in delivering the verdict over nearly three hours.
She said there was no evidence to support his conflicting claims that the attacker was either already dead or had posed a threat. She called Azaria's testimony "unreliable," said he could not have "both sides of the stick," and concluded the shooting was "needless."
"We found there was no room to accept his arguments," she said. "His motive for shooting was that he felt the terrorist deserved to die."
That made little difference to Azaria's many supporters.
Outside military headquarters in Tel Aviv, hundreds of his backers held large Israeli flags, banners supporting Donald Trump and others that said "the nation neglected a soldier on the battlefield."
They periodically scuffled with police, and some chanted veiled death threats against the Israeli military chief, Lt. Gen. Gadi Eizenkot. The Ynet news site said the judges and prosecutor would receive bodyguards. The army declined to comment.
Netanyahu's evening announcement came hours after other members of his coalition called for Azaria to be pardoned immediately.
"Today, a soldier who killed a terrorist who deserved to die and who had tried to slaughter a soldier was put in handcuffs and convicted like a criminal," said Education Minister Naftali Bennett, head of the pro-settler Jewish Home Party.
The coalition has had disputes with the legal system, trying to delay an order to uproot an illegally built West Banks settlement outpost and seeking to retroactively legalize dozens of other illegal outposts.
Azaria is scheduled to be sentenced Jan. 15 and could face up to 20 years in prison, though he is expected to receive less than that. Netanyahu's call for a pardon fueled what will be a heated debate over whether Azaria deserves leniency.
Under the law, only Israel's largely ceremonial president can issue a pardon. President Reuven Rivlin's office said he would decide only after the legal process, including an expected appeal, runs its course.
The heightened tensions were on display in the cramped, stuffy courtroom. The 20-year-old Azaria entered smiling and appeared confident as he was embraced by a few dozen relatives and friends. But his mood quickly dampened as the judge began tearing apart his defense. As the verdict was delivered, he stared gloomily ahead as his supporters clapped sarcastically with some shouting, "Our hero!"
A female relative was kicked out for screaming at the judges, while another woman stormed out, shouting: "Disgusting leftists."
After the judges walked out, Azaria's mother, Oshra, screamed, "You should be ashamed of yourselves." Azaria tried to comfort her as she wailed. Another family member whipped his jacket at a reporter, missing his target and hitting another relative.
The shooting of al-Sharif occurred at the height of what has become a more than yearlong wave of Israeli-Palestinian violence and highlighted the difficulties facing young recruits operating in densely populated areas amid Jewish West Bank settlers, Palestinian civilians and potential attackers.
Azaria's supporters said he fired in self-defense. But his detractors, including senior military commanders, have said his actions were unbecoming of a soldier.
The uproar put the army in a delicate position. The military almost always defends the actions of its troops, but the strong video made the incident impossible to ignore. The army also is wary of becoming politicized, and in several cases, leading generals have feuded with hard-line political leaders.
One of Azaria's most vocal supporters, Cabinet minister Miri Regev, herself a former military spokeswoman, said the verdict could deter young Israelis from serving in combat units for fear of being abandoned.
Defense Minister Avigdor Lieberman, who had visited Azaria in court in solidarity, tried to temper tensions by saying that while he disagreed with the "difficult" verdict, it must be respected.
"We must keep the army outside every political argument … and keep it in the widest consensus in Israeli society," he said.
Israeli rights groups have accused the army of failing to prosecute soldiers who commit unnecessary violence against Palestinians.
It was just the second such conviction "in recent years," the army said. The first involved a soldier convicted in the death of a pro-Palestinian British activist in 2004.
"I felt that the court picked up the knife from the ground and stabbed it in the back of all the soldiers," said former legislator Sharon Gal, who is now the Azaria family spokesman.
Palestinians and rights groups praised the verdict, but called it an anomaly, given the many other questionable shootings that have gone untried.
Yusuf Mahmoud, spokesman for the Palestinian Authority in the West Bank, said the conviction "proved the sincerity of the Palestinian narrative and the lies of the Israeli narrative."