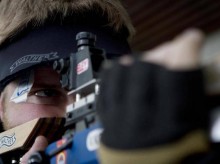 Israeli sharpshooter Sergey Richter practices at a shooting range. (Ariel Schalit, Associated Press)
HERZLIYA, Israel (AP) _ For more than seven hours a day, Sergey Richter stares through a sight and repeatedly fires bullets into bulls-eyes far in the distance. He's also been taking aim at a target far more difficult: raising enough money to compete in the Olympics.
Richter is among the top sharpshooters in the world and one of Israel's best hopes for a medal in London. But lacking sufficient government backing, the 22-year-old has been forced to turn to the Internet to raise money for his bid.
His plight is typical of the struggles facing competitors worldwide in a wide range of low-profile Olympic events. The struggles are even more profound in Israel, a security-obsessed country where sports have a very low priority.
"I want to reach a situation where when I get to London I can say to myself that I gave it my all and not to say I could have done better," Richter said after a shooting session at the national range just north of Tel Aviv.
He said he understands the financial constraints on the local Olympic committee. "I don't blame them. We are not the United States or Russia," he said. "(But) I want to be at the level of the top athletes in the world and I want financial peace and quiet as I get ready for the Olympics."
Two months ago, he set up a website offering T-shirts, medals and private shooting lessons in exchange for cash. The site has drawn nearly 150 donors who gave him the $13,500 he needed to train until the Olympics in July.
He's not the first athlete to try the strategy: British sprinter James Ellington used eBay last summer to raise more than $50,000 in sponsorship money for his Olympic bid.
But the Israeli's challenge is far greater _ his sport has less commercial value and its military undertone is off-putting to some potential supporters.
"There is not a lot of exposure to the field. It is very hard to understand what we are doing," he said. "A lot of people said that the connotation of the weapon was harmful to their company. I guess we live in a country where people are afraid of the word weapon."
Ironically, the country's top marksmen don't serve in combat military roles. Richter was labeled an "outstanding athlete" by the military and like a small number of elite athletes, given an exemption from mandatory service so he could focus on his training.
His coach thinks that's a mistake.
Guy Starik said the army's snipers could benefit from professional training, and the country's Olympians could enjoy better conditions _ such as the ones given to their American counterparts at the U.S. Army Marksmanship Unit at Fort Benning, Ga.
"Most of the American (Olympic) shooters are officers in the Army, getting paid as officers and their job is to train and shoot. They are also helping as instructors in the American Army and I think our shooters can help a lot the Israeli military," Starik said.
In London, Richter will participate in three events: the 50-meter rifle three positions, the 50-meter rifle prone (lying down) and the 10-meter air rifle event, in which he shares the junior world record of 599 out of a possible score of 600.
"Sergey is one of the 10 best shooters in the world, at his age he is the best in the world right now," said Starik, himself a four-time Olympian. "Sergey has a dream and he is doing everything he can to make it happen … I was training half a day and half a day working, and I hope that Sergey will be able to train twice a day as his opponents do all over the world."
Thanks to the web initiative, particularly a large sponsorship from Israeli high-tech company Cellact, Richter can do just that. He no longer has to work at Office Depot or at odd moving jobs to support himself and can devote himself entirely to fitness and training.
Nir Shuali, an Olympic sports writer at the Maariv daily, said the problem in Israel is not necessarily among the top-notch athletes such as Richter, but rather at the secondary levels and in developing youth sports, where there is a dire need for coaching and facilities.
"It's a miracle each time an elite athlete emerges here," he said.
The government's Sports Ministry says it has a grand plan for a $1.5 billion upgrade of the country's sports facilities over the next decade.
The ministry said its sports budget has been tripled in the past three years to around $32 million a year, and this year's Olympic budget of $5.6 million is the highest. It says the budget covers all the athletes' training, travel and housing needs.
But the ministry is still one of the least financed in Israel.
"The Sports Ministry does all it can to provide the Olympic athletes with the optimal conditions for success," spokeswoman Or Doron said. "Israeli sports has made great strides, and the Sports Ministry is determined to continue to promote it and lead it to excellence."
Israel's most accomplished international athletes are top-ranked tennis player Shahar Peer and the NBA's Omri Casspi.
In the Olympic Games, the country is still known for the murder of 11 of its athletes in Munich in 1972. But Israel has quietly won medals in each of the past five Olympics _ including its first gold at the 2004 games in Athens.
Of Israel's seven medals, three have come in judo, three in sailing and one in canoeing.
"We are not rich enough in resources, both human and financial, to spend our money, but we have enough talent in order to say that we are going to the Olympic Games in order to win," said Efraim Zinger, secretary-general of the Israeli Olympic Committee.
He said Israel's sports budget per capita is among the lowest of developed nations. He said Denmark, a country of similar size, has an Olympic budget of $26 million _ nearly five times that of Israel's.
"No doubt, if sport will have more money, Israel would have better results in the international sports arena," Zinger said. "The country's got bigger problems but it is not an excuse not to give more to sports."