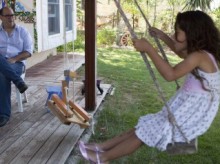 Micha Drori watches his daughter in his garden (AP Photo/Dan Balilty)
BARKAN, West Bank (AP) — Micha Drori is living the Israeli dream: a house, a yard, a wife and three kids. The 42-year-old businessman has found an affordable alternative to Israel's booming real estate market in a quiet community he loves, with a commute of less than half an hour to his job near Tel Aviv.
What's the catch? He's a West Bank settler.
The fate of Jewish settlements took center stage this week with the resumption of Israeli-Palestinian peace talks aimed at establishing a Palestinian state. In contrast to the prevailing image of settlers as gun-toting religious zealots, the majority are in fact middle-of-the-road pragmatists seeking quality of life. Many shun the settler ideology and say they will uproot quietly, if needed, for the sake of peace.
"We will not sit here and burn tires if the government will tell us to leave. We will just leave," Drori said in his quiet garden, smack in the middle of the West Bank. "When the proper solution will be found I don't believe that something will stop it like settlements. Houses can be moved … I don't think the settlements are a problem."
For the Palestinians, though, the settlements are a huge problem. They seek a state that includes the West Bank and east Jerusalem, territories Israel captured from Jordan in the 1967 war. The Palestinians, and most of the international community, consider any settlements built beyond the 1967 borders to be illegal land grabs.
For five years, Palestinian President Mahmoud Abbas refused to engage in talks while settlement construction continued. As talks finally got under way this week, the Palestinians threatened to walk away again after Israel announced plans to build more than 3,000 new apartments.
In all, Israel has built dozens of settlements since 1967 that are now home to about 550,000 Israelis. Settlements dot the West Bank, the heartland of a future Palestine, and ring east Jerusalem, the Palestinians' hoped-for capital, making it ever more difficult to partition the land between two states. Jews now make up 17.5 percent of the population in both areas.
While religious Jews, attracted to the West Bank because of its biblical significance, pioneered the settler movement four decades ago, the settlements today have expanded into a more accurate reflection of Israeli society. The profile of a settler can vary from a suburban Jerusalemite to a non-partisan ultra-Orthodox seminary student to a commuting high-tech executive to a socialist farmer in the Jordan Valley.
Drori, for instance, is secular and never imagined living outside central Israel. But he has found a home in Barkan, an upscale settlement of nearly 400 families with red-tiled rooftops and a vibrant community center. From his backyard Drori has a clear view of the Mediterranean coast.
"The air is nice, the weather is good, the view is wonderful. I think this is most of the reason that people come here," he said.
About a third of all West Bank settlers could be defined as "ideological," according to Yariv Oppenheimer, director of the anti-settlement watchdog group Peace Now. He said these settlers, the driving force behind the settlement enterprise, are politically active and tend to live in the more outlying areas, often closer to Palestinian villages and ancient Jewish religious sites.
"The irony is that the believers are the ones who are more likely to be ultimately removed," he said.
The rest are "economic" settlers who take advantage of the benefits available to live a higher quality of life than they could have afforded in Israel proper. While these settlers tend to still hold hawkish political positions, they are not as hard-core over territorial compromise. Some, particularly those in and around Jerusalem, don't even realize they are settlers.
In fact, the two largest settlements, Modiin Illit and Beitar Illit, were established as a housing option for ultra-Orthodox Jews, the poorest segment of Israeli society. Some of the ultra-Orthodox may even have no other choice but to live in the settlements, Peace Now acknowledges.
Oppenheimer said the economic settlers were less combative and rejectionist, but because of their sheer growth posed an obstacle.
"If everyone behaves like them and settlements continue to expand, there will be no place for a Palestinian state, even if they are not ideological," he said.
Many of these settlers would evacuate quietly in return for fair compensation, but likely won't have to because they are within the major blocs Israel would probably keep in a land deal. In previous rounds of negotiations, the Palestinians agreed to swap some West Bank land for Israeli territory to allow Israel to annex the largest settlement blocs adjacent to its border.
Even if the current talks can reach a similar understanding, most experts believe that more than 100,000 settlers in outlying communities would have to be evacuated. It won't be easy.
In 2005, Israel evacuated all 9,000 of its settlers from the Gaza Strip. Despite months of protests by pro-settler demonstrators and widespread resistance by the settlers themselves, the pullout passed with relatively little violence.
Settlers have vowed to put up more of a fight under any West Bank withdrawal. Israelis in general are hesitant to pay what they consider a steep price – more than 53 percent would oppose any peace deal that included major withdrawals from the West Bank, according to a poll of 506 released by the Maagar Mohot research institute Friday. Dividing Jerusalem, home to sensitive religious sites, would be the hardest challenge of all.
Hanan Ashrawi, a senior Palestinian official, said distinctions between settlers and their various motivations could be taken into consideration during negotiations. Regardless, she said they were all part of the problem.
"They are all illegal and people will find any rationalization to explain why they are there," she said. "If anyone has any sense of justice they would understand that they are living on other peoples' lands … You are all contributing to sabotaging peace."
Save for a brief building showdown in 2009 and 2010, construction has continued unabated under all Israeli governments despite continued international condemnation.
Just last week, Israel announced new building plans and added more settlements to its "national priority" list of communities eligible for special government subsidies. In all, roughly three-quarters of Jewish settlements are on the priority list.
In addition to the Palestinian outcry, the plan triggered international condemnations. It also angered many Israelis who accused the government of neglecting a periphery in the south and north that does not get the benefits of the settlements and is plagued by poverty, unemployment and housing shortages.
Despite their uncertain future, Israelis continue to flock to the settlements. Government statistics show the settler population growing at about 5 percent annually, compared to 2 percent elsewhere. At this rate, the settler population will grow by more than 10,000 people during the nine months of negotiations allotted by the U.S.
While most of the surge is attributed to the higher birthrates of ultra-Orthodox and other observant Jewish settlers, there are other factors. Recent parliamentary data showed that between 2001 and 2011 the settlements gained 38,880 people, with more than 170,000 moving in and just over 131,000 moving out. The 11 percent migration spike marked the second highest in any Israeli district over that time.
Some settlers are drawn to community life in the countryside, others to cheaper housing. Some seek a spiritual connection to the land of the bible, others an escape from the density (and humidity) of central Israel.
The settlements are now an even more enticing destination, with the construction of new highways that make the commute to central Israel much quicker. Most importantly, the settlers have now enjoyed a long period of relative calm after enduring years of roadside shooting attacks and other Palestinian violence. The major violence began to subside in 2005.
When Drori's wife first suggested scoping out the settlements, he refused. But after discovering that a private home in central Israel, which can cost well over $750,000, was out of their price range, he reconsidered. First they rented and then built their own house for about 40 percent less than it would cost in Israel.
"The main decision was the community. I live here with people like me," he insisted. "We were looking for quality of life: a home, a community."
The future of Barkan is uncertain. Unlike the blocs near the border, it lies deep into the West Bank and creates an enclave that would hinder Palestinian territorial continuity.
But Drori is not concerned. He's skeptical a peace accord will be reached, and if it is, he is open to various options, including living alongside Palestinians. He says he has moved many times before, and will do so again if required.
"God is not my guide," he said. "My guide is conscience and economy and community."