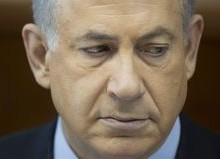 Prime Minister Benjamin "Bibi"" Netanyahu (AP Photo)
JERUSALEM – When Isaac Herzog was a child, his Egyptian-born, French-speaking mother thought him to be as pretty as a doll. So she blended its Hebrew word, "buba," with a French-sounding term of endearment, "joujou," to create a distinct nickname that would stick with the boy for life — "Bougie."
Now, Israel's newly elected opposition leader finds himself as the country's main alternative to Prime Minister Benjamin Netanyahu — a man universally known by the name his brothers pegged him when he was a kid: "Bibi."
The two are not alone. Despite its macho, militaristic image, the world of Israeli politics is filled with tough characters bearing — and even flaunting — their diminutive childhood nicknames. Defence Minister Moshe Yaalon is "Bogie," former Finance Minister Avraham Shochat is "Baiga" and another former Cabinet minister, Eliezer Zandberg, is "Moody," short for Hamoody, or "cutie."
Nicknames in politics are nothing new, but in Israel they appear to have taken on an art form.
"You can't fight it. It's just something very Israeli," Herzog told The Associated Press. "I can keep introducing myself as Isaac Herzog but people will still yell 'Bougie' (BOO-jee) across the street. We are just a very familiar society."
Linguists cite a number of influences, including the playfulness of Yiddish, an eastern European language spoken by many of Israel's founders, and the informal worlds of the military, kibbutz movement and youth groups that have inspired dozens of idiosyncratic names that often linger long into adulthood. But mostly the phenomenon speaks to Israel's notoriously close-knit, informal nature, where personal boundaries are thin and everyone seems to meddle in everyone else's business.
"It's the psychology of language. This whole 'buddy' culture is part of our Israeliness," said Ruth Almagor-Ramon, the language adviser at Israel Radio. "It's not a linguistic thing, it's a mentality. Everyone knows everyone and all it takes is for someone to overhear your mother calling you a name and then everyone calls you that."
Almagor-Ramon said news readers at the public station are required to identify politicians by their given names, but anchors, like the public, often address them by nickname during interviews. She said it's debatable whether the informality ingratiates politicians to the public or belittles their lofty positions. "It can go both ways," she said.
For many, particularly those of Sephardic, or Middle Eastern, descent, a nickname symbolized entry into the old boys club of the Ashkenazi, or European, elite. For others, a colorful moniker — particularly one earned in the military — becomes a powerful brand in and of itself.
For instance, former military chief Rafael Eitan was known as "Raful" and a high-profile social integration program bore that name.
Most Israelis didn't even know the first name of general turned politician, former Tel Aviv Mayor Shlomo Lahat. He was called "Cheech" and a beachside promenade is named after him. Another ex-general, the assassinated ultranationalist Cabinet minister Rehavam Zeevi, was called "Gandhi" because of his physical (certainly not ideological) resemblance to the Indian pacifist.
Ariel Sharon, whose battlefield victories set the stage for a successful political career, was known as "Arik." The nickname gave him an approachable, no-nonsense image all the way to the prime minister's office.
"For Israelis, it's a lot easier to admire 'Arik' than 'Ariel,'" said Ruvik Rosenthal, who writes a weekly language column in the Maariv daily. "'Arik' is a hero."
Rosenthal, whose own first name is a slangy version of the biblical name Reuven, said nearly every male name had a shortened version. Yiddish, with its endearing suffixes, can turn any Tzvi into Tzvika and any Motti into Motteleh. He said the informality of modern Hebrew was even found in the way people pronounce names, putting the emphasis on the first syllable rather than the last as formal Hebrew would have it.
"It erases the formality of the name," said Rosenthal. "We are still a tribal society and even though we are divided into many homes everyone feels like they are in the same tribe and the nicknames reflect that."
Not everyone is in on the name game. With military lingo such a defining factor, women and new immigrants are often left out of the fun — sometimes intentionally.
Years ago, when former Prime Minister Ehud Barak got into a spat with Tzipi Livni, the current justice minister, he pointedly chose to refer to her by her full name — Zipora.
Herzog said that in his official capacities he tries to avoid using his "childish" name and his recent campaign to become head of Labor did not include it in his ads. But he says he doesn't correct others when they refer to him as "Bougie" and has learned to live peacefully with the moniker and what it says about his country.
"There is no distance in Israel and I like that," he said. "Once you have a nickname that sticks you can't control it. There is nothing you can do about it."