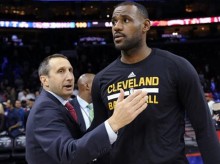 Cleveland Cavaliers coach David Blatt pats LeBron James on the chest at the end of a game. (AP Photo/Michael Perez)
TEL AVIV, Israel (AP) — The Cleveland Cavaliers suddenly have far fewer fans in Israel after the firing of David Blatt.
The shock announcement on Friday, despite the second-year coach leading the Cavs to the NBA Finals a year ago and to the top of the Eastern Conference this season, was taken personally by many fans in Israel, where the Boston-born Blatt made his name professionally, met his wife and raised his family.
News of the firing topped all Israeli newscasts Saturday, knocking Middle East violence off the headlines.
The provincial pride in Blatt was suddenly replaced with anger toward the Cavaliers and their perceived coldhearted send-off. Most of the venom was directed at LeBron James, the Cleveland superstar who had a rocky relationship with Blatt.
"Finally I can go back to hating LeBron without feeling guilty. Hope he never sees a title in his life," said Gil Eyal, a 38-year-old Israeli high-tech executive who typically supports the Boston Celtics.
A Channel 10 talk news show ranked it the top story of the week, with panelist Aviv Bushinsky lamenting how Blatt's amazing season had ended "because of one man: LeBron James."
The anguish was felt vividly online and in social networks, with one joke that Prime Minister Benjamin Netanyahu would blame the firing on President Barack Obama.
The 56-year-old Blatt is possibly Israel's favorite son, thanks to his winning record, outgoing personality and unabashed Israeli patriotism.
Blatt grew up in the United States and played his college ball at Princeton but has called Israel home since 1981, when he first arrived to play for the U.S. at the Maccabiah Games. A solid playing career in the Israeli league followed, before an even more successful coaching career began in 1993. Over the next two decades Blatt developed his reputation as a top international coach and up-tempo offensive wizard whose stock surged dramatically after leading the Russian national team to a bronze medal in the 2012 Olympics.
He's married to an Israeli woman, Kinneret, and raised his four children here, with the oldest two having completed their military service. He speaks fluent, albeit American-accented, Hebrew and is a popular pitchman for TV ads who has professed a desire to one day serve as an ambassador for the country.
His signature coaching moment in Israel came in 2014 when he led Maccabi Tel Aviv to a series of upset wins en route to a dramatic Euroleague championship title — a run that paved his path to Cleveland. Their NBA games were broadcast live on Israeli sports channels and Israelis from all walks of life rose at dawn to catch a glimpse. Overnight, the Cavs became "Israel's team" in the NBA, replacing traditional favorites like the Celtics, Knicks, Bulls and Lakers.
Not now.
"Last night, at 22:30, seven million Israelis, at least, sat in their living rooms and rooted for Cleveland. At 23:30 there were probably only about seven left. Tops," wrote Sharon Davidovitch, a sports columnist for the popular YNet Website. "A magical, exciting journey that often lacked any sense of proportion came to an end for many Israelis who followed Blatt on his way to the top of the world. Or at least close to it."