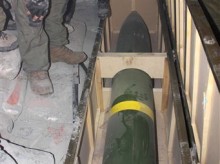 A missile on an intercepted ship in the Red Sea (AP Photo/IDF)
JERUSALEM (AP) — Israeli naval forces raided a ship in the Red Sea early Wednesday and seized dozens of advanced rockets from Iran destined for Palestinian militants in Gaza that would have considerably boosted their ability to strike Israeli citizens, the military said.
The ship, the KLOS C, was carrying Syrian-made M-302 rockets and was intercepted more than 1,000 miles (1,600 kilometers) south of Israel off the coasts of Sudan and Eritrea, military spokesman Lt. Col. Peter Lerner told reporters.
He said the M-302 rockets have a range of up to 100 miles (160 kilometers) and would have significantly improved the capabilities of Gaza militants, putting nearly all of Israel in their range. Previously, Gaza militants have only been able to reach about 50 miles (80 kilometers) into Israel with their homegrown M-75 missiles. The Lebanese militant group Hezbollah used M-302s in a 2006 war against Israel, the military said.
There was no immediate comment from Iran or Gaza's Hamas rulers about the Israeli claims.
The operation, codenamed "Full Disclosure," followed months of intelligence gathering. Lerner said the shipment originated in Syria. From there the weapons were flown to Iran and departed from the Bandar Abbas port. Lerner said the Iranians tried to "obscure their tracks" by shipping first via Iraq and then out to sea. The shipment was destined for Sudan, from where it was to be moved overland through Egypt to Gaza, the army said. Israel says militants have used similar routes in the past.
Lerner said the 17 crew members of the ship, flying under a Panama flag, were not suspects and were probably unaware of the content of their cargo. The vessel was being brought to the port of Eilat, Israel's most southerly point, where the crew would be released and the cache unloaded. It was expected to arrive later this week.
Israeli Prime Minister Benjamin Netanyahu, who is visiting the U.S. this week, held a series of talks with Israeli defense officials ahead of the ship's takeover. He took the opportunity to warn world powers about the consequences of a nuclear Iran. Netanyahu has been a harsh critic of world powers' negotiations with the Islamic Republic, saying the international community has given it too much relief from sanctions while getting few concessions in return. Netanyahu believes Iran is trying to build a nuclear bomb — a charge Tehran denies.
"At a time when it talks with the world powers, at a time when Iran is smiling and saying all sorts of pleasantries, that same Iran is sending lethal weapons to terror organizations and it is doing it with an elaborate network of covert global operations with the aim of streaming rockets, missiles and other lethal weapons to harm innocent civilians. This is the real Iran and that country must not be able to have a nuclear weapon," he said.
Video released by the military showed Israeli soldiers on the ship inspecting the rockets, shipped in large crates. The video also showed beige bags containing cement with the words "Made in I.R. Iran," in English, written on them.
Israeli Defense Minister Moshe Yaalon said the weapons headed for Gaza were "strategically important."
"Iran trains, funds and arms terror groups in the region and around the world and its failed attempts to transfer the arms that were discovered this morning is more proof of that," he said.
Gaza is ruled by Hamas, an Islamic militant group that already possesses thousands of rockets. A number of smaller groups, including the Iranian-backed Islamic Jihad, and al-Qaida-inspired groups also possess rockets. The military did not specify which group the shipment was believed to be destined for.
Israel accuses Iran of supplying rockets and other arms to its foes — militants in Gaza and Lebanon's Hezbollah — and it has moved to intercept weapons shipments in the past.
Three years ago, Israel seized the cargo ship Victoria loaded with weapons allegedly sent by Iran to Gaza militants, including land-to-sea missiles.
In November 2009, Israel took over the Iranian Francop vessel off the coast of Cyprus and captured hundreds of tons of rockets, missiles, mortars, grenades and anti-tank weapons on board that it said were headed to Hezbollah guerrillas in Lebanon.
Israel is also suspected of carrying out airstrikes in Sudan on arms shipments believed to be bound for Gaza. Israel has never confirmed carrying out the strikes.
In January 2002, Israeli forces stormed the Karine A freighter on the Red Sea, and confiscated what the military said was 50 tons of missiles, mortars, rifles and ammunition headed for Palestinian militants in the Gaza Strip.
In May 2001, Israel captured the vessel Santorini off its coastline, packed with explosives Israel said were being sent from Hezbollah to Palestinian militant groups.
Israel's foreign ministry said Israeli troops boarded the ship in accordance with international law and with the consent of the crew and the relevant authorities. It said the ship was operated by a company registered in the Marshall Islands.
"The missiles and weapons found on the ship were loaded and concealed by Iran," it said. "The weapons were intended for Palestinian terror groups in Gaza, who would use it to harm Israeli civilians, as they have done in the past."
It added that Israel will lodge a formal complaint with the United Nations' Security Council and with a sanctions committee established under Security Council resolution 1737.
"In terms of maritime law we have the right to board a ship we identify as dealing with terror, carrying weapons that are meant to endanger the state of Israel," Yedidia Yaari, a former chief of Israel's navy, told Israeli Channel 10 TV.
Another former navy chief, Vice Admiral Eliezer Marom, said Iran's smuggling efforts to Israel's enemies was almost a daily activity. He said it was orchestrated by a special unit of the "Quds Force," part of the Revolutionary Guards.
"There are people waking up very day and their mission is to smuggle weapons to the terrorist organizations so they will be directed to the citizens of Israel," he said.