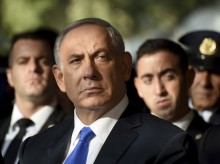 Israeli Prime Minister Benjamin Netanyahu attends the official memorial ceremony marking the 20th anniversary of the assassination of the late Prime Minister Yitzhak Rabin in the Mt. Herzl Cemetery in Jerusalem. (Debbie Hill/Pool Photo via AP,)
JERUSALEM (AP) — Israeli Prime Minister Benjamin Netanyahu vowed to carry on Wednesday after police recommended indicting him on corruption charges, angrily dismissing the allegations and the critics calling on him to step down.
With his coalition partners dutifully lining up behind him, the longtime leader readied himself for a prolonged battle over his political legitimacy as the attorney general considers whether to ultimately press charges.
The police announcement that Netanyahu's acceptance of nearly $300,000 in gifts from two billionaires amounted to bribery sent shockwaves through the Israeli political system and delivered a humiliating blow to Netanyahu after years of allegations and investigations. But it did not appear to immediately threaten his lengthy rule as reaction largely fell along partisan lines. Nearly all of Netanyahu's Cabinet ministers issued statements of support and his coalition partners all signaled they would stick by him, for now.
"Let me reassure you: the coalition is stable. No one, not I and no one else, plans to go to elections. We will continue to work together with you for the people of Israel until the end of our term," he said to a gathering of local government officials in Tel Aviv. "After I read the recommendations report, I can say it is biased, extreme, full of holes like Swiss cheese and doesn't hold water."
In an impassioned defense, Netanyahu took aim at police investigators saying their figures were vastly inflated and tried "to create a false impression of exchanges that never existed."
Though he is not legally compelled to resign, several opposition figures called on Netanyahu to do so to avoid corrupting the office further.
Under similar circumstances a decade ago Netanyahu, then the opposition leader, urged then-Prime Minister Ehud Olmert to resign after police recommended he be indicted, saying a leader "sunk up to his neck in interrogations" could not govern properly.
In contrast to Olmert, who eventually stepped down and was convicted and imprisoned, Netanyahu is still relatively popular with the public and enjoys broad political support in his Likud party and among coalition partners — nearly all of whom stand to lose power if elections were held today.
Public Security Minister Gilad Erdan, who oversees the police, said the prime minister "deserves the assumption of innocence," while Netanyahu's coalition whip, David Amsalem, accused the police of committing "an illegitimate act here to attempt a coup d'etat in Israel."
More importantly, the coalition parties that keep Netanyahu afloat said they would await the ruling of Attorney General Avihai Mandelblit, who could take months to decide whether to file charges.
The only crack in the wall-to-wall support came from Education Minister Naftali Bennett, head of the nationalistic Jewish Home party, who said Netanyahu could keep serving but was "not living up to the standard" expected of his office.
Police recommended indicting Netanyahu over accepting gifts from Hollywood mogul Arnon Milchan and Australian billionaire James Packer, and over suspicions that he offered to give preferential treatment to a newspaper publisher in exchange for favorable coverage.
Police say that in that in return for lavish gifts that included jewelry, expensive cigars and champagne, Netanyahu had operated on Milchan's behalf on U.S. visa matters, tried to legislate a generous tax break for him and sought to promote his interests in the Israeli media market.
One of the biggest surprises to emerge was that Yair Lapid, leader of the centrist opposition Yesh Atid party, had given testimony about Netanyahu's alleged efforts to help Milchan that he witnessed during his term as finance minister.
Netanyahu pounced on this as an indication that the investigation was politically motivated and said Lapid looked to "topple me at any cost." His Likud allies lashed out at Lapid, with Amsalem angrily calling him a "snitch."
"That's how criminals talk, not public servants," Lapid responded, saying that as a law abiding citizen he merely gave a short testimony upon the request of police.
"Don't threaten us. We cannot be intimidated. We will not let you make this a country where honest people are scared of speaking the truth," he said Wednesday to Netanyahu and his allies. "You cannot represent us in the world, when every foreign leader knows that you stand accused of serious offenses. For the good of the citizens of Israel, the prime minister needs to vacate his post."
Other leading opposition figures and even former Netanyahu allies called on him to resign as well.
Netanyahu has claimed to be a victim of an overaggressive police force and a media witch hunt that has also targeted his family. In an emotional television appearance late Tuesday, he vowed not only to serve out his term but run again for re-election. Netanyahu has served as prime minister since 2009, and previously from 1996 to 1999.
In a second case, Netanyahu reportedly was recorded asking Arnon Mozes, the publisher of the Yediot Ahronot daily, for positive coverage in exchange for promoting legislation that would weaken a free newspaper that had cut into Yediot's business. Police said there was sufficient evidence to charge both Milchan and Mozes with offering bribes and Netanyahu with taking them.
While ministers and mayors are required to resign if indicted, Israeli law is less clear when it comes to the prime minister. Given the legal limbo, and the prolonged process that could lie ahead, Netanyahu's political future depended mostly on public opinion and political constellations that resulted.
"Woe to us if we should allow the struggle over the fate of one man — senior though he may be — to erode the moral and institutional foundations of our law enforcement agencies," said Yohanan Plesner, president of the nonpartisan Israel Democracy Institute, noting that Netanyahu was innocent until proven guilty.
"Notwithstanding, the facts revealed yesterday by the police, which are not contested by the prime minister himself, are deeply troubling," he added. "Should such behavior come to be accepted as the norm for public servants, moral decay will spread through our civil service and the public's trust in the government will plummet."