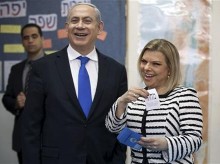 Israeli Prime Minister Benjamin Netanyahu stands by his wife Sara as she casts her ballot at a polling station in Jerusalem. ( AP Photos)
JERUSALEM (AP) — For years, Israeli Prime Minister Benjamin Netanyahu has been saddled with an image of a cigar-smoking, cognac-drinking socialite. Now a new disclosure about his soaring spending on housekeeping, furniture, clothing and other expenses is increasing pressure on him in a country whose leaders once were known for washing their own dishes and taking out the garbage.
The uproar, which began with a TV station's report that Netanyahu spent $127,000 in public funds for a special sleeping cabin on a recent five-hour flight to London, fuels criticism that he is out of touch with average Israelis who are struggling with tax increases amid a huge budget deficit.
Netanyahu's expenses have soared nearly 80 percent since he took office in 2009, totaling about $905,000 last year, according to a civil liberties group that obtained government figures after filing a freedom of information request.
His spending on catering, housekeeping, cleaning, furniture, clothing and makeup all doubled during the four-year period, according to the group, called the Movement for Freedom of Information.
Netanyahu and his family split their time among three homes, including an official Jerusalem residence, a private apartment in Jerusalem and a villa in the upscale coastal town of Caesarea.
Although Netanyahu was re-elected in January, his victory margin was much narrower than expected. The vote came on the heels of a protest movement against Israel's high cost of living and widening gaps between rich and poor, and the campaign focused largely on domestic economic issues.
The new national budget, passed Monday, increases income, sales and real estate taxes while cutting family subsidies and medical benefits. Additional taxes were also slapped on cigarettes, alcohol and luxury goods.
Against this backdrop, veteran Israeli political reporter Shimon Shiffer recounted in the Yediot Ahronot daily that Netanyahu and his wife Sara are always accompanied abroad by hairdressers and makeup artists. On a recent flight with Netanyahu, he said he saw two young men holding large bags.
"For a moment, under the influence of movies I'd seen about things that can happen in the American president's plane, I thought that it might be the suitcase containing the codes to operate the nuclear weapons that Israel allegedly possesses," he wrote.
"A brief investigation turned up slightly less heroic results: The two men were hairdressers who had been flown … to make sure his hair was properly styled and brushed," Shiffer wrote.
In a statement, the prime minister's office said the figures included expenses for events and working meetings that took place at the official residence.
Israeli leaders were once lauded for their modesty. Prime ministers lived in humble homes, took the bus to work and performed household tasks like washing the dishes and taking out the garbage. But as Israel has evolved from its socialist, agrarian roots to an affluent, high-tech power, its leaders have also taken a liking to the spoils of office.
Netanyahu isn't the first leader to be criticized by Israelis for living it up. Former Defense Minister Ehud Barak angered his Labor party supporters with a lavish lifestyle that included buying a Tel Aviv apartment reportedly worth more than $10 million. And Ehud Olmert, who served as prime minister before Netanyahu, was known for his love of the finer things in life like fancy pens and cigars.
Israeli leaders are of course not alone in this regard. Two runways at Los Angeles International Airport were shut down for nearly an hour in 1993 while U.S. President Bill Clinton got a haircut from a high-priced hairdresser while Air Force One sat on the tarmac. He later said it was a mistake and that he never meant to inconvenience anyone.
Though not linked to major corruption scandals like some of his predecessors, Netanyahu has developed a reputation for small-scale antics with the public coffers.
Earlier this year, Netanyahu was forced to stop buying ice cream from his favorite Jerusalem parlor after an Israeli newspaper discovered his office was spending $2,700 a year for the treat.
His wife has also come under fire for reportedly treating her domestic staff poorly, her expensive tastes and for insisting on traveling overseas with her husband.
Reflecting the public mood, famed Israeli photographer David Rubinger published a photo he took in the early 1980s of then-Prime Minister Menachem Begin slouched across two seats in a plane, sound asleep, his legs covered by a simple red blanket. In an accompanying essay, he said the image highlighted how leaders have since abandoned their role of setting personal examples.
"I grew up at a time when half the ministers in the Israeli government were kibbutz (collective village) members, who on Saturdays would go home to their kibbutzim to work in the kitchen," he wrote in Yediot Ahronot. "I don't think the prime minister has to sleep in a seat. Maybe some kind of bed has to be provided for him, but it should be done at the right time, not the same week that cuts are being made to others."
Netanyahu is said to have a painful back condition.
The Israeli prime minister's office does not have its own plane, in contrast with the U.S. presidential aircraft, Air Force One. Instead, Israeli leaders must charter a plane when traveling abroad. Some analysts say it would be cheaper in the long run to purchase and maintain a special plane reserved for official travel by the prime minister and other officials.