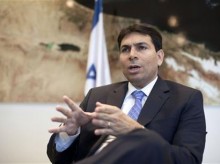 Israeli Deputy Minister of Defense Danny Danon speaks during an interview to the Associated Press in his office in Tel Aviv, Israel. (AP Photo/Dan Balilty)
TEL AVIV, Israel (AP) — Danny Danon says he has no problem with his party leader, Israel's prime minister — so long as he doesn't make peace.
The ambitious deputy defense minister isn't a household name internationally yet, but at home he has emerged as an unlikely opponent to Benjamin Netanyahu and his strongest opposition within the hawkish ruling Likud Party.
A soft-spoken lawmaker with a penchant for sharp suits, Danon is suddenly a major stumbling block toward Palestinian statehood as U.S. Secretary of State John Kerry embarks on his latest push to restart long-dormant peace talks.
While Netanyahu attempts to convince the world of his peaceful intentions and sincere commitment to establishing a Palestinian state as part of a final peace settlement, Danon has repeatedly defied the prime minister's stance while generating the type of political power that could hinder Netanyahu's ability to make concessions.
His rising influence has raised Palestinian suspicions that Netanyahu is unwilling —and unable — to make peace. From his plush office on the 15th-floor of the gleaming, state-of-the-art Defense Ministry complex in Tel Aviv, Danon does nothing to dispel the suspicions.
"I think the prime minister knows that if he is presenting the ideology of the Likud Party we all support him," Danon said, noting that Likud has only had four leaders in its 65-year history. "It means that we do respect our leaders. But if the leader decides to go to the other direction then … there will be changes within the Likud."
The Likud has long been the leader of Israel's nationalist camp, believing the country should control all of the biblical Land of Israel between the Mediterranean Sea and the Jordan River. But Netanyahu and other party moderates have gradually come to the conclusion that there is no choice but to divide the land between a Jewish state and a Palestinian one.
Danon, 42, is among a group of young hard-liners who rose to prominence during a Likud primary vote last year. These officials, including Deputy Foreign Minister Zeev Elkin, Knesset speaker Yuli Edelstein, deputy transportation minister Tzipi Hotovely and coalition whip Yariv Levin, oppose the establishment of a Palestinian state and are strong proponents of building settlements in east Jerusalem and the West Bank. The Palestinians claim both areas, captured by Israel in the 1967 war, for their future state.
Danon, a secular father of three, is the most vocal and has become the brightest star and strongest counterforce within the party. He finished fifth in the slate of candidates chosen in last year's primary, well ahead of many party stalwarts, and this week he was overwhelmingly elected head of the Likud convention with 86 percent of the vote. On Sunday, he is expected to score another landslide victory and become chairman of the Likud Central Committee, a key position that will grant him power to set the agenda of the committee's 3,500 members and complicate any Netanyahu initiatives.
He has also generated an impressive following in America, particularly among Christian evangelicals. His recent English-language book — "Israel: the will to prevail" — outlines his vision of further Israeli control over the West Bank. It won't find many fans in the Obama administration, but it did receive high praise from two of Danon's closest American allies: former presidential candidate Mike Huckabee and conservative TV personality Glenn Beck.
The front page of Friday's mass-daily Yediot Ahronot points to Danon's surge to prominence at home. Under the headline "Between Kerry and Danon," a cartoon shows Danon and others pinning Netanyahu to the ground. The paper's humor column has a mock quote from Kerry saying he is optimistic his visit can help promote a "brave and effective negotiation between Netanyahu and Danny Danon."
Danon, until recently a rather anonymous backbencher, has garnered so much influence that Netanyahu's chief peace negotiator, Justice Minister Tzipi Livni, recently called on the prime minister to reject "Danonism" and forge ahead toward peace. The Palestinian chief negotiator, Saeb Erekat, had also cited Danon by name as someone who is killing the prospect of peace.
Danon remains undeterred and is convinced Netanyahu does not have the political backing to cede parts of the West Bank.
"I think that the majority of people, not only inside the Likud, but also within the Israeli public, will not support such a dangerous initiative," he said of a Palestinian state. "It is not just my personal opinion. I represent a lot of people … that think like me that the idea of land for peace doesn't work anymore."
Israel returned the Sinai Peninsula following its 1979 peace accord with Egypt and made small border adjustments after signing peace with Jordan in 1994. It unilaterally withdrew from the Gaza Strip and evacuated Jewish settlers there in 2005. But the Hamas militant group subsequently seized control of the area, and continued rocket fire out of Gaza has stoked fears that a pullout from the West Bank, located close to major Israeli cities, would bring similar and devastating results.
That withdrawal also spawned a revolt within the Likud against then-leader Ariel Sharon, who eventually bolted to establish the centrist Kadima Party. Netanyahu, who led the rebel forces, eventually took over as leader.
His party has since drifted further to the right, with Jewish settlers taking over key positions and introducing legislation that seeks to give Israel's Jewish nature precedence over its democratic nature.
Political commentator Hanan Kristal said Danon is trying to position himself as leader of the group and a potential future alternative to Netanyahu.
"Danon is Bibi from 10 years ago," he said, referring to Netanyahu by his nickname. "He (Danon) is a Likudnik and he is saying what a lot of them believe. He just says it clearly and without mincing words."
Netanyahu has distanced himself from Danon, insisting his comments do not reflect government policy, but he hasn't fired him either as some have suggested he should.
Danon makes no apologies for his maverick ways.
"I don't do things to try and disturb him," he said. "We are in the same boat. I don't want everyone rowing their oars in different directions but I do try to preserve what I believe in."
With Kerry pressing hard to get Israeli and Palestinian leaders to resume peace talks that have been on hold since 2008, and Netanyahu's centrist coalition partners urging a breakthrough, the prime minister may soon be forced to choose between the unity of his government and the unity of his party.
Danon says Netanyahu is free to negotiate as he pleases, but if he ultimately reaches the contours of a deal he will have to bring it to a vote among his party and a general election for the people to decide.
"It is not the case today. It is premature to even discuss this because I don't think the prime minister is going in this direction," he said.
Others disagree. There are jitters in the party that Netanyahu is nearing the point of following in Sharon's path toward concessions. He has recently been sending signals that he is ready for compromises and has accepted the narrative of former opponents that ending the West Bank occupation is essential for Israel.
The prime minister's office refused to comment on Danon's rise in Likud. Associates, though, have been quoted anonymously in the media as saying Danon is pushing Netanyahu out of the party with an extremist hostile takeover.
"Being prime minister of Israel is a very difficult job," Danon said. "There are those who are pushing the ship in one direction and it is legitimate for people like me to pull him in a different direction. He is the captain, steering the ship. At the end of the day, the prime minister navigates."