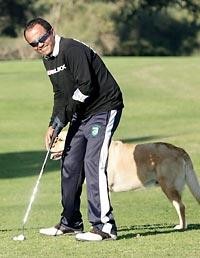 Zohar Sharon
CAESAREA, Israel — The ball explodes off Zohar Sharon's club and flies into the distance. Sharon can't see it, but he knows it's a good one and he flashes a big smile. Two strokes later, he has a birdie.
With the help of a demanding coach, determined caddie and dedicated dog, Sharon has earned an unlikely title — the world's best blind golfer.
Thousands of blind people around the world play golf, but only about a hundred play competitively. Over the past two years, Sharon has dominated them all.
On Nov. 14, he made headlines at home with a hole-in-one on the 15th hole at the Caeserea Golf Club, Israel's only 18-hole course. It was the latest in a string of achievements for the 53-year-old Sharon, who was blinded in the army more than 25 years ago.
Since 2003, he has won international blind golfers' tournaments in Scotland, Australia, the United States and Canada, where he sank his first eagle at the Ontario Visually Impaired Golfer's championship in August. He has faced off against President Ford in California. And he's beaten sighted golfers, too.
Sharon may have lost his eyesight, but not his sense of humor. He described himself as "the world's greatest golf player at night."
"I want every seeing person to have their legs shake with fear a little when they come play a round with me," he said.
Then Sharon turned serious. Golf kept him alive, he said, rescuing him from severe depression.
"I enjoy golf more than a seeing man, a lot more," he said. "The grass is always green to me. The trees are always beautiful. … But golf is also therapeutic for me. I try, for just one moment, not to be blind."
Out on the grass, he said he was free. It's the one place he doesn't need to worry about bumping into anything, he said, and it keeps his mind engrossed.
"It doesn't give me one minute to think about my situation," he said.
His ordeal began nearly 30 years ago while in the Israeli military. He was a sniper in a paratrooper unit when a fellow soldier accidentally sprayed a chemical in his face. A series of complicated operations followed, but his eyesight slowly deteriorated until he became completely blind at 28.
"Everything I had before fell apart," he said. "All of a sudden you are nothing. A 3-year-old is more productive than you. You have to rebuild something from what is left."
For Sharon, the trick was to stay busy. When he was going through a divorce, his lawyer introduced him to golf. He tried it for a couple of years but quit because he said it was too hard.
After a 10-year absence, he returned to the golf course four years ago.
Sharon's coach is Ricardo Cordoba-Core, a sports psychologist from Bolivia. He trained Sharon from scratch, focusing on coordination and teaching him to visualize each shot.
Sharon said the game "is all about the swing."
"In golf there are no restrictions for blind people," he said, before adding, "if you have a good caddie."
Sharon's good caddie is Shimshon Levi, his best friend whom he's known since childhood. Levi cared for Sharon during his darkest hours after he turned blind.
"Since then I am connected to this person, as if I am connected to him through an artery. I just love him deeply," Sharon said.
Levi gently guides him around the course, plants his tees and places the balls. He steadies Sharon's arms and describes what's ahead. When putting, he places Sharon's hand on the club so it is just next to the ball, instructs his friend of the distance and then runs to the hole and begins clapping so Sharon will know where to hit it.
The last member of this winning team is Dylan, Sharon's guide dog. Sharon said Dylan, a 6-year-old labrador-retriever mix, used to fetch balls that had gone astray.
"But then I got better and he started fetching the good balls, too," Sharon said. "So I had to make him stop."