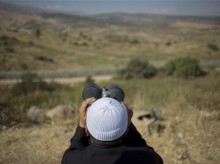 Aa young Druze watches the fighting between forces loyal to Syrian President Bashar Assad and rebels in the Druze village of Khader. (AP Photo/Ariel Schalit)
DALIYAT AL-KARMEL, Israel (AP) — Members of Israel's Druze minority, long among the Jewish state's most loyal citizens, have become increasingly concerned about the plight of their beleaguered brethren in neighboring Syria. Now, they are asking the state of Israel to help their fellow Druze next door — and some are even offering to go fight in Syria if needed.
Israel has been careful to stay out of the four-year-old Syrian civil war and the Syrian Druze have themselves mostly avoided involvement.
But after al-Qaida-linked militants earlier this month brutally killed as many as 20 Druze in what amounted to the deadliest violence against members of the small Arab sect since the Syrian conflict started in March 2011, Israel finds itself under increasing internal pressure to act. That would have the extraordinary outcome of having Israel intervene on behalf of a group perceived as loyal to Syrian President Bashar Assad's government.
The plight of Syria's Druze — and Israel's dilemma over possible involvement — adds another complicated layer to the mayhem of rapidly disintegrating Syria.
It also casts a light on the Druze, a mysterious sect that began as an offshoot of Shiite Islam and that managed to survive in a turbulent region by showing allegiance to their country of residence — sometimes at the cost of fighting other Druze on the battlefield.
And though Israeli Druze have been fiercely loyal Israelis — to a striking degree, considered the century-long conflict between Israel and the Arabs — and often rise in military ranks and in politics, they also worry about their brethren elsewhere.
"We are loyal to our country and we are loyal to our brothers," said Amir Wahabi, a 38-year-old Druze from Daliyat al-Karmel, a village in northern Israel where traffic circles are named after fallen Druze soldiers in the Israeli military. Village streets are lined with blue-and-white Israeli flags, alongside the five-colored Druze flag.
"If … someone hurts the Druze in Syria, that person becomes my enemy. I am willing to die to protect my brothers there," he added.
Israel's about 130,000 Druze live mostly in the north of the country, where some have taken to the streets, demanding action to help the Syrian Druze. They are also asking that Israel stop treating wounded Syrian rebels in its hospitals, and instead offer medical aid to Syrian Druze and provide them with weapons and air support against the advances of al-Qaida's branch in Syria, the Nusra Front.
Some have even asked that the Syrian Druze be allowed into Israel by the thousands, should that become necessary.
The Israeli government insists it will not allow the Druze to be massacred but has stopped short of any action.
Since the uprising against Assad began, Israel's strategy appears to have been that it's better to hold off as rivals next door butcher each other rather than notice Israel — a common enemy to nearly all warring factions in Syria.
But that rationale may change.
Ayoob Kara, deputy minister for regional cooperation and the highest ranking Druze in the Israeli government, said Israel has broadcast behind-the-scenes messages that the Druze are not to be harmed.
Kara said he believes the Nusra Front's official distancing itself from the killing of Druze villagers in the northwestern Syrian province of Idlib two weeks ago was a sign the warning has been received.
A member of the ruling Likud Party, Kara insisted Prime Minister Benjamin Netanyahu is listening to him in the matter. The 60-year-old Kara, who lost two brothers in battle serving in the Israeli military, insists the Druze "alliance doesn't end at the border" with Syria.
"If the Druze are harmed, hundreds of thousands of others will be harmed as well. And if I have to take up arms and fight there like I did as an Israeli officer I will," said Kara, speaking at his home in Daliyat al-Karmel, the largest Druze village in Israel.
"I want to see who won't join me, particularly Jews, when I march to the (Syrian) border with thousands of supporters and they know that there is genocide taking place on the other side," he said.
Israeli Druze leaders say their alliance with Jews dates back long before they helped them win independence in 1948. The Druze revere Jethro, the father-in-law of Moses, whose tomb in northern Israel is one of their most sacred sites.
Many Israeli Jews have shown solidarity with the Druze, although most have stopped short of calling for military intervention.
The liberal Haaretz daily, urged the government in an editorial to "save the Druze in Syria."
Moti Yogev, a hawkish coalition lawmaker from the Jewish Home party, said Israel's "mutual commitment" to the Druze supersedes the complexity of engaging in Syria and the emotional difficulty of aiding those who have been loyal to Assad and who cooperated with Israel's arch-enemy Hezbollah. The Lebanese militant group is backing Assad in Syria's civil war.
Israeli columnist Ron Ben-Yishai said Hezbollah and its Iranian backers are using the Druze to tug on Israeli heartstrings and drag the country into the bloody battlefields of Syria.
"It's an absurd only the Middle East could produce," Ben-Yishai wrote.
Meanwhile, Walid Jumblatt, Lebanon's powerful Druze leader who has sided with Syrian rebels against Assad, warned last week on his Twitter feed against any Israeli intervention.
Perhaps those in the most complex situation are the 22,000 Druze residents of the Israeli-controlled Golan Heights. They have continued to identify themselves as Syrians — even after years of Israeli rule that has seen them become fluent in Hebrew an integrated in Israeli society.
They still have relatives in Syria, and the now shuttered Quneitra border crossing had served as a gateway for students attending university in the Syrian capital of Damascus, brides crossing over to marry fellow Druze — even a route for the annual apple exports.
But few of the Golan Druze have taken Israeli citizenship — an option they were offered after Israel annexed the territory in 1981 — and have mostly backed Assad's government, at least in public.
Separated relatives have traditionally congregated at the "Shouting Valley" between Israel and Syria, where they talk to each other through megaphones. An old joke says those on the Israeli side complain to their cousins about how awful life is in Israel, while those in Syria tout how great it is with Assad — and both sides know they are both lying.
But the recent Syrian Druze deaths have stirred anger mixed with concern and a new realization that their future looks better with Israel.
Hail Safadi, a 45-year-old Druze from the border town of Magdal Shams, said it was in Israel's strategic interest to support the 700,000 Syrian Druze. And just as Israel has a moral obligation to aid Jews in distress around the world, it has the same responsibility toward the kin of its own loyal Druze population.
"The Druze are a small people," he said. "We will not leave our people behind to be slaughtered."