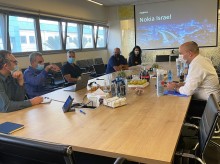 Naftali Bennett (right) meeting Nokia's leadership team in Israel
Naftali Bennett has served as Israel's defense minister, education minister and economics minister, and most recently he has emerged as the leading candidate to unseat longtime Prime Minister Benjamin Netanyahu.
But despite an equally illustrious background as a high-tech entrepreneur, the 48-year-old Bennett wasn't quite up to speed about Nokia.
In a September newspaper interview, the leader of the right-wing Yamina party tried to project himself as the future of Israeli politics by comparing himself to an iPhone 12 and the 70-year-old Netanyahu to an old clunky Nokia phone.
He quickly apologized for slighting the telecom giant and vowed to visit the local hub to learn about its current cutting-edge technology.
On Dec. 8, he did. Bennett toured the office, met members of the diverse staff and got an in-depth briefing from the local leadership team about Nokia's various operations.
"A couple of months ago I joked a bit about Nokia. I was wrong," Bennett said, alongside Guy Shemesh, Nokia Software's vice president of applications engineering. "Nokia today is a world leader in cloud technology. Here in Israel they are developing the infrastructure of the next generation of 5G."
The misconception about Nokia is a common one in Israel – and in other parts of the world – where many hold a nostalgic place in their hearts for what was once the country's most popular mobile device. But while they know of Nokia's fall in the cellphone market, they know little of its dramatic emergence in others, such as becoming a global leader in telecom infrastructure and 5G technology.
Bennett, a child of American parents, is no stranger to the world of technology.
After completing his military service as a special forces officer, he moved to New York to launch his career as a software entrepreneur. He founded Cyota, an anti-fraud software company, in 1999 and sold it to RSA Security six years later for $145 million. Bennett also served as CEO of Soluto, a company providing cloud-based service that enables remote support for personal computers and mobile devices. He and his partner raised $20 million from investors and eventually sold it to Asurion for more than $100 million.
With his financial future secured, Bennett launched a political career and served in numerous ministries under Netanyahu. Disillusioned by the government's handling of the coronavirus crisis, though, he refused to join the one created earlier this year and has since emerged as one of its harshest critics in parliament.
Israel now appears headed toward another election in early 2021 and polls show Bennett's faction running second to Netanyahu's ruling Likud, and Bennett himself trailing only Netanyahu as the public's preferred candidate for prime minister.
None of that was on the agenda of his hour and a half visit Tuesday, most of which was devoted to Bennett grilling the local leadership team about the latest in radio technology and the challenges facing the local high-tech industry.
"I'd like to say I found people from all walks of life with a high level of commitment and professionalism," he said. "In my eyes you are an example. Seems like a great place to work, too. If I wasn't in politics, who knows?"