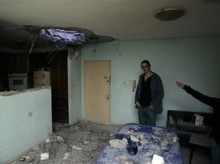 Israeli Walter Gringber stands in damaged Ashkelon apartment. (AP Photo/Sebastian Scheiner)
ASHKELON, Israel — Residents of this beachside city are still coming to terms with being on the front lines of Israel's battle against Hamas militants.
A dozen long-range rockets slammed into Ashkelon over the weekend, marking a significant turning point in the conflict and compelling Israel to strike back hard.
"Until yesterday, I never would have believed that I would see the things I saw," said Rachel Shimoni, 66, as she stood amid shards of glass, blown out of the front window of her clothing store. "All of a sudden, the reality has changed."
Palestinian militants fire rockets nearly daily at Sderot and other Israeli border towns near Gaza. But by reaching Ashkelon, a city of 120,000 people about 11 miles north of Gaza, Hamas raised the stakes considerably. It is one of the largest cities in southern Israel, home to Mediterranean beaches, a college and strategic installations like an electric plant and a water purification plant.
Gaza militants have managed to hit the outskirts of Ashkelon in rare instances in the past, but the latest fighting was the first time they've been able to do it on a regular basis.
Since the first rocket hit Ashkelon on Wednesday in retaliation for an Israeli strike that killed five militants, Israel's military has killed more than 100 Palestinians, according to Palestinian medical officials and militant groups. Three Israelis have also died in the violence.
A military official, speaking on condition of anonymity because of the need not to divulge internal strategy, said the harsh Israeli reaction was intended as a clear signal to Hamas that hitting Ashkelon will not be tolerated. The official said Israel was willing to go all the way to stress its point – including a large-scale ground invasion into Gaza and the assassination of Hamas' political leadership.
Six people were wounded in Ashkelon on Saturday after one rocket landed next to City Hall and another in the marina area. Another rocket struck Ashkelon on Sunday, slightly wounding one person, medics said.
Ashkelon's mayor said he would not accept the rockets becoming a normal reality.
"This is a state of war, I know no other definition for it," said Roni Mahatzri, from his makeshift office in an underground bunker. "If it lasts a week or two, we can handle that, but we have no intention of allowing this to become part of our daily routine."
That seemed to be the major concern for most residents.
"We will not turn into Sderot," Shimoni said, referring to the town that has suffered most of the rocket attacks over the past seven years. The rockets have killed 13 people, wounded dozens more, caused millions of dollars in damage and made daily life unbearable.
Ashkelon residents took to the street on Saturday night urging government action against the Gaza militants. On Sunday, the city was relatively calm, with foreign dignitaries visiting to convey support, and maintenance crews diligently collecting debris and paving over craters left by rockets hitting parking lots. The mayor said attendance in schools was nearly perfect, and, though it was the talk of the town, residents didn't seem too panicked by the weekend attacks.
Still, there was clearly a new reality. The army over the weekend installed its "Code Red" siren system in Ashkelon to alert of any future incoming rockets and on Sunday, Israeli emergency services began providing first-aid courses to instruct residents how to act in an attack.
"Life has changed," said Yafa Nachum, 47. "No one knows what will come next … I'm considering leaving."
The government, however, is determined not to let militants scare people away from Ashkelon.
"The fact that more than a dozen rockets have targeted the major population center of Ashkelon is a sign that the terrorists have broken through a new threshold in their war against the Israeli civilian population," said Mark Regev, a spokesman for Prime Minister Ehud Olmert. "We will have to act to protect our people."
Maj. Avital Leibovich, an army spokeswoman, said that Ashkelon being targeted marked "a new state of violence," adding that Hamas has improved its rocket-firing capabilities dramatically.
Israeli officials assume that new and improved rockets, along with Iranian-trained rocket-launchers, were smuggled into Gaza when its border with Egypt was breached in January, bringing Ashkelon into its range.
Ephraim Kam, a research associate at the Institute for National Security Studies, a Tel Aviv think tank, said hitting Ashkelon simply brought too many civilians into rocket range and was unacceptable to Israel's leaders.
"Ashkelon is much more significant than the places that have been hit so far," he said.