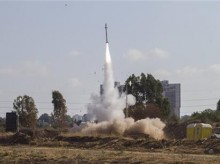 An Iron Dome air defense system fires to intercept a rocket from the Gaza Strip in Tel Aviv. (AP Photo/Dan Balilty)
HADERA, Israel (AP) — Residents of this city in northern Israel have long known they were within range of rockets from Hezbollah guerrillas in Lebanon. After being struck by a missile from Gaza, however, there is a new reality: They can be hit from both directions.
The landing of rockets in Hadera, more than 100 kilometers (60 miles) north of Gaza, means that no spot in Israel is immune to attack from one source or the other. The coastal city of 100,000 people is struggling to adjust.
"Our enemies have developed, and it is getting scary," said Maayan From, 25. "We have to put an end to this."
Israeli experts have long warned that — thanks to ample Iranian missile shipments — the entire country was within rocket range of its adversaries. Israel on Tuesday began a massive air campaign against Gaza to try to eliminate that scenario.
"We are full of hope that was the first and last rocket we will see (from Gaza). But I don't know," said Ina Marchovsky, a 43-year-old municipal worker.
Southern Israel has been coping with the threat for years — attacks that have killed, maimed and traumatized civilians. A round of fighting in November 2012 added Tel Aviv and Jerusalem to the mix, with air-raid sirens sending residents of the country's two biggest cities for cover.
The north, by contrast, has remained quiet since a monthlong war in 2006 in which thousands of rockets were fired from Lebanon. The longest-range missiles from that conflict hit Hadera, which is home to a key power plant.
Marchovsky well remembers the shock of the 2006 attack from Lebanon but finds the recent fire from Gaza even more unsettling.
"It's still hard to digest that we are within their range. It changes the way you think," she said.
In March, Israeli naval commandoes seized what it said was a shipload of long-range missiles from Iran to Gaza. Military spokesman Lt. Col. Peter Lerner said Tuesday's first launch of the Syrian-made M-302 rocket toward northern Israel proved that Iran was indeed supplying Gaza with the weapons, and that some had slipped through despite Israel's efforts.
He said Israel suspects Hamas still possesses dozens of other such missiles with a range of more than 100 miles (160 kilometers), putting 5 million Israelis within their reach.
"We know when we are successful in stopping them. Obviously, they have been successful in smuggling some of these in," Lerner said. "We know there are these rockets in Gaza they have longer range, they have more firepower and they are more accurate."
Uzi Rubin, a former head of Israel's missile defense program, said the strike against Hadera merely proved what Israel already knew.
Still, he said the projectiles remained rather crude, and because of Israel's "Iron Dome" missile defense system, they are unlikely to cause major damage or harm. Their main impact, like the shorter-range rockets that have hit southern Israel, is psychological.
"They mostly have a terrorist effect because the chances of getting hit by them are less than being hit by a car," he said. "But we have to protect the entire country. Their interest is to have all of Israel under fire."
In two days, Gaza militants have fired more than 160 rockets at Israel, reaching farther north than ever before, but causing no casualties and very little damage.
Deputy Mayor Hedva Yechezkely said that like other Israelis, residents of Hadera were battle-weary and not easily spooked. Still, she said the new reality gave her "food for thought."
"There is no magic solution. We will have to learn to live with it," she said. "We are confident that at the end we will emerge victorious."
The rocket was the talk of the town Wednesday in Hadera, about 50 kilometers (30 miles) north of Tel Aviv. Later, news trickled in that another one landed near Zichron Yaakov, even farther north.
"Once we believed it was impossible to harm Hadera and that life here was different from Sderot or Ashkelon," said waitress Gal Yitzhaki, referring to towns and cities in southern Israel. "I guess you aren't safe anywhere anymore."