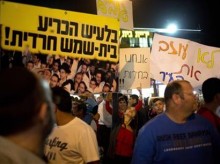 Beit Shemesh residents protesting against the election results (AP Photo/Ariel Schalit)
BEIT SHEMESH, Israel (AP) — After a contentious mayoral election between secular and ultra-Orthodox rivals, this deeply divided city has become a flashpoint for a religious struggle that is threatening to tear Israel apart.
Claiming the election was stolen, secular and moderately religious residents of Beit Shemesh are arranging large demonstrations against the ultra-Orthodox mayor, demanding a new vote and even suggesting the city be split in two. But the protests go far beyond the alleged election fraud. They cut at the very nature of Israel as it tries to maintain its character as both a Jewish state and a pluralistic democracy.
"I really feel like they (the ultra-Orthodox) are trying to conquer our city. It's not 'live and let live.' They are pushing us out," said Etti Amos, 56, who has lived in Beit Shemesh since her family emigrated from Morocco when she was a child. She said her three children have left town because they saw no future.
Ultra-Orthodox Jews make up about 10 percent of Israel's population. Maintaining a strict lifestyle that revolves around prayer, most live in ultra-Orthodox dominated towns or in insular neighborhoods in larger cities like Jerusalem.
While generally keeping to themselves, they often face resentment from the general public for shirking compulsory military service while receiving taxpayer stipends to pursue religious studies. They have also caused controversy by trying to force their conservative lifestyle on others.
Beit Shemesh, a city of about 100,000 west of Jerusalem, is split almost equally between the ultra-Orthodox and the others — a vibrant mixture of secular, modern Orthodox, Russian and American immigrants and Jews of Middle Eastern descent who all coexist peacefully. Frictions have increased as neighborhoods have begun to overlap.
Residents also say that the ultra-Orthodox mayor has neglected their needs, reneging on promises to build a sports stadium, a cultural center and a library, while funneling resources and construction projects almost exclusively to his own community.
"If the current planning policies continue to be as they have, there will be no need for an election in 2018 because the ultra-Orthodox will already be a clear majority," said Daniel Goldman, a modern Orthodox religious activist. "There is a constant undercurrent of tension and the more the ultra-Orthodox grow, the more influence they wield in City Hall, the more we feel uncomfortable."
Last week's municipal election highlighted the divisions. Secular challenger Eli Cohen said the campaign should have focused on the mismanagement by incumbent Mayor Moshe Abutbul. Instead, it became about religion.
Official results show voters lined up almost entirely along religious affiliation. Ultra-Orthodox neighborhoods voted overwhelmingly for Abutbul, while other areas supported Cohen, with a little more than 900 votes separating them.
Dozens of witnesses have alleged fraud, including ballots that were damaged and disqualified, and residents with questionable identification trying to vote more than once.
About 2,000 people demonstrated late Tuesday, calling for a new election.
Police spokesman Micky Rosenfeld said eight people have been charged with voter fraud after being found with 200 fake ID cards.
Abutbul rejects the accusations and says he won fairly. He boasts of paving roads and building malls and restaurants that cater to secular residents and says he will continue to serve everyone equally.
"Even if they need to have a revote at one or two ballot boxes, the results will stay the same," he told The Associated Press. "The city will stay the same city. There is room for everyone. … I build for everyone. Those who will try to distort my image will face stiff resistance."
He said those who questioned the election were "making it such that good people will not come to the city."
With their high birth rates, the ultra-Orthodox are the largest growing segment of Israeli society. Many see Beit Shemesh as a battle that could signal trends in the country.
In its most extreme neighborhoods, the ultra-Orthodox have erected signs calling for the separation of sexes on the sidewalks, dispatched "modesty patrols" to enforce a chaste female appearance, and hurled stones at offenders and outsiders.
Other signs exhort women to dress in closed-necked, long-sleeved blouses and long skirts, and announce that computers and Internet connections are prohibited.
In the most famous case, an 8-year-old girl was assaulted two years ago by extremists who spat on her and called her a whore for walking through their neighborhood in an "immodest" fashion.
The ultra-Orthodox say these are isolated events blown out of proportion by a secular media that seeks to defame them. Most insist they embrace fellow Jews and harbor no ill will. But at the same time, they see a future in which Beit Shemesh will become the biggest ultra-Orthodox city in Israel.
It's a sentiment that has Avi Vakhnin, a 47-year-old merchant who has lived his whole life in Beit Shemesh, saying he feels like he is in "mourning" after the election.
"They've taken over and got funding from the government to build new buildings while I can't pay for my mortgage," he said. "But we are not going to give up. It's going to be a war."