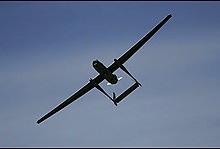 A new Israeli drone aircraft flies during a display. (AP Photo/Ariel Schalit)
PALMACHIM AIR FORCE BASE, Israel — The Israeli air force unveiled its newest unmanned aircraft Wednesday, saying the plane can fly longer, faster and higher than any other surveillance aircraft.
The drone, called the Heron, already saw combat during last summer's war in Lebanon, where Israeli officials said a prototype performed well, seeking out Hezbollah arms and directing airstrikes.
The Heron has a 54-foot wingspan and can fly up to 30 hours at a speed of 140 mph and a height of 30,000 feet. That would give it a range of 4,200 miles and the potential to reach as far as Iran, considered Israel's most serious strategic threat because of its nuclear program and its president's calls to wipe Israel off the map.
Air force officers said the Heron was Israel's most advanced weapon in the booming field of drone technology.
"Today, almost 60 years after the establishment of the state, Israel, the only home of the Jewish people, is still under threat," said Maj. Gen. Eliezer Shkedi, the air force chief, at an unveiling ceremony. The Heron's "versatility and achievements are on the forefront of the world's technology and will allow us to perform various operational missions."
Israel has used drones since the early 1970s, and its fleet has steadily increased. Air force officials say drones have become such an integral part of Israel's air power in recent years that their flight hours now outnumber those of manned fighter planes.
A military band played as the glider-like plane took off to a round of applause. Its rear-facing single propeller lifted the Heron into the sky, a distinctive antenna pod extending from where the cockpit would be in a manned aircraft. Its narrow body was filled with electronic surveillance equipment.
"This is a real breakthrough in the world of unmanned aircraft," said Lt. Col. H., the Heron squadron commander who could only be identified by his first initial due to military regulations.
Sales of the new drone were not part of Wednesday's display, but Israel is one of the world's leading arms exporters, and public rollouts often precede sales campaigns. Israel does not comment on its weapons deals.
Officials said the drone, produced by Israel Aircraft Industries, was far more accurate and effective than its predecessors. For example, it could detect people on the ground and determine whether they were militants or civilians.
Grainy, black-and-white aerial video images on display from last summer's war in Lebanon showed Hezbollah guerrillas preparing to launch rockets, with a large X marking their location. Moments later the screen went blank, indicating a direct hit.
Israel would not disclose whether the Heron could be used to carry out airstrikes, but Robin Hughes, the Middle East bureau chief for Jane's Weekly, said it had the ability to carry a significant payload.
Palestinians have said Israel has been using drones to fire missiles at targets in Gaza, but the military has refused to confirm that.
Hughes said the Heron did not appear to represent any dramatic technical advances and that its specifications did not make it particularly suitable for a strike against Iran.
Still, he said Israel was one of the world leaders in drone technology and one of its leading exporters of such products.
"The Israelis were one of the first countries to recognize the UAV (unmanned aerial vehicle) as a force multiplier," he said. "It can give you a real strategic advantage over the enemy as far as reconnaissance, surveillance and intelligence."
"These are the future of warfare, and the Israelis recognized this quite quickly."