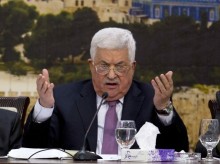 Palestinian President Mahmoud Abbas, speaks during a meeting with the Palestinian Central Council, a top decision-making body, in Ramallah (AP Photo/Majdi Mohammed)
JERUSALEM (AP) — Israeli leaders slammed Palestinian President Mahmoud Abbas Monday for a fiery, invective-filled speech against President Donald Trump, in which he proclaimed the U.S. role as arbiter of the Mideast conflict over, attacked the administration's envoys and described Israel as a colonial conspiracy.
Israeli Defense Minister Avigdor Lieberman said Abbas had "lost his senses" and had given up on the prospect of peace negotiations in favor of open confrontation with both Israel and the United States. Israeli Education Minister Naftali Bennett, head of the pro-settler Jewish Home Party, said the speech represented Abbas' swan song.
Prime Minister Benjamin Netanyahu, during a trip to India, said Abbas "tore off the mask" and exposed what he called the truth. "The root of the conflict between us and the Palestinians is their continuous refusal to recognize the Jewish state in any borders," he said in a statement on Facebook.
In a rambling, two and half hour long speech Sunday night, the Palestinian leader sharply escalated his rhetoric, lashing out at the U.S., Israel, Britain and even other Arab leaders, whom he told to "go to hell" for criticizing him. He pronounced the peace process dead, and accused Israel of killing it.
The speech came at a time of great frustration for the 82-year-old Abbas, who after 13 years in power has made little progress in his goal of establishing an independent Palestinian state on lands captured by Israel in 1967. The rival Hamas militant group now controls the Gaza Strip, his erstwhile Arab allies have quietly moved closer to Israel or turned their attention to other pressing matters such as Iran, and he has lost faith in the United States as a Mideast broker following Trump's recognition of Jerusalem as Israel's capital last month. Abbas also is deeply unpopular with his own public.
In the address, Abbas attacked Trump over the Jerusalem decision and rebuked Trump's recent Twitter comment threatening to cut American aid and alleging the Palestinians were no longer willing to negotiate a peace deal.
"Since when did we reject negotiations?" Abbas told members of the Palestinian Central Council, a key decision-making body. "Shame," Abbas said, addressing Trump.
To laughter from the crowd, Abbas then added the phrase "Yekhreb Beitak," literally translated as "may your house be demolished."
In colloquial Palestinian Arabic, the phrase can have different connotations, from a harsh to a casual insult, but its use in a widely watched speech seemed jarring — and could exacerbate his already fragile relationship with an American president who is particularly averse to criticism.
Despite the tough rhetoric, Abbas did not announce any major policy decisions. He said he remains committed to seeking a peace deal with Israel and promoting a culture of peace in Palestinian society. He denounced terrorism and noted that he has signed an anti-terrorism agreement with over 80 countries, including the U.S., while saying he maintains a team dedicated to outreach with the Israeli public. He said he supports only nonviolent resistance to Israeli occupation.
Even so, much of his language was especially harsh. Abbas has said that by siding with the Israelis on the sensitive issue of Jerusalem, Trump had destroyed his credibility and made it impossible for the Palestinians to accept his vision for a peace plan.
Abbas called Trump's moves a "slap in the face" and threatened that the Palestinians "will slap back," without elaborating. He took particular aim at the U.S. ambassador to Israel, David Friedman, a strong supporter of Israel's West Bank settlements, for reportedly objecting to the use of the word occupation, and Nikki Haley, the U.S. ambassador to the United Nations, for once quipping that she wore high heels to fend off Israel's opponents.
"He (Friedman) is an offensive human being, and I will not agree to meet with him anywhere. They requested that I meet him and I refused," he said. "Nikki Haley too. She threatens to hit people who hurt Israel with the heel of her shoe, and the response to her speech will be harsher."
He also reiterated his demand that Britain apologize for its 1917 Balfour Declaration, which endorsed the idea of a Jewish state. He accused Israel of sending drugs to Palestinian children. Most angering to Israelis, however, was his assertion that the country was a result of Western efforts to offload their Jews.
"They wanted to bring Jews here from Europe to maintain European interests in the region. They asked Holland, which had the largest navy in the world, to transfer the Jews," he said. "Israel is a colonialist project that has nothing to do with Jews."
Israeli President Reuven Rivlin, who holds a mostly ceremonial position, said the comments brought to mind Abbas' own doctoral dissertation, in which he challenged the number of Jewish victims of the Holocaust and claimed Zionists had collaborated with Nazis.
"He returned back to the ideas he expressed decades ago, when they were no less terrible," Rivlin said Monday. "To say Israel is the result of a Western conspiracy to settle Jews in land belonging to Arab populations? To say that the Jewish people has no connection with the land of Israel? He forgot many things, and said exactly the things that led him to be accused years ago of anti-Semitism and Holocaust denial."
Given the lack of actual policy decisions, the speech appeared to reflect frustration over prolonged deadlock and a sense of abandonment.
"It is a necessary bravado for his own people having come short in the diplomatic process," said Uri Savir, an Israeli who negotiated with Abbas in the early 1990s. "Rhetoric aside, I know him as a moderate, but there is a dangerous air of desperation in Ramallah that Israel better take seriously and try to find ways to engage in diplomatic talk on a two-state solution."
The Palestinian Central Council decided after meetings late Monday to declare invalid some previous Palestinian agreements with Israel, including security coordination. It also rejected Trump's Jerusalem declaration and called to suspended recognition of Israel. However, the final decision rests with Abbas and in the past PCC decisions have not been implemented. It is unlikely Abbas would take such action as it could result in the collapse of the Palestinian Authority.