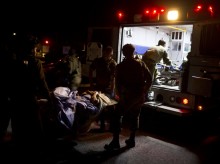 Israeli military medics assist wounded Syrians. (AP Photo/Dusan Vranic)
ON THE ISRAEL-SYRIA FRONTIER, Golan Heights (AP) — The Israeli military on Wednesday promoted a comprehensive aid program to Syrian civilians harmed by their country's civil war, marking a significant broadening of its involvement in a conflict of which it has tried to steer clear.
In a tour of the volatile frontier, the military unveiled "Operation Good Neighbor," which it says has provided tons of food, medicine, clothing and infrastructure over the past year.
Israel has largely stayed out of Syria's six-year war, wary of being drawn into the fighting. It has carried out occasional airstrikes on suspected weapons shipments to Hezbollah, a bitter enemy that is fighting alongside Syrian government forces, and has responded to occasional spillover fire.
At the same time, it has quietly provided humanitarian assistance — treating some 4,000 civilians, including 900 children. That effort has been expanded significantly over the past year to include aiding not only wounded civilians but also ill children needing life-saving medical care. The military says it has provided 450,000 liters of fuel, more than 360 tons of food and 600 meters of pipes to repair ruined water infrastructure. It's currently building a field hospital on the frontier with advanced medical equipment.
Col. Noam Fink, the chief medical officer of the northern command, said the aid was essential since some 70 percent of Syrian doctors had fled and the country's medical infrastructure had been destroyed.
"We just cannot stand aside and ignore this," he said.
Syria's civil war has killed more than 400,000 people. More than 11 million people, nearly half of Syria's population, have been driven from their homes by the war since 2011, including 5 million who fled abroad as refugees.
Though Fink insisted the operation was motivated purely by humanitarian concerns, he acknowledged that the goodwill it had created could ease tensions down the road and that the "international language of medicine" could lead to a more peaceful future.
The image of Syrians bonding with their Israeli benefactors would have been unthinkable just a short time ago.
Israel and the government of Syrian President Bashar Assad are bitter enemies, and contact across the hostile lines of the divided Golan Heights were virtually nonexistent. Israel captured part of the Golan, a strategic plateau overlooking northern Israel, from Syria in the 1967 Mideast war.
The outbreak of Syria's civil war in 2011 has radically altered the area. The Syrian side of the Golan is now divided between government troops and a host of rebel groups. Russian, Iranian and Lebanese Hezbollah forces have all entered the fighting to offer support to Assad's forces.
Syria's neighbors suspect Iran is pursuing a broader agenda, including carving out a land route that would create a territorial continuum from Iran and Iraq to Lebanon. That has raised concern in Israel over a recent cease-fire in southern Syria brokered by the U.S. and Russia.
Israeli military officials said they have noticed a drop in fighting since the deal was agreed, but that violence was still rampant among the various rebel groups who control about 85 percent of the province bordering Israel.
Those living alongside the Israeli frontier are trapped among the warring parties with few options to escape. Even so, word has gotten around that Israel — their country's longtime enemy — has become an unlikely source of assistance.
"The only thing they know about Israel is the stories," said Col. Barak Hiram, the commander of the regional brigade along the border. "If they decided that the only safe place to run to is the Israeli border, you can imagine how rough it is."
To assuage their fears, he said the Syrians were welcomed with breakfast and the children greeted by Arabic-speaking clowns. Crates full of beans, wheat, sugar and oil were stacked at a nearby base, ready to be dispatched, alongside incubators, respirators, baby food and diapers.
Hiram said Israel insisted on treating only civilians and had not come into contact with Islamic State and other jihadi militants. To date, no one has interrupted the operations or opened fire deliberately at the Israeli troops in the field.