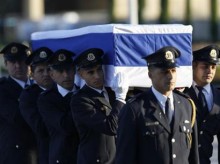 Members of the Knesset guard carry the coffin of former Israeli President Shimon Peres. (AP Photo/Ariel Schalit)
JERUSALEM (AP) — Thousands of Israelis flocked to parliament Thursday to view the casket of Shimon Peres, paying final respects to the former president and prime minister whose life story mirrored that of his country.
Dignitaries began arriving for a funeral that is expected to be Israel's largest since that of Prime Minister Yitzhak Rabin, Peres' partner in peace who was slain by a Jewish nationalist in 1995.
Peres' office said more than 90 delegations from 70 countries have confirmed their participation, including U.S. President Barack Obama, French President Francois Hollande, German President Joachim Gauck, Prince Charles of Britain and King Felipe VI of Spain.
After an initial hesitation due to the collapse of peace efforts, Palestinian President Mahmoud Abbas also confirmed his participation, as did representatives from Egypt and Jordan — the two Arab countries at peace with Israel. That was a testament to the wide reach of Peres, a Nobel Peace Prize laureate who was his country's strongest advocate for ending the conflict in the Middle East.
In contrast to an outpouring of grief from Western leaders, Arab leaders have remained largely silent over Peres' death. Abbas was one of the few to express sorrow. A representative said he wanted to attend the funeral to send a message to Israeli society that despite the current stalemate, Palestinians still believe in peace and appreciate men of peace like Peres.
A spokesman for Hamas, the Islamic militant group that rules Gaza, urged Abbas to cancel.
Many in the Arab world are deeply critical of Peres because of his role in building Israel's defense arsenal, his early support for West Bank settlements and for waging war in Lebanon while prime minister. Israeli Arab leaders, whose community Peres championed, were also conspicuously quiet.
"We have strong objections and criticism to Peres of the occupation, of building the settlements and the crimes in Qana (in Lebanon)," said Ayman Odeh, head of the Arab Joint List in parliament. Arab social media sites also featured caricatures depicting Peres as the angel of death.
However, Khalid al-Khalifa, the foreign minister of Bahrain, issued a rare Arab tribute.
"Rest in peace President Shimon Peres, a man of war and a man of the still elusive peace in the Middle East," he tweeted.
Police were preparing for a complicated security operation, which will include the closing of the major highway from the airport, as well as shutting down a large part of Jerusalem. Schools near the national cemetery are to be closed, and thousands of additional forces have been deployed.
Peres' casket lay in state in the plaza outside the Knesset, or parliament, as soldiers in uniform, teenagers from youth movements and Israelis from all walks of life lined up on a warm September day to pay their respects. They were joined by former U.S. President Bill Clinton, the first foreign dignitary to arrive.
Prime Minister Benjamin Netanyahu and President Reuven Rivlin laid wreaths beside the casket early Thursday. Clinton, escorted by Rivlin and Knesset Speaker Yuli Edelstein, stopped by later, staring solemnly at the casket without commenting.
The casket was covered in a blue and white Israeli flag and watched over by a small honor guard as two military officers recited psalms. Mourners slowly walked by, laying wreaths, snapping photos and praying. A picture of a smiling Peres, with a black stripe in its corner, was placed besides a flickering candle and in front of a row of Israeli flags at half-staff.
Parliament spokesman Yotam Yakir said about 25,000 Israelis had arrived by midday, and he expected that to double by evening, a staggering number when people are hectically preparing for the Jewish New Year holiday that begins Sunday.
Yossi Namari, 67, drove two hours from a suburb of Haifa in northern Israel.
"All of Israel is encapsulated in this man," he said. "He represents this dogged pursuit of peace. He never gave up and now that is gone. … It feels like the end of an era. His style of inspiring leadership is no more."
In an unprecedented seven-decade political career, Peres filled nearly every position in Israeli public life and was credited with leading the country through some of its most defining moments: creating what is believed to be a nuclear arsenal in the 1950s; disentangling its troops from Lebanon and rescuing its economy from triple-digit inflation in the 1980s; and guiding a skeptical nation into peace talks with the Palestinians in the 1990s.
A protege of David Ben-Gurion, Israel's founding father and first prime minister, Peres served in parliament for nearly half a century, held every major Cabinet post — including defense, finance and foreign affairs, and served three brief stints as prime minister. He was the country's elder statesman as its ceremonial president between 2007 and 2014.
Peres created his non-governmental Peres Center for Peace, which raised funds and ran programs for cooperation and development projects involving Israel, the Palestinians and Arab nations. He was a huge proponent of Israeli technology and innovation, and gained international recognition as a globe-trotting celebrity preaching peace and coexistence.
Peres died Wednesday at the age of 93, two weeks after suffering a stroke. His son-in-law and personal physician, Dr. Rafi Walden, said Peres left behind detailed plans for Friday's funeral as well as instructions to donate his corneas.
The mourners reflected not only Peres' remarkable biography but also the symbolism of losing the country's most admired leader and the last remaining link to its founding generation.
"He represents the 'old' Israel, the wisdom, the values, the ideals — the Jewish vision for a better future," said Edna Dotan, 63, from Herzliya. "I fear that with him passing that vision is dissipating. I don't see another leader like him rising among us."