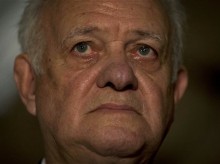 Michael Sidko, 76, is one of the lone survivors of the Babi Yar massacre. (AP Photo/Sebastian Scheiner)
JERUSALEM (AP) _ With tears in his eyes, Michael Sidko laid a wreath of flowers at Israel's official Holocaust memorial during a solemn ceremony Thursday marking 70 years since a World War II massacre he barely escaped.
Sidko was six when he was taken with his family to the Babi Yar ravine outside Kiev, Ukraine _ then part of the Soviet Union _ to be murdered along with the rest of that city's Jews. In the two-day killing spree in September 1941, Nazi troops gunned down more than 33,000 Jews and buried them in mounds of dirt.
Among those murdered were Sidko's mother and two of his siblings. He and his older brother, Grisha, were among the few who managed to escape the killing fields.
"How is it that everyone was killed and only we survived?" he asked, hands quivering. "I still can't believe what happened there and how I managed to get away. I thank God I am here today."
At 76, he is one of the only living survivors of an atrocity that has become one of the defining events of the Nazi genocide of 6 million Jews.
The Nazi invasion of the Soviet Union in June 1941 marked a turning point in the German plan to "solve the Jewish problem." Einsatzgruppen paramilitary death squads were sent out to follow the German armies. Babi Yar was one of the first mass killing sites.
Of the 160,000 Jews in Kiev prior to the Nazi invasion, some 100,000 managed to flee. The rest were ordered to be murdered.
At Babi Yar, the Jews were forced to hand over valuables, strip and line up on the edge of the ravine. They were then shot with automatic fire and covered by dirt. The Nazis gunned down 33,771 Jews over two days.
Similar mass murders took place throughout the former Soviet Union.
After the war, a 1961 poem about the massacre by Yevgeni Yevtushenko was turned into music, and Babi Yar became a symbol of Nazi evil.
"At that area, the mass murder systematically started and for many years it was denied," said Avner Shalev, chairman of the Yad Vashem Holocaust Memorial. "That very famous piece of poetry started a new process and immediately it caught the minds and hearts of so many people in the world."
Babi Yar also served as a slaughterhouse for non-Jews, such as Gypsies and Soviet prisoners of war. According to a Soviet estimate, 100,000 people were murdered there.
Sidko said he was gathered along with a small group of children while the adults were being slaughtered. For some inexplicable reason, a German guard allowed him and his 13-year-old brother to break off from the group, and then they fled.
They returned home, but a Ukrainian neighbor reported them to the Gestapo and they were sent to a concentration camp. The brothers escaped that as well and were on the run for two more years, until the end of the war. Michael Sidko's brother Grisha is no longer alive.
At Thursday's ceremony, Sidko rekindled the eternal flame at Yad Vashem alongside Ukrainian Minister of Culture Mykhailo Kulynyak.
"It was hard," he said, in Russian. "I saw my whole life before my eyes."
Despite Israel's troubled history with Ukraine, Yad Vashem is set to sign a breakthrough agreement with the country's national archives that it hopes will shed more light on the massacres and help the Holocaust memorial in its project of collecting the names of all 6 million Jews killed in the Holocaust.
Among the material in the Ukrainian archives is documentation from village, city and regional administrations, from which it is expected that details about the daily life of Jews before and after the Nazi invasion can be drawn.
"This is a significant achievement," Shalev said.