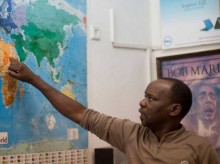 Ismail Abdul Rasul points on a map where he escaped a genocide in Darfur. (AP Photo/Dan Balilty)
TEL AVIV, Israel (AP) — Ismail Abdul-Rasul and his family escaped war in Darfur, languished in squalid conditions in Egypt for five years and nearly suffocated in a harrowing journey across the Sinai desert before they were finally smuggled into Israel.
"I was dancing with joy when I arrived," said the 47-year-old father or four, who reached Israel in July 2007. "It was one of the happiest days of my life."
In recent years, tens of thousands of Africans like Abdul-Rasul have entered the country through its long desert border with Egypt, turning Israel, like parts of Europe, into a magnet for asylum seekers, and even more, for migrants desperate for jobs in the industrialized world.
Their arrivals are hardly being welcomed. Facing a public furor, the government is scrambling to erect a fence along the 130-mile (220-kilometer) Egyptian border and a massive detention center in the remote southern desert.
With Israel, however, come special complications: Founded six decades ago in the wake of the Nazi Holocaust genocide, its society is torn between a sense of duty toward the persecuted and fears that the influx might make the country less Jewish.
In a speech to parliament last week, Prime Minister Benjamin Netanyahu warned of a "flood" of illegal migrants. "It is threatening the jobs of Israelis, and it is threatening the Jewish and democratic character of the state of Israel," he said.
The government says that all but a select few are economic migrants and not eligible for refugee status. But critics charge the government is turning away bona fide refugees fleeing persecution.
"The state is lying, it knows it is lying and it purposely refuses to check the refugees' status because that will prove that it is lying," said Sigal Rozen of the Hotline for Migrant Workers advocacy group.
Israel would seem to be an unlikely destination for African migrants, who have few ties to the Jewish state. Egypt, however, has a large population of migrants — and after Egypt violently quashed a 2005 protest by a group of Sudanese refugees, they began trickling north into Israel.
Approximately 35,000 have entered Israel since, with the number surging to 1,500 arrivals every month, according to government figures.
Some cities have been transformed. Some 10 percent of the population of the Red Sea resort town of Eilat are African migrants, and an entire neighborhood in south Tel Aviv is known as "Little Africa," where ethnic food shops and phone card stalls line the streets.
The vast majority hail from Eritrea, where men are often forced into a military service with slavery-like conditions, and Sudan, which was torn by a 22-year-civil war and continues to see a separate conflict in its Western region Darfur that some have labeled a genocide, with some 300,000 have been killed and 2.7 million displaced since 2003, according to the U.N.
Rozen said 88 percent of Eritrean asylum seekers worldwide were granted refugee status last year, while in Israel not one was processed.
Initially, Israel took in many of the early arrivals, providing shelter and even arranging jobs in hotels and on kibbutz collective farms. Nearly 3,000 people received temporary residence or work permits. But with no overarching policy, most migrants are simply released onto the streets after brief detentions.
Haifa University geography professor Arnon Soffer estimates that if the current pace persists there will be approximately 500,000 illegal migrants in Israel within 15 years. He called the influx an "existential threat" to a country of just 7.6 million people.
To be sure, Israel is not alone in confronting the issue.
Greece, which accounts for 90 percent of the European Union's detected illegal border crossings, has asked for emergency help from the EU in patrolling its border with Turkey. Italy, with its long and loosely guarded coastline, has become the destination of tens of thousands of would-be immigrants a year, most from Libya.
The Africans have found pockets of sympathy in Israel. Human rights groups and high profile figures like Nobel laureate and Holocaust survivor Elie Wiesel have urged the government to offer a home to Darfurians escaping genocide.
The Africans describe harrowing journeys, fleeing persecution at home and making their way through Egypt, where human rights groups say border guards have shot and killed 85 Africans trying to reach Israel since 2007.
In Egypt's Sinai desert, the migrants pay thousands of dollars to Bedouin smugglers to get them across the border and are often held hostage by the smugglers who extort their relatives for more.
The Israel branch of Physicians for Human Rights has collected dozens of accounts from migrants describing abuse at the hands of Bedouin traffickers. According to the testimonies, smugglers routinely rape migrants, subject them to electric shocks, burn them with iron bars and lock them in sweltering containers without food or water.
"Five or six men raped me multiple times, I'm not sure how many times. They also beat me many times. I felt like I was going to die," according to a testimony from an Eritrean woman, identified only as H.A.S.
Abdul-Rasul, the Darfurian who arrived in 2007, is one of the few who has earned legal status in Israel.
He works in a computer goods store in south Tel Aviv. His children now all speak fluent Hebrew, and his 17-year-old daughter — who survived a gunshot to the head in Sudan — is thinking of joining the military in Israel.
But he doubts he would repeat his journey today, saying it would be far too dangerous.
"I was one of the lucky ones," he said.