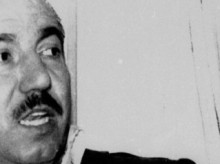 Khalil al-Wazir, better known as Abu Jihad. (AP Photo/John Rice, File)
JERUSALEM (AP) — Israel acknowledged Thursday it killed Palestinian leader Yasser Arafat's deputy in a 1988 raid in Tunisia, lifting a nearly 25-year veil of secrecy and allowing a rare glimpse into the shadowy world of its secret operations.
One of the commandos was disguised as a woman on a romantic vacation, and one of the weapons was hidden in a box of chocolates.
Khalil al-Wazir, who was better known by his nom de guerre Abu Jihad, founded Fatah, the dominant faction in the Palestinian Liberation Organization, with Arafat and was blamed for a series of deadly attacks against Israelis.
Two of those involved in the operation that killed al-Wazir now hold high political office in Israel — Defense Minister Ehud Barak and Vice Premier Moshe Yaalon. At the time, Barak was deputy military chief, and Yaalon was head of the elite commando unit Sayeret Matkal. Their precise roles in the operation were not divulged, and both men's offices declined comment.
Israel has long been suspected of assassinating al-Wazir. But only now has the country's military censor cleared the Yediot Ahronot daily to publish the information, including an interview with the commando who killed him, at least 12 years after the newspaper obtained the information.
"I shot him with a long burst of fire. I was careful not to hurt his wife, who had showed up there. He died," commando Nahum Lev told Yediot prior to his death in a motorcycle accident in 2000. "Abu Jihad was involved in horrible acts against civilians. He was a dead man walking. I shot him without hesitation."
Dozens of similar operations have been attributed to Israel over the decades. But Israel rarely takes responsibility and typically does not comment about covert operations.
Israeli officials did not openly confirm the operation. But the censor's decision to allow publication, after years of stifling the account, amounted in effect to confirmation.
The military censor's main task is to block publication of material deemed a threat to national security. Israel has a longstanding policy of preventing publication of any information that would expose agents, tactics and intelligence gathering methods or put anyone still alive who was involved in harm's way.
In the al-Wazir case, though, it appears that after years of rumors and foreign reports claiming to expose the operation, along with the death of the triggerman, the censor's office decided to drop its objection to publication. Many of the details and identities of those involved still remain classified.
The Yediot report, coupled with a more detailed account in the military affairs magazine Israel Defense, described a well-planned operation months in the making.
According to the Yediot report, the operation was a joint effort by the Mossad secret service and the Sayeret Matkal.
At the time of the raid, the Palestine Liberation Organization, headed by Arafat, was based in the North African nation of Tunisia.
From a command post on an Israeli boat in the Mediterranean Sea, 26 Israeli commandos reached the Tunisia's shores on rubber boats.
Lev, the commando, approached Abu Jihad's home in the capital, Tunis, with another soldier, a man dressed as a woman. The two pretended to be a vacationing couple, with Lev carrying what appeared to be a large box of chocolates. Inside the box, however, was a gun fitted with a silencer.
According to Israel Defense, the fighter dressed as a woman carried a map and distracted the bodyguard by asking for directions, which allowed Lev to shoot him dead. Israel had tested the disguise earlier at an Israeli mall, and after the "women" received random cat calls the outfit was deemed sufficient, it said.
Another team killed a separate bodyguard and a gardener before entering the expansive villa. Lev's partner was the first to fire at the Palestinian leader. When Lev noticed al-Wazir reaching for a weapon, he shot and killed him.
Other participants then "verified the kill" by shooting the body several more times before the forces retreated to sea and back to Israel, the Yediot report said.
"I felt bad about the gardener," Lev told Yediot. "But in an operation such as this you have to make sure that any potential resistance is neutralized."
The Palestinians have long accused Israel of being behind the assassination.
Abbas Zaki, a top official in Palestinian President Mahmoud Abbas' Fatah movement, said the Palestinians and Tunisia should now "work to bring Israel to justice."
Zaki said the Palestinians hope their bid to gain upgraded observer status at the United Nations next month will enable them to join the International Criminal Court where they can "pursue Israel for its crimes against our people."
Al-Wazir's son, Jihad al-Wazir, who currently heads the Palestinian central bank, said the family had no comment.
On the surface, Wazir was a quiet, soft spoken figure in an organization replete with flamboyant characters. He eschewed the high-living that tainted some PLO figures during the organization's years in Beirut, with its night clubs and cafes. That enabled him to maintain the respect of all the factions within the often deeply divided PLO.
But behind the mild, non-threatening facade was a man capable of using brutality and bloodshed to advance the cause of Palestinian independence. He was largely responsible for organizing PLO underground cells within the West Bank and Gaza. He maintained close ties to Soviet Bloc countries that were a source of weapons and political support, even as Arafat himself was reaching out to the West.
Al-Wazir had long been wanted in a series of deadly attacks against Israeli civilians. Among them, he masterminded a 1975 hostage taking at a Tel Aviv hotel in which 11 Israelis were killed, and a 1978 attack on an Israeli bus that killed 38 Israelis.
At the time of his death, he was a main organizer of the first Palestinian uprising against Israel, which began in December 1987, four months before he was killed.
Israel has carried out similar assassination operations in the past, including the killing of top leaders of Black September, the Palestinian group that carried out the massacre of 11 members of the Israeli delegation to the 1972 Munich Olympics.
It is also suspected of a series of other plots it has never confirmed or denied.
Among the most prominent:
— In 1995, the founder of the Islamic Jihad group Fathi Shikaki was gunned down in Malta by a man on a motorcycle in an attack widely attributed to Israel.
— In 2008, Imad Mughniyeh, a top commander in the Lebanese militant group Hezbollah, was killed by a bomb that ripped through his car in Damascus, Syria. Hezbollah and its primary patron, Iran, have blamed Israel for the killing.
— In 2010, Mahmoud al-Mabhouh, a top Hamas operative, was killed in a Dubai hotel room in an operation attributed to Israel's Mossad.
Iran also blames Israel for covert plots against its nuclear program and the killing of top scientists. In turn, Iran and Hezbollah have been blamed for various attacks on Israelis abroad.