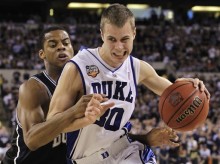 Jon Scheyer
JERUSALEM (AP) _ Most new immigrants to Israel have traditionally come out of ideology, or to escape hardship and persecution. Jon Scheyer is coming to be a basketball superstar.
Thanks to his Jewish heritage, the newest addition to perennial powerhouse Maccabi Tel Aviv is immediately eligible for Israeli citizenship. That means the 23-year-old former Duke standout can join the team without taking one of the few coveted roster spots allotted for valuable foreign players.
Scheyer is just the latest example of a Jewish-American athlete going to Israel to advance his athletic career. While the Israeli basketball league has long been a refuge for second-tier players in the twilight of their careers, it is now increasingly recruiting top-notch Jewish talent in hopes of shoring up the local talent base while contributing to the national goal of bringing Jews to Israel.
"It's good for the league, it's good for the players and it's good for the country. Everybody gains," said league commissioner Avner Koppel.
With the league recently imposing a new limit of four foreigners per team, the search for Jewish talent has intensified. And with an NBA lockout in place, a move to Israel appears especially well-timed.
Aside from Scheyer _ a 6-foot-5 guard who led Duke to a national championship in his senior year in 2010 and whom Hall of Fame Duke coach Mike Krzyzewski has called one of the best players he's ever coached _ the list of American Jews making a splash in Israel includes NBA prospect and former University of Virginia star Sylven Landesberg, former USC sharpshooter David Bluthenthal (who now goes by David Blu), and Dan Grunfeld, son of the Washington Wizards' General Manager Ernie Grunfeld.
For the players, the Israeli basketball league has gone from dead end to potential launching pad. Maccabi Tel Aviv routinely competes for the European championships and is heavily scouted.
Two years ago, Omri Casspi left Maccabi to became the first Israeli to play in the NBA. A string of other quality NBA players _ the Detroit Pistons' Will Bynum, the Cleveland Cavaliers' Anthony Parker and the Boston Celtics' Carlos Arroyo, to name a few _ also have made the jump from Israel to the NBA.
Scheyer, who was passed over in the NBA draft and then was poked in the eye at the Miami Heat's summer league, is one of those likely to get another NBA shot if he shines in Israel.
He says his Jewish friends love the country and Coach K told him Maccabi would be a good career move.
"It makes sense for me in every aspect," he said. "Israel is such a unique place to go, even if you aren't Jewish. For me, being Jewish, it's even more special."
While most of the players won't reach the NBA, many come to realize their dreams of playing professional sports, extend their careers or find a new place to call home.
No owner has been more active in recruiting Jewish talent than Maccabi Haifa's Jeffrey Rosen. For the past four years, the American businessman has held tryouts in Florida for Americans looking to play in Israel. He said he has signed about 20 Jews to play either for Haifa or for a second division Israeli team he also owns.
"It's an interesting confluence of basketball skill, a young man's journey after college and the Jewish faith," he said. "Israeli basketball is now an elevated platform for every top Jewish player in the American system. Landesberg and Scheyer? They are the best of the best, but we are also interested in bringing over all the rest."
One of the players he previously signed is Tamir Goodman, a former U.S. high school sensation whom Sports Illustrated once dubbed "The Jewish Jordan."
To Goodman, an observant Jew who refused to play basketball on the Jewish Sabbath, Israel truly was the promised land. The league doesn't play games on the Sabbath, which stretches from Friday night to Saturday night.
"When I couldn't play in college and I couldn't play professionally in the states because of Shabbat, the first place to look was Israel," he said.
Now retired from playing and living in Cleveland, the 29-year-old Goodman coaches children's basketball and speaks to Jewish groups. He said he was overjoyed that other Jewish players are discovering Israel.
"Every Jewish person has a special connection to Israel and if athletics brings that out in someone _ what a beautiful thing," he said.
But not everyone has been as thrilled.
Israel's Law of Return grants citizenship to anyone who has at least one Jewish grandparent, so many of the athletes have little connection to Israel and few intentions to stay.
Landesberg, for instance, has a Jewish father and a non-Jewish African-American mother. Scheyer's recent signing ceremony was the first time he ever stepped foot in the Holy Land.
Veteran Israeli big man Ido Kozikaro worries that the Americans are taking jobs away from Israeli players.
"It's a very complex matter. As a Zionist, as an Israeli patriot, I am glad to see them coming to Israel. But what's the goal? I doubt many of them plan on staying," he said.
Whereas young Americans have four years of college to hone their skills, Israeli athletes' development is delayed because of three years of mandatory military service, Kozikaro notes.
"It's possible that some teams prefer to bring a player straight from college instead of taking the time to develop local talent," he added. "Currently, we are still talking about a small scale, but if this trend becomes a flood it will be a problem in the long run."
For the newcomers, the move is a winning proposition all around.
Landesberg said it has both lifted his game and helped him better understand his heritage. The 21-year-old said he has picked up some Hebrew and learned Jewish traditions, such as kissing the door post mezuzah, a Jewish ritual object.
"Hopefully, I'll make it to the NBA, but I will definitely never forget my time in Israel no matter where I go. It is a huge part of my growing up," he said.
When Jewish athletes become Israelis they also are eligible to play on the national teams, leading some to dream about a Jewish influx in other sports as well.
Israel was recently invited to compete in the qualifying round of the 2013 World Baseball Classic. While the local talent pool is limited, Israel could theoretically field a star-studded team that includes Jewish-American ballplayers such as Ryan Braun, Kevin Youkilis, Ian Kinsler, Ike Davis and Jason Marquis.
"We are not limited by basketball," said Haifa's Rosen. "We would like to be the conduit for the Jewish professional athlete … Israel has so much to offer and sports is as legitimate and genuine and significant as any reason to come to Israel."