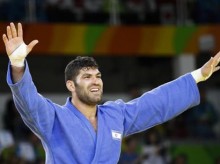 Israel's Or Sasson celebrates after winning the bronze medal during the men's over 100-kg judo competition at the 2016 Summer Olympics in Rio de Janeiro, Brazil. (AP Photo/Markus Schreiber)
JERUSALEM (AP) — Forget the handshake that wasn't — Israel is delighted with something much more unusual: international athletic success.
While an Egyptian judoka's refusal to shake hands with his Israeli opponent at the Rio Olympics reverberated worldwide, in Israel the focus is on national Olympic medals — something far more novel than Middle East tensions.
The country entered the 2016 games with twice as many Nobel laureates as Olympic medalists.
After defeating Egyptian Islam El Shehaby in the contentious first round match in Rio, Israel's Or Sasson went on to win a bronze medal in the heavyweight category. His triumph, and another bronze medal for Yarden Gerbi in the women's 63-kilogram judo division, has set off a national celebration in which the nation's leaders have hailed the pair as heroes.
"I still can't digest it. I'm stunned," the 25-year-old Sasson said. "We did something amazing. Israel is a judo empire."
While that's quite a stretch, there's no disputing that judo has become Israel's unofficial national sport, with five of its nine Olympic medals coming in the sport.
"Soccer may be more popular, but this is what we are good at," said Moshe Fonti, the chairman of the Israeli Judo Association. "Every other kid in Israel does it."
The watershed moment came at the 1992 Barcelona Games when Israel earned its first two Olympic medals, both in judo — a silver for Yael Arad in women's half middleweight and a bronze for Oren Smadja in men's lightweight. Those performances finally gave Israel something to cheer about at the Olympics 20 years after Palestinians murdered 11 Israeli Olympic team members at the 1972 Munich Games.
It also sparked youth judo training programs across the country, turning the medal winners into celebrities. Arik Zeevi followed suit, winning bronze as a heavyweight at the 2004 Athens Games.
Israeli fighters have won world and European championships and Fonti said 60,000 Israeli schoolchildren now take judo classes, one of the most popular youth sports.
In a security-obsessed country, sports have never been a top priority. Schools and youth clubs often lack proper infrastructure, coaching and funding. The national team sports have never made a mark and individuals in high-profile fields like swimming, gymnastics and track have often been overwhelmed by superior competition.
Israel's nine Olympic medals — three in sailing and one in canoeing in addition to judo — have sparked jokes that they reflect what Israelis like doing best — fighting and going to the beach. But behind the self-deprecating humor, there's a deep national pride in the country's judo prowess. In a country where military service is sacrosanct, and where Krav Maga originated, judo provides an avatar for the Israeli psyche.
"Yes, we are good at Krav Maga, we are aggressive, we are creative in battle and we know how to exploit the weaknesses of our adversaries. All that is essential in judo," said Gili Lustig, chief of Israel's Olympic Committee. "You can't argue with success. That's the best promotion for the sport."