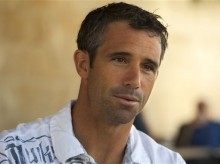 Brad Ausmus speaks during an interview with the Associated Press. (AP Photo/Sebastian Scheiner)
JERUSALEM (AP) — With a pair of Jewish ex-major leaguers on his roster, the new coach of Israel's team in the World Baseball Classic says his squad is already a legitimate contender.
Former All-Star catcher Brad Ausmus said Shawn Green and Gabe Kapler have committed to play for him, and he's hopeful that other Jewish big leaguers, including All-Stars such as Ryan Braun, Kevin Youkilis and Ian Kinsler, will join the cliub.
The scenario of having a star-studded lineup could make Israel, a country where few people know the difference between a home run and a strikeout, an unlikely powerhouse.
"I feel pretty good about the potential of this team," Ausmus told The Associated Press on Monday during his first visit to the Jewish state. "I never guarantee anything in the sport of baseball, because you just don't know, but I'm more than comfortable with the potential of this roster."
Thanks to WBC tournament rules that allow countries to field players who are eligible for citizenship — even if they are not actual citizens — Israel can tap into the formidable pool of Jewish-American baseball talent that includes about 15 major leaguers. Israel grants automatic citizenship to anyone with at least one Jewish grandparent.
Among the potential players who could wear the Israeli uniform are Ike Davis, Jason Marquis, Sam Fuld, Danny Valencia and Scott Feldman. Ryan Lavarnway, a top catching prospect in the Boston Red Sox system, is also a candidate.
Speaking in an outdoor cafe overlooking the walls of the Old City of Jerusalem, the 43-year-old Ausmus said he has been in touch with all Jewish big league players, either directly or through their agents. He would not say whether anyone has formally committed, but said all were "honored" to be able to represent Israel, regardless of whether they eventually do. He said no one has turned him down.
Ausmus' team will face its first challenge this November in a preliminary round in Florida against Spain, France and South Africa.
Israel is among 16 countries invited to play in the qualifying round, with the top four teams advancing to the WBC. The March 2013 tournament will be the third World Baseball Classic. Japan won the first two competitions, in 2006 and 2009.
Israel would not be the only country to tap into foreign talent. Italy, South Africa, and the Netherlands all managed to field U.S. major leaguers in the 2006 and 2009 tournaments through similar citizenship rules. Italy's roster, for example, has included Mike Piazza and Nick Punto, and Andruw Jones, born in the Dutch Caribbean island of Curacao, represented the Netherlands.
Should Israel advance, it would provide a huge boost to Israeli baseball, which remains a niche sport in a country where soccer and basketball reign supreme.
Ausmus, a three-time Gold Glove Award winner and 1999 All-Star who is currently also a special assistant for the San Diego Padres, said he's not planning too far ahead.
"I'm not looking past the qualifier right now. The goal is to win the qualifier," he said.
But he acknowledged that the WBC bid and adding major league standouts to the roster would take the sport to a whole new level in the Holy Land — and have consequences far beyond.
"I know that baseball is in its infancy in Israel. To me that is a kind of way to bridge the gap between American Jews and Israelis. There are a lot of American Jews who attach a great deal of importance to their heritage. This is a way to bring those groups closer together," he said. "As unimportant as baseball is in the grand scheme of things in the world and even in Israel, it may be a way to make a difference between two countries."
In Israel, a small, devoted group of American expats make up the majority of the local leagues. The country has had moderate success in international youth competitions.
A professional league was launched in 2007 but was dominated by foreign players and lasted just one season. The sport failed to catch on with Israelis, who mostly find the game slow and arcane.
Israeli baseball officials hope the WBC will generate more interest and donations for a $3 million complex being built in Raanana, in central Israel, which will become the country's central baseball hub.
According to the officials, some 2,000 youths and adults play baseball in Israel and it says the sport has enjoyed growth in recent years since the experiment with the professional league.
A handful of players from Israel's national team — including some who have played on American college teams — are expected to make the roster as well. Ausmus said the native Israelis on his roster would primarily be pitchers.
While Ausmus would not yet confirm the names of players who have committed, he has already assembled a star studded coaching staff.
The 39-year-old Green, perhaps the greatest Jewish baseball player since Sandy Koufax, will also be the team's hitting coach. In a 15-year career with the Toronto Blue Jays, Los Angeles Dodgers, New York Mets and Arizona Diamondbacks, Green hit 328 homers and played in two All-Star games. He retired after the 2007 season.
Kapler, who had a productive 12-year career and won a World Series title with the Boston Red Sox in 2004, will also serve as the bench coach. The 36-year-old Kapler retired in 2010.
Former major league pitcher Andrew Lorraine will serve as the team's pitching coach and Mark Loretta, a two-time All-Star second baseman whose wife is Jewish, will be the team's third base coach.
Ausmus said that veteran left-handed pitcher Scott Schoeneweis was seriously considering either playing or coaching on the team.
During his week in Israel, Ausmus is expecting to scope out the local talent pool and give clinics to young player. He'll also fit in some touring and meet with Israeli politicians.
"I'm embracing the idea of being an ambassador for the sport in Israel," he said.