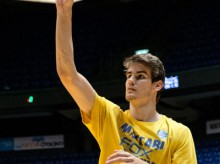 Dragan Bender in practice. (Photo: Jack Guez/AFP/Getty Images)
Published in Tablet Magazine. Can be found here.
A top-five prospect for June 23rd's NBA draft the 7-foot-1, 18-year-old Croat has been honing his craft at Maccabi Tel Aviv. But is 'The Next Porzingis' ready for the big time?
With the clock ticking away toward the end of the first half, and Dragan Bender seeking his first points of the night, Maccabi Tel Aviv's 18-year-old phenom forward leaned in for a floater in the lane that was swiftly swatted away by a far more muscular defender who had been pushing him around all game. But what happened next is what has left NBA scouts salivating in recent months over Bender's unbridled potential—instead of dropping his head in frustration, the Croatian wunderkind instantly threw his 7-foot-1, 225-pound frame on the floor to stop the ball from rolling out of bounds.
Maccabi, Israel's perennial basketball powerhouse, coasted to a 68-51 victory over Bnei Hasharon for a 2-0 lead in the first round playoff series it would ultimately sweep. Bender finished with another modest stat line—2 points, 7 rebounds—in a season where he has had inconsistent production in limited playing time.
When it comes to Bender, though, traditional statistics go out the window. Even such a seemingly innocuous sequence represents to many insiders everything he already is—a cool-headed, hardworking big man blessed with extraordinary physical traits, the skill set of a guard and the poise of a veteran—and, more importantly, everything he soon may become, namely the next big thing in the NBA.
Shy and unassuming, Bender casually brushes off such talk, focusing instead on the tedious track he still has to tread.
"You can't prevent that someone is going to block you or that you are going to miss three shots in a row or whatever," he said of the play in question. "If you practice every day and try to be the best you can be every day it is going to come along. You know you are going to make some huge shots, you are going to do some big things on the court if you just hustle on every play and be an energy guy."
***
Off the court, Bender tries his best to be a normal 18-year-old. He spends most of his time eating, sleeping, and watching TV. His 20-year-old brother, Ivan, a 6-foot-9 forward currently playing at the University of Maryland, swears Bender actually learned to speak English from watching endless episodes of Friends as a kid.
"I didn't like it, so I didn't learn as well," said a smiling Ivan, neither of whose parents speak English.
Having only attended two years of high school, Bender is still studying long distance and hopes to graduate this summer. In his rare off days, he jogs at Tel Aviv's Yarkon Park, going early in the morning to avoid being interrupted by eager fans. He'll occasionally head to the movies with some of the Israeli and foreign basketball players he's become friendly with who are closer to his age. He says he's seen a bit of the country and is eager to come back as a tourist.
Like other foreign players, Bender is provided an apartment and a car. He lives in a north Tel Aviv neighborhood, close to former Maccabi Tel Aviv star Nikola Vujčić, who is a type of father figure to him and often has him over for dinner.
When Bender's mother is visiting she cooks for him but he says he knows his way around the kitchen. It's a necessity since he eats six full meals a day as part of a high-calorie regimen to add muscle. He said he eats "everything," but to a degree.
"I'm really careful about gaining weight because I want to keep my speed and my agility at the same level," he said.
He shrugs off any awe over the maturity required of an 18-year-old to care for himself in a foreign country, let alone to excel as a basketball player.
"I grew up faster. It was a just a lifestyle where me and my brother traveled and were separated from my parents when I was 12 years old and I just kept on going," he explained. "I'm used to it."
The expected stardom of the NBA should also come smoothly. Because of his sheer size, he has stood out since he was a kid and has been the target of autograph-seekers for years.
Sipping coffee after practice at the Aroma café adjacent to Maccabi's home court, a couple of kids in yellow Maccabi jerseys suddenly noticed him, yelling: "Hey, it's Bender."
He patiently signed a basketball and a notepad and posed for a selfie. Then he agreed to record a brief video greeting for another who was about to celebrate his Bar Mitzvah. Bender wished him Mazel Tov, among the several Hebrew phrases he has picked up.
"They are coming all the time, just after practice, all the kids," he said, smiling. "It's a different culture."
When noted that he is only five years older than them, he laughed. "It's crazy," he said.
He'll stay up sometimes to catch the NBA playoffs on TV. The player he finds himself most drawn to these days is Draymond Green, the Golden State Warriors' versatile power forward who has become a prototype of the "stretch 4" forward that is so trendy these days in the NBA and which many predict Bender will become.
"He's the guy who is trying to organize the game," Bender said. "He is passing the ball, he is rebounding, he is scoring, he is all over the court, so that is what I am trying to be."
Beyond that it is hard to get Bender to engage in any NBA fantasies. Asked if he can imagine what it will feel like to see LeBron James charging down the lane at him, he briefly gets a glint in his eye before typically getting back on message.
"If you are on the court, it doesn't matter who is in front of you. You are just trying to beat him," he said. "Whether it is your enemy or your best friend you are just trying to win the game."
***
A year after the New York Knicks' 7-foot-3 Latvian rookie Kristaps Porzingis took the league by storm, Bender is already being touted as an heir apparent. He is widely projected to be a top five pick in the June 23 NBA draft, with some mock drafts having him going as high as number three to the Boston Celtics, following only college freshman stars Ben Simmons of LSU and Brandon Ingram of Duke.
His looming ascension to the top basketball stage marks the pinnacle of a lifelong project to develop the lanky prodigy from Capljina, a small town in Bosnia-Herzegovina 12 miles from the Adriatic Sea that borders Croatia and is ethnically mixed between Christian Croats like Bender, Muslims, and Serbs.
Bender started playing in the first grade and at age 12 left home with his older brother for the prestigious basketball academy in Split run by Vujčić. There, coaches resisted the temptation of sticking him in the post and made him learn to play all five positions to become a gifted dribbler, passer, and shooter. The unique blend of size and skill began generating Bender attention as perhaps the most ballyhooed Croatian prospect since his boyhood idol Toni Kukoc.
At age 15, he went pro and a year later signed an unprecedented seven-year contract with Maccabi, one of the most storied European franchises, where Vujčić was now team manager.
After a year of honing his skills in Ironi Ramat Gan in Israel's second division he was promoted this season to the top team, where team officials say he has drawn interest from all 30 NBA teams. For the last few months, Maccabi's games, and even more so its practices, have turned into prolonged scouting sessions of Bender that have included visits from top NBA executives like Los Angeles Lakers general manager Mitch Kupchak and Boston Celtics boss Danny Ainge.
In basketball-crazed Croatia, he is the latest in a long line of stars and will be following the NBA footsteps of legends such as Kukoc, Dino Radja, the late Drazen Petrovic (whom Bender honors by wearing number 3), and Zan Tabak, his current coach at Maccabi.
The brown-haired, baby-faced Bender seems unfazed by the hype, his intense gaze masking the angular features, soft brown eyes, and patchy facial hair that betray his youth. He's almost obsessive about staying grounded and has asked his inner circle of coaches, family, and friends to shield him from the constant rumor mill surrounding his projected draft placement. Just like his game, his ego has yet to develop into that of a superstar's.
"It's a little bit scary watching these guys on television and then you have the opportunity to play with these guys the next season," he said, with a slight Croatian accent. "Of course I am not ready to contribute like a veteran or something like that. Of course I am a young guy, only 18 years old. But I feel like the NBA is giving a lot of chances for young guys."
It's been tough at Maccabi, where the pressure to succeed is almost unfathomable. To compare Maccabi to the New York Yankees would be an understatement. Its budget often dwarfs the rest of the leagues' combined. In one nearly 40-year stretch, they lost the national title just once and even a two-game losing streak sets off panic in management and speculation over the coach's future.
In 26 regular season games, Bender has played an average of just 13.5 minutes a game, averaging 5.4 points and 2.7 rebounds a game. His numbers in Euroleague play were even lower.
"A place like Maccabi, on the one hand, gives him a huge platform. On the other hand, it is a very hard place to develop because there is a lot of pressure to win games and it is not easy for young players," said Guy Goodes, his first coach this season, and one in a long line who have been fired for underachieving. "The NBA is looking for raw talent, which is far more important than his stats."
Beyond the skills, Goodes said he was most impressed with Bender's composure and his intelligence.
"That's why I don't think you need to look too much at what he is doing right now but you have to look at his talent, which will come through in another year or two or three or four," he said.
***
Playing against grizzled professionals, some as much as 20 years older and many with NBA experience, Bender has often been bullied and overpowered on the court. It's not hard to imagine a more confident, bulked up version easily dunking on them all in a couple of seasons.
His mere presence—a 7-foot-2 wingspan and a 9-foot-3 standing reach—is the first thing that titillated NBA scouts. But following the European mold of Dirk Nowitzki and Pau Gasol, his size is just part of the package that includes stellar basketball fundamentals that have been wired into him since childhood.
Vujčić, who discovered Bender, orchestrated his move to Maccabi and considers him "family," says the world has only seen a "limited edition of Dragan."
"Of course he is not going to the NBA as a ready player. They are investing in his talent and his future and they believe that in 2 to 3 years he is going to be what everybody thinks he is going to be," he said, as he watched Bender heave three-point shots in warmup. "I wish he could stay another five years here and then go to the NBA. But I'm objective, I know this cannot happen. He is too valuable and too big a talent to stay in this show. He has a bigger stage to perform on."
Even with his limited role, Bender has made believers out of both teammates and opponents.
Devin Smith, Maccabi's 33-year-old veteran leader, said Bender has been deferential to his older teammates, gleaning tips from those who've played in the NBA, and readily accepting guidance—even as they kid him about lending them money because of the big contract he is expected to land.
"If he was playing against kids his age in the states right now he would easily be one of the best ones. But right now he is playing against professionals every day," said Smith, who played his college ball at the University of Virginia. "Right now he is more of a catch-and-shoot guy. I feel like he doesn't understand the talent that he could have. I feel like he hasn't fully grown into his body yet, he doesn't understand how big he is or how to use his body to his advantage."
Bender hasn't generated the same kind of following as Omri Casspi, the homegrown Israeli whose drafting and subsequent NBA career is considered a source of national pride. But fans have cheered him on warmly even as his most impressive qualities have flown under most of their radars.
To opponents, it's clear he is special.
"He's got the size of a center but the coordination and footwork of a guard," said Ido Kozikaro, the team manager of rival Maccabi Haifa, who played 17 years in Israel's top division before retiring in 2014. "We've never seen anything like him here before. I'm betting he'll become the best player in Europe, maybe even one of the best in the NBA."
In a common refrain, Kozikaro said the pressure and the demand for immediate results at Maccabi made it a less than ideal breeding ground for young players and that, ironically perhaps, Bender will have more of an opportunity to develop in the NBA where the intensive coaching will fine tone his raw talent.
"If you look at a player like you look at a car, he's got the pieces of a Ferrari," he said with a chuckle. "I'm just trying to imagine him in four years. In the NBA they can take a cat and turn him into a tiger."
The Herzliya game offered a sneak peek into the future. Twice Bender made up lost ground on defense to lunge for big blocks, once he surged into the passing lane for a steal that led to a fast break, and his only bucket of the night was a long jumper where he stepped on the 3-point line.
Watching from the sideline, Moshe Bardu, an independent Israeli pregame analyst who has observed Bender all season, noted other less obvious elements.
"Look how he moves from side to side on defense, how quickly he gets up and down the court, how he contests every shot on defense, how he dribbles," he said. "How many 7-footers do you know who can do all that?"