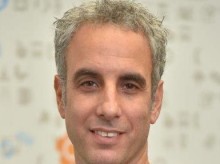 Guy Shemesh
It was about three years ago that Guy Shemesh gazed around his office before a hiring drive and was struck by an unsettling realization: nearly all his Nokia colleagues looked alike. As with most high-tech offices around the world, the work force was very homogenous. In Israel, that translated into white, male and secular.
Shemesh quickly grasped that something had to change, and he embarked upon a recruiting mission that branched out to include more women, Arabs, new immigrants, observant Jews and those with special needs. Today, more than 20% of local employees are minorities.
"We are a global company that builds products for everybody, so we need employees that represent everybody and get those different perspectives into our products," said Shemesh, Vice President of Business Applications Engineering for Cloud and Network Services. "This is not a theoretical exercise. It has genuine business value."
Now, as chairman of the newly formed Nokia Inclusion and Diversity Steering Committee, Shemesh has been asked to take his successful pilot in Israel and implement it across the company. The 16-member committee has already begun meeting to define the Nokia-level ambitions and to prepare their recommendations to the global leadership team.
The overall goal is to diversify the talent pool, create a culture of inclusion and appeal to customers and investors drawn to these values. It all adds up to making Nokia the employer of choice for women, minorities, the LGBT+ community and people with disabilities, and making inclusion and diversity a competitive advantage for Nokia by 2023.
A good template exists in the local experience in the Israel office.
Local Israeli recruiters have undergone training to attract the type of candidates who have historically been underrepresented in the high-tech sector. Non-profits with expertise in this process have been consulted to help with onboarding.
As a result, women now make up more than 25% of the Nokia workforce in Israel, slightly higher than the company's global figure, and the Israeli branch has hired employees with special needs. Other new employees, such as devout, ultra-Orthodox Jewish women, required more accommodations. For instance, they were given laptops with a "filtered" internet to prevent exposure to unseemly content, provided with their own microwave and single-use utensils to abide by their Kosher dietary needs and guaranteed to be seated only next to other women.
Shemesh, a father of four, said the mission was personal for him, since he hoped that his wife and daughters, as well as his friends with disabilities, could have the same opportunities as others. He also leads a committee to promote inclusion and diversity in the Israeli high-tech scene and said the key to success was creating an inclusive environment that empowered his direct reports to feel free to pursue outside-the-box hiring.
"The high-tech world can be a bubble that is hard to break into," he said. "But if we can position ourselves as a diverse employer it is not just the right thing to do, it's also good for business."
He said it has been proven around the world that companies with high diversity rates saw an increase in the level of innovation and a decrease in attrition.
The new role also comes at a chapter in Shemesh's career in which he is looking for challenges beyond the purely professional. Over the past decade he's held senior positions at Nokia and at Alcalel-Lucent, including as Head of the CloudBand Business Unit. He previously also worked at Israeli startup P-Cube and for Cisco in the Silicon Valley area.
"There comes a time when you seek fulfillment in places that are more significant than your title, scope of responsibility and salary," explained Shemesh, 48. "This is something that is close to my heart and I particularly enjoy taking on something that is both business-driven and has community value."