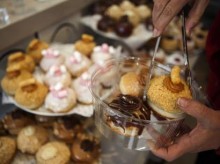 A customer picks doughnuts at a bakery in Bnei Brak, Israel. (AP Photo/Dan Balilty)
JERUSALEM (AP) — Israelis are finding a new campaign by their crusading health minister hard to swallow: in the name of proper nutrition, he has gone on the warpath against the nation's beloved Hanukkah tradition of gorging on sugar-laden, deep-fried, jam-filled doughnuts.
As head of a powerful ultra-Orthodox political party, the bearded and black-coated Yaakov Litzman considers himself a guardian of Jewish traditions. But in his other hat, he's a health-conscious official on a mission to stamp out junk food and child obesity.
Litzman's two roles have come into conflict with his high-profile call to avoid the lure of the high-calorie "sufgania" doughnut.
"I call on the public to avoid eating sufganiyot, which are rich in fats," Litzman told a conference last week promoting healthy eating. "You can find alternatives for everything nowadays and there is no need for us to fatten our children."
As part of his health food drive, Litzman has campaigned to have sugary drinks removed from schools and taken on fast food giant McDonald's — earning public praise for promoting proper nutrition.
"McDonald's out. Not in our country," he said, in a refrain that went viral.
But going after doughnuts during Hanukkah is something else entirely.
For most Israelis, eating the sufgania is as essential to celebrating Hanukkah as lighting the menorah and spinning the dreidel.
Along with the latke — a fried potato pancake — it is the delicacy most associated with the eight-day holiday that commemorates ancient miracles and a triumph over oppression. Taking a page from the playbook of the ancient Maccabees who inspired the holiday, many are resisting Litzman's campaign.
"You have to eat it, but in proportion. It's yummy, it's good, it's the season," said Gideon Haba, a doughnut seller in the Mahane Yehuda market in Jerusalem. "I don't believe he (Litzman) meant it. It's like not lighting the candles. He just wanted to send a message."
Yosef Lipsman, a customer buying his first doughnut of the year, said the tradition was harmless as long as you don't go overboard.
"White flour is not great for you, but it's all a matter of how much," he said. "You can enjoy it once in a while."
Litzman declined a request for comment.
Hanukkah, also known as the Festival of Lights, commemorates the Jewish uprising in the second century B.C. against the Greek-Syrian kingdom, which tried to force its culture on Jews and desecrated the Jewish Temple in Jerusalem.
The holiday lasts eight days because — according to tradition — when the Jews rededicated the Temple in Jerusalem, one vial of oil, enough for one day, burned for eight days instead.
Hence the tradition of eating oily foods.
A sufgania is essentially a ball of dough deep fried in oil, packed with strawberry jelly and sprinkled with sugar. Other versions are alternatively filled with chocolate spread, cappuccino or dulce de leche.
In recent years, it has become trendy for bakeries to offer embellished versions that are topped with marshmallows, crumbled cookies, pralines, popping candy and whipped cream. Some include a syringe that can inject toffee, pistachio cream and even vodka into the doughnut for an additional kick.
The upgrades have created a 100 gram (3.5 ounces) doughnut that can contain as much as 500 calories.
Burger King recently jumped on the bandwagon by introducing its "SufganiKing" — a standard Whopper stuffed between two doughnuts.
At a Roladin bakery in Jerusalem, dozens of elaborate versions were laid out on display.
"Maybe they are fat … but they are good. That's the reason why they're good," said Haim Newman, a customer. "My family came from a long, long tradition of baking and my father always says what his grandfather told him before: 'If you want something good, it has to be fat.'"