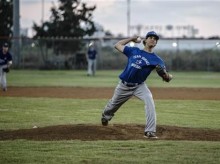 Dean Kremer pitching in a practice game in Israel (AP Photo/Tsafrir Abayov)
PETAH TIKVA, Israel (AP) — On the mound, Dean Kremer looks just like any other top-rated baseball prospect, whipping 90 mph fastballs and snapping nasty curves.
When the 19-year-old pitcher greets his teammates in the dugout after striking out the side, however, he sounds different. Kremer is speaking Hebrew, not English.
The 6-foot-2 Kremer is the golden boy of Israeli baseball, the first citizen to be selected in the major league draft and the country's greatest hope of lifting the sport from its decades-long second-class status.
Though he was born and raised in Stockton, California, and is also an American citizen, the son of Israeli parents identifies strongly as Israeli himself, spends his summers in the Jewish State and is fluent in Hebrew. He's the ace of Israel's national team and sent local pride skyrocketing when the San Diego Padres selected him in the 38th round of the draft in June. After deciding instead to play college ball, his stock is only expected to rise.
"(I'm) definitely honored. I like to represent my country in any way possible," Kremer said before practice at the country's only regulation baseball field in the Baptist Village, in central Israel. "I'd love to be the person to get Israel baseball on the map."
Baseball has historically been the most popular sport among American Jews, and there are currently about 15 playing in the major leagues, including All-Stars Ryan Braun and Ian Kinsler. But in sports-mad Israel, soccer and basketball reign supreme while baseball is still mostly a curiosity. For decades, it was the domain of a small but loyal group of American imports and failed to catch on with the rough-and-tumble native-born Israelis who, when it came to imported American sports, took more of a liking to hard-hitting nature of football.
In 2007, a group of American supporters launched the Israel Baseball League, a professional league comprised almost entirely of foreign players that folded after just one season. Israel fielded a qualifying team for the 2013 World Baseball Classic that was similarly staffed by top-notch American Jews who were eligible to play for it under a "heritage" clause that allowed players with the loosest of ties to join the teams.
The team was coached by Detroit Tigers manager Brad Ausmus and included former all-star Shawn Green, recently waived Oakland A's slugger Nate Freiman, and Joc Pederson, a Los Angeles Dodgers rookie who made this year's National League all-star team and finished second in the Home Run Derby.
But Kremer, who enrolls at the University of Nevada Las Vegas on a baseball scholarship this fall, has deeper roots in Israel. He's been part of its baseball program since he was 14 and grew up speaking Hebrew at home. His great-uncle is the American-Israeli billionaire businessman and big-time Democrat donor Haim Saban, though most of his extended family still lives in Israel.
"Half my family, I can tell you that they still don't know what baseball is. They don't understand the game," he said with a smile. "Israeli guys like upbeat tempo things where they can't get bored … People are aggressive here."
However, the sport has made great strides since the arrival two years ago of Nate Fish as the Israel Association of Baseball's first paid full-time national director. Fish said there are currently about 800 players in Israel in all age groups and he's hopeful that some will go on to play college ball in the states.
Fish, who has played with several major leaguers, said Kremer would have been a much higher pick had he not already committed to UNLV. Regardless, he said it means a lot to the status of baseball in Israel and he envisions a bright future for his current teammate on Team Israel, the 22nd-ranked squad in the world.
"We are obviously proud of it. We want the world to know that we have a guy who was just selected," he said. "It's tough to say what is going to happen with the guy, but he has all the things you need to be successful at that level and get to the major leagues."
Kremer, a righty who also throws a slider, curve and splitter, gets the most attention in Israel for his fastball. His manager, Richard Kania, says Kremer "touches the low-90s" and no one has ever seen that kind of velocity around here. On a recent day, kids lined the gates to watch him warm up, awed by the sound of his fastball snapping against the catcher's mitt.
Kremer himself seems to be enjoying the ride, bilingually joking around with veteran teammates and also giving tips to aspiring youngsters.
"Here it's not as competitive but it is still a high level and it's definitely developing," he said. "I did get a lot of questions from the kids in the camp the past two weeks asking me questions about the draft, asking me like how to get better and I feel like watching my progress will help inspire them."