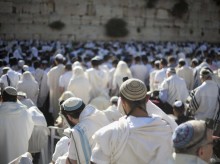 Jewish men pray at the Western Wall, the holiest place where Jews can pray, in Jerusalem's Old City, during Jerusalem Day celebrations. (AP Photo/Ariel Schalit)
JERUSALEM (AP) — The Israeli government froze a long-overdue plan Sunday to open a mixed-gender prayer area at Jerusalem's Western Wall, a major policy reversal that infuriated the liberal streams of Judaism that represent most Jews in the United States.
Israel had approved the plan in January 2016 to officially recognize the special prayer area at the Western Wall — the holiest site where Jews can pray — a compromise reached after years of negotiations between liberal Israeli and American Jewish groups and the Israeli authorities. It was seen as a significant breakthrough in promoting religious pluralism in Israel, where the ultra-Orthodox authorities govern almost every facet of Jewish life.
But the program was never implemented as powerful ultra-Orthodox members of Prime Minister Benjamin Netanyahu's coalition government raised objections to the decision after they had initially endorsed it. Under ultra-Orthodox management, the wall is currently separated between men's and women's prayer sections.
Netanyahu, trying to placate both his coalition partners and wealthy American Jewish donors, had promised the new $9 million plaza for mixed-gender prayer would be established.
On Sunday, he ordered top aides to formulate a new plan but said little more. In another controversial decision Sunday, his government promoted a bill to maintain the ultra-Orthodox monopoly over conversions.
It set off a cascade of criticism from liberal groups both in Israel and abroad.
"I'm outraged by this government decision. I think it shows cowardice. For two years we negotiated in good faith with the government," said Anat Hoffman, chair of the Women of the Wall group, which has pushed for egalitarian access to the wall. "And then today they decide that it is null and void, that they're not going to implement it, that equality is out the window."
Earlier in the day, her group held its weekly prayers at the site and was harassed by ultra-Orthodox worshippers.
American Jews, who have long lamented Israel should be as accepting of their religious practices as they are of their financial and political support, have been pushing for the new prayer area and had warned that if the deal did not go through it would lead to a dangerous rupture with North American Jewry.
Rabbi Rick Jacobs, the President of the Union for Reform Judaism, the largest stream of Judaism in the United States, said the decision could lead many to rethink their support for Israel.
"There is a limit to how many times you can be delegitimized and insulted," he said. "This is the core mission of the Jewish state — to be a home for all Jews … it is unthinkable but the unthinkable just happened."
Rabbi Julie Schonfeld, head of the New York-based Rabbinical Assembly, an association for Conservative movement rabbis, said the decision was not surprising given the clout of ultra-Orthodox parties yet shocking nonetheless for its divisive message. Still, she said it would not affect her devotion to Israel.
"The people of Israel still need our support and our love and the fact that an unbelievably, spectacularly shortsighted government cannot see its way to understand the critical importance of unity of world Jewry is something that is the fault of the politicians," she said.
"Israel is turning its back on the institutions through which we love Israel."
The liberal Jewish groups had accused Netanyahu of delaying implementation because of pressure from the two ultra-Orthodox parties that keep his narrow coalition afloat. They have already petitioned Israel's Supreme Court to implement the decision and still hold out hope it will overturn it.
Ultra-Orthodox rabbis strictly govern Jewish practices in Israel such as weddings, divorces and burials. The ultra-Orthodox religious establishment sees itself as responsible for maintaining traditions through centuries of persecution and assimilation, and it resists any inroads from liberals it often considers to be second-class Jews who ordain women and gays and are overly inclusive toward converts and interfaith marriages.
Arieh Deri, head of the ultra-Orthodox Shas party, said he was pleased the government blocked a plan that would have harmed the "sanctity of the site."
"Preserving the status quo of the Western Wall reflects the will of most of the people," he said. "There is no room there for destructive factions whose only purpose is to desecrate the site."
The liberal streams have made strides in recent years, establishing synagogues, youth movements, schools and kindergartens, and Israel's secular majority has become more accepting. But they still have very little political backing, and authorities have generally tended to regard them as a somewhat alien offshoot imported from North America that does not mesh with how religion is typically practiced in Israel.
Defense Minister Avigdor Lieberman, one of the few dissenting votes, said freezing the plan "represented a severe blow to the unity of the Jewish people, to various Jewish communities and to the relations between Israel and the Jewish diaspora."
Yair Lapid, a leading opposition figure, accused Netanyahu of national irresponsibility and of forfeiting his role as leader of the Jewish people.
"Israel today became the only democracy in the world where there is no equal rights for Jews," he wrote on his Facebook page. "This is an insulting, irrational affront to the deep religious feelings of millions of Jews."