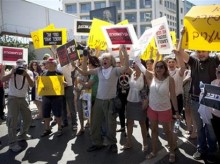 Israeli journalists and employees of Maariv daily newspaper demonstrate (AP Photo/Oded Balilty)
JERUSALEM (AP) — Throughout much of Israel's history, the Maariv daily was known as the "country's paper," the newspaper with the highest circulation and a cornerstone of Israeli media. Now it is on its last legs — the victim, some say, of a Jewish-American billionaire who is a close friend of Prime Minister Benjamin Netanyahu.
Casino mogul Sheldon Adelson launched his free "Israel Hayom" or "Israel Today" daily five years ago. The tabloid has steadily gobbled up market share since then. Handed out by ubiquitous distributors clad in red overalls at busy intersections, it has become the most read newspaper in Israel.
The 64-year-old Maariv has suffered in the fallout. The newspaper was sold this month by its cash-strapped owner to a rival publisher. Most of its 2,000 employees are facing likely dismissals.
The iconic newspaper has been hemorrhaging money for years and its downfall is linked to the struggles facing print media around the globe, with the emergence of online news sources and a steep drop in subscribers and ad revenue rendering the traditional newspaper economic model untenable.
But against the backdrop of a perceived anti-media blitz by the hard-line government, Maariv staffers believe their final blow was delivered by Israel Hayom.
Adelson's paper recently passed Yediot Ahronot as the top-read daily in Israel, leaving Maariv in third place, according to a survey by TGI, a leading Israeli polling company.
Besides its flattering coverage of Netanyahu and questionable political agenda, critics charge that its cheap ads and deep pockets are running everyone else out of business.
"We can't compete with a machine that prints money and hands out papers for free," said Avi Ashkenazi, Maariv's veteran crime correspondent. "We are the first ones to enter the slaughterhouse but we likely won't be the last. It's only a matter of time."
Israel Hayom's success has raised questions about whether a wealthy foreigner has bought power and influence on behalf of the prime minister. Adelson also has contributed $30 million to super PACs supporting Republican candidates and has attended major fundraising events for U.S. presidential candidate Mitt Romney.
Israel Hayom denies the accusations and says its economic model is simply more effective.
"(We) won't apologize for our success, the readers prefer us and we thank them," the paper said in a statement.
The loss of Maariv would leave Israel, a country of nearly 8 million people, with three national Hebrew newspapers: Adelson's Israel Hayom, Yediot and Haaretz, a small but influential publication popular with Israel's dovish elite. A number of smaller niche publications, including the English-language Jerusalem Post, also exist.
Other newspapers have announced layoffs and popular TV station Channel 10 is struggling to stay on the air as it awaits a request to the state to defer its crippling debts. The station says the government, which has deferred debts for other struggling companies, is using a technicality to eliminate a pesky source of criticism.
Critics also charge the government of making political appointments to Israel's public broadcasting system, sidelining prominent critics on state radio and passing anti-libel legislation meant to stifle investigative reporters.
Comments by Finance Minister Yuval Steinitz, a Netanyahu confidant from his hawkish Likud Party, captured on tape at a recent party function highlight the animosity.
"We are dealing here … with a media that is not only against the Likud — it is true, it mostly prefers the left and is not entirely objective — but beyond that it is a media that has lost respect for one small, simple word — the truth," he told a group of Likud activists.
Ben Caspit, Maariv's leading political columnist, has written that Maariv's blood is on Netanyahu's hands.
"The man who wanted to go down in history as the man who destroyed the Iranian nuclear threat could go down as the one who destroyed the free media in his country," he wrote.
In his first comments on the issue, Netanyahu told the Israeli economic paper Globes that Maariv's plight was due to the "dramatic technological changes that are affecting the written press" all over the world. He said he has no intention of getting involved.
"On the one hand I'm told 'leave the media alone,' and on the other hand I'm told 'intervene to save this outlet or another.' There's a contradiction here," he said.
Dalia Dorner, a former Supreme Court Justice who is president of the Israel Press Council, said that in France, for instance, the government intervenes with subsidies and encourages youths to read newspapers. But in the hostile Israeli climate it is unlikely the government will lend a helping hand to the struggling industry.
"I hope something can be done. For there to be good journalism, we need journalists," Dorner said. "For there to be democracy, we need a free and varied media."
Israeli businessman Nochi Dankner, whose IDB holding company is wobbling under a pile of debt, this month sold Maariv to Shlomo Ben-Tzvi, the publisher of a hard-line religious publication, for $21 million.
Ben-Tzvi has indicated he will fire all 2,000 employees and rehire between 300 and 400. It's not clear whether he will incorporate them into his Makor Rishon daily or keep Maariv alive in a limited capacity.
On Sunday, a Tel Aviv district court handed Maariv a temporary lifeline, appointing two trustees who will try to revive the paper and ensure employees' rights. The court cited a "heavy public interest in saving Maariv" and froze the transfer of ownership for a month.
Maariv editor-in-chief Nir Hefetz made a front page plea the following day asking the government and advertisers to help and for everyday Israelis to purchase subscriptions.
"If everyone contributes their part, if everyone joins the effort, together we can save Maariv," he wrote.
Hagai Matar, head of the Maariv journalist's union, said that just as the government has assisted struggling factories, it should do the same to save the newspaper. "Only massive public pressure will convince the government that it is a public interest to save Maariv," he said.
Matar is leading the battle to keep the paper alive and lobbying hard for adequate severance and pension if he and others are sent home.
Last week, he led about 1,000 people through the streets of Tel Aviv, blocking a major junction. Following the court order, the union dropped its threat to strike, which would have stopped publication Tuesday for the first time ever.
Established in 1948 three months before Israel gained independence, Maariv prided itself as a beacon of quality journalism and beholden neither to political parties nor media moguls. It was the nation's No. 1 paper until it was overtaken by Yediot in the 1970s.
The newspaper has evolved from broadsheet to tabloid and its ownership has passed hands among a series of wealthy businessmen, including the late British media mogul Robert Maxwell.
Yuval Karniel, a law and communications expert at the Interdisciplinary Center Herzliya, a college near Tel Aviv said Maariv's near-collapse reflected the evolution of Israeli society.
"Maariv has declined along with its readers. When we look at Maariv, we look at ourselves … it is an Israeli story," he said.