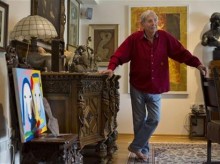 Israeli actor Chaim Topol speaks during an interview, in Tel Aviv. (AP Photo/Ariel Schalit)
TEL AVIV, Israel (AP) — He was Tevye the milkman of "Fiddler on the Roof" fame, James Bond's wingman in "For Your Eyes Only" and a nutty professor in the 1980's cult classic "Flash Gordon."
Long before Israelis like supermodel Bar Refaeli and Wonder Woman actress Gal Gadot made their names internationally, Chaim Topol was winning Golden Globe awards as his country's most famous ambassador to Hollywood. Now, nearly 80 and still involved in theater, he is being awarded the Jewish state's most prestigious honor this week — the Israel Prize for lifetime achievement.
In an era when many Israeli entertainers try to make it big in the English-speaking world — and even the most minor global achievements of Israelis in the arts are championed as a source of national pride — it is often forgotten that a generation ago one of their own was so successful that he came to be known by a single name: Topol.
Still living in the Tel Aviv childhood home of his wife of 60 years, Topol is taking his latest recognition in stride, just as he has the various highlights of his storied career.
"I wasn't brought up in Hollywood. I was brought up in a kibbutz here and I started to work at the age of 14 in a printing house," he said, seated in a living room adorned with paintings, sculptures and Judaica. "Obviously, when you are successful in a film and the money flows, yes, obviously, it is very nice. But to tell you that is the most important thing, I am not sure."
Topol got his start in acting in a theatrical troupe in the Israeli army in the 1950s, where he met his future wife Galia. His first major breakthrough was the lead role in the groundbreaking 1964 Israeli film Sallah Shabati, about the hardships of Middle Eastern immigrants to Israel. The film was nominated for the Academy Award for Best Foreign Language Film and earned Topol his first Golden Globe Award.
Two years later, he made his English-language film debut alongside Kirk Douglas in "Cast a Giant Shadow." But the role of his life arrived in the long-running musical "Fiddler on the Roof," in which he played a Jewish father trying to maintain his people's cultural traditions amid tumult in their Russian shtetl.
After years of playing Tevye on stage in London and on Broadway, he scored the lead role in the 1971 Norman Jewison-directed film version, winning the Golden Globe award for lead actor and being nominated for a Best Actor Academy Award. He lost out to Gene Hackman in "The French Connection."
He estimates the film has been seen by over a billion people and it sealed Topol's status as an international film celebrity and Jewish symbol for his renditions of such hits as "If I Were a Rich Man." All told, he said he has played the part more than 3,500 times on stage, most recently in 2009. He still fields requests to play it.
Topol appeared in more than 30 movies, including the lead in "Galileo," Dr. Hans Zarkov in "Flash Gordon" and starring alongside Roger Moore as 007's foil-turned-ally Milos Columbo in "For Your Eyes Only." But the role that defined his career was Tevye, and Topol has no problem with that.
"How many people are known for one part? How many people in my profession are known worldwide? So I am not complaining," he said. "Sometimes I am surprised when I come to China or when I come to Tokyo or when I come to France or when I come wherever and the clerk at the immigration says 'Topol, Topol, are you Topol?' So yes many people saw it (Fiddler) and it is not a bad thing."
Trim, graceful and clean shaven, he bears little resemblance to the bearded, burly persona of his signature role.
Younger Israeli audiences recognize his voice from dubbing the Hebrew-language version of "The Jungle Book" and a pair of films in the "Harry Potter" series. He's made other cameos as well, dabbled in art, written an autobiography and animated several other books. He said he is currently working on a screenplay and generally eschews watching movies in favor of the stage.
Topol has devoted much of his later years to charity as chairman of the board of Jordan River Village, a camp serving Middle Eastern children with life-threatening diseases. Long involved in charity and philanthropy, he said he was brought into this project by Paul Newman, who founded the Hole in the Wall camps to which the village belongs.
Reluctant to discuss regional politics, Topol said only that he tries to promote coexistence at the village in northern Israel.
"I can tell you that in our village Jews and Arabs and Christians and Muslims and Jewish are hugging each other and it works very well when politicians are not involved," he said. "I admit that I never went from part to part like actors usually do. I have other interests and I draw and I am interested in charities and I find it more fulfilling than running from one part to another."
Topol, who has three children and nine grandchildren, said his social network mostly revolves around old friends in Tel Aviv and he is averse to Hollywood name dropping. Only when prodded did he talk about his close relationships with stars like Douglas, Yul Brenner, Mia Farrow and Shirley MacLaine, among others.
He also recounted a meeting he had in the early 1970s, when he gave a pep talk to a fellow actor who was depressed after a series of unsuccessful films and forgettable parts. Right after that little pick-me-up, the actor — Marlon Brando — landed the part of Don Vito Corleone in "The Godfather."
"We met right after that and I said, 'You see, no problem, you are a good actor,'" Topol recalled with a smile.