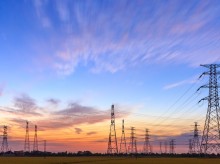 High-voltage power lines at sunset
A version of this story, focusing on the 5G elements of sustainability, was published in 5Gradar
The telecom industry has long been saddled with a reputation of being wasteful. But in an era where sustainability has become a major corporate driving force, Nokia is among those now investing heavily in boosting productivity without further taxing the planet.
Whether it's enabling farmers to more efficiently produce yields from their crops, using artificial intelligence to reduce costs and industrial emissions or installing private wireless networks and automating mines to improve worker safety and lower carbon footprints, Nokia products are being deployed globally to push forward advanced technologies that aim to alleviate damage to our warming planet.
It's all part of Nokia's overarching goal of helping the fight against climate change with a more efficient use and re-use of the world's resources.
Energy consumption has traditionally been among a company's highest operating costs. Reducing this, and seeking renewable energy sources, aligns with an ideological push for greater sustainability that has become a key focus of Nokia President and CEO Pekka Lundmark's defined vision for the company.
Nokia was among the first 100 companies to commit to reducing emissions in line with the landmark 2015 Paris Climate Agreement. As part of its commitment to limit global warming to 1.5°C, Nokia recently announced the ambitious target of cutting its global greenhouse gas emissions in half by 2030.
There is little time to spare. According to Omdia, the telecom industry already consumes around 1% of all global energy and, if nothing were to change, the expected increase in data traffic and infrastructure accompanying the 5G era could double or triple that figure.
Digital technologies can be part of the solution in striving toward a zero-emissions world. At Nokia, the mission is already underway.
According to a recent IDC sustainability analysis, Nokia ranked in the top five out of 29 infrastructure and enterprise equipment manufacturing companies the global market intelligence firm assessed. Nokia outperformed the industry average in 14 out of 15 categories, lagging only in product energy efficiency. Nokia was found to particularly excel in its altruistic "Technology for Good" activities.
Here's a look at some of the various software and enterprise solutions that Nokia offers to ease the toll on an environmentally strained planet.
Smart Agriculture to increase productivity
Using Nokia's Worldwide IoT Network Grid (WING) solution, Vodafone Foundation India can provide 50,000 soy and cotton farmers with precise data to improve their resource efficiency, achieve higher yields and grow top-quality crops. The project, implemented in 100 locations across India, is a prime example of Nokia's smart agriculture-as-a-service offering.
With 400 sensors deployed over 100,000 hectares of farmland across ten districts, these soil probes, weather stations, insect traps and crop cameras are collecting various data points that are then analyzed by a cloud-based app.
Crop and soil management, the deployment of drones, smart irrigation systems and pest management are all part of the potential smart agriculture platform algorithm that allows a farmer to predict potential threats, prevent infestation and minimize the risks of yield loss.
Some 20 operators around the world are currently using WING, including China Mobile, AT&T and TIM Brazil.
Solutions such as these are going to be key as humanity prepares to feed an expected world population of more than 9 billion people in 2050. Doing so will require a 70% increase in overall food production, yet climate change is predicted to cut agricultural production by up to 18% by that time. The sector itself is under pressure to reduce its greenhouse gas emissions. At the same time, urban sprawl is eating up arable land, further pressuring farmers to increase productivity.
Artificial Intelligence to save energy
The average operator devotes 20-40% of annual operational costs to energy. While 5G is designed to be more efficient than previous generations, it will also require a 73% increase in number of base stations by 2025 as operators will be connecting not just people, but also things around us such as factories, stadiums, cars and more.
Therefore, more efficient 5G equipment is needed to balance the increase in 5G network energy consumption. One such example is Nokia's introduction of the world's first commercial 5G liquid-cooled base station. The solution allows Elisa, a telecommunications operator in Finland, to reduce its potential CO2 emissions by approximately 80% and its operational costs by 30%. Nokia will also halve the power consumption of its AirScale 5G mMIMO base station by 2023.
Another comprehensive offering is Nokia's AVA artificial intelligence-as-a-service, which is designed to counter some of the overall spike in energy consumption. Its AI features, for example, can redirect antennas and switch off network elements when traffic is low to save energy without the subscriber noticing. In addition, it recognizes when passive elements, like batteries and air-conditioning, consume too much energy and should be re-configured or replaced. Altogether, the platform adds up to a total of 20% savings in annual operating expenses and, as a result, a significant cut in CO2 emissions.
Connectivity to transform industries
Private Wireless networks provide the next-generation connectivity required to operate Industry 4.0 applications. They can also save energy.
In Austria, for instance, Nokia has partnered with Siemens and A1 Telekom to deploy an industrial-grade private wireless solution that used renewables and microgrids to reduce dependence on grid power at a Vienna campus, reducing carbon emissions associated with grid electricity production.
In the Baltic Sea, a trial project allowed drones powered by private wireless to detect algae patterns and warn when the warming water temperature was creating toxic algae growth. Nokia's Drone Networks can similarly be used in various industrial, agricultural, and smart city initiatives.
And in Israel, Nokia also deploys sensors for local service providers that create real-time environmental data that reports on noise, wind, dust, air quality, potential sandstorms and hazardous gases.
Perhaps the greatest benefit has come in mining, where advances in electrification, automation, environmental monitoring, and the use of renewable energy has created a more sustainable mineral industry. One example of such is Nokia deploying a private network for Peru's Minera Las Bambas, the world's ninth largest copper mine. The result has been a