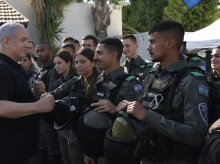 Prime Minister Benjamin Netanyahu meeting Border Police officers in the central Israeli city of Lod, May 13, 2021.(Kobi Gideon/GPO)
With an unprecedented barrage of rockets, and an unexpected assist from Arab and Jewish thugs meting out vigilante justice on the street, Hamas again upends Israeli politics. Op-ed published in The Times of Israel.
Where have we seen this before?
Oh, yes. It was early 1996. Shimon Peres was prime minister, vowing to continue the peace agenda of the recently assassinated Yitzhak Rabin. Arab nations were embracing Israel, optimism was in the air that the Palestinian conflict could potentially be resolved and a certain Benjamin Netanyahu was languishing in the opposition, trailing Peres in the polls by double digits and besieged by Likud challengers just waiting for him to be trounced in the upcoming election. Widely blamed for stoking the incitement that preceded Rabin's murder, his prospects for premiership seemed doomed.
And then, of course, Hamas militants unleashed the most devastating wave of suicide bombings Israel had ever known. Israelis were shaken to the core, their dreams of a "new Middle East" shattered. Buoyed by this fear, Netanyahu recovered, edged out Peres and the rest, as they say, is history.
Twenty-five years later, an incumbent Netanyahu has ruled for a generation as the longest serving Israeli leader ever. But after four elections in which he failed to build a new government his veneer of invincibility had been cracked and his days in power seemed numbered. A broad coalition spanning the political spectrum and including Arab representation looked poised to come together and finally unseat him.
And then, his strange bedfellow Hamas reappeared to rescue him once again.
With an unprecedented barrage of rockets toward central Israel, and an unexpected assist from domestic Arab and Jewish thugs meting out vigilante justice on the street, Hamas has once again upended Israeli politics.
With nearly all his political cards played, Netanyahu's only chance for survival looked to be a full-on conflict that united Israel against an external enemy and watered down the domestic resistance to his continued rule. He got it.
Naftali Bennett's announcement that he was abandoning his push to lead an alternative government merely acknowledged the obvious. There was no way to find common ground between nationalist Yamina and dovish Meretz, let alone Arab parties who identify with the Palestinians, when everyday Israelis were running for cover from rocket attacks from above and murderous mayhem on the streets below.
The prospect of such an unwieldly coalition was only made possible thanks to the illusion that the Palestinian agenda has been vanquished. Years of relative quiet allowed for the mere mention of Palestinians and the possibility of a two-state solution to completely disappear from recent election campaigns.
But in just a matter of days that reality too came crashing down. The result has been that, either by chance or by design, Hamas has once again come to Netanyahu's rescue when his back was against the wall.
It would take an incredible cynic to suspect that a patriot like Netanyahu would wish for such an outcome. But the cold calculation still amounts to all this madness playing in his political favor.
Amid a sense of siege and potential civil war, who cares anymore about his corruption and criminal trial? What kind of right-wing politician can justify opposing him now? Who now has the stomach for yet another divisive and likely inconclusive election?
Either by chance or by design, Netanyahu's years in power have also resulted in emboldening Hamas. While he's ordered the military to pummel them, he's also resisted the calls of more hawkish allies to topple their regime in Gaza and allowed Qatari money to flow there freely. The result has been that a Palestinian Authority that at least formally advocates for dialogue with Israel has been usurped of influence by a terrorist organization that is openly devoted to Israel's destruction.
For those who oppose even the prospect of sharing the land with the Palestinians, Hamas is indeed a far preferable counterpart to have than Palestinian President Mahmoud Abbas.
The shocking violence that has devastated the fragile coexistence in mixed Jewish-Arab cities is but a bonus for those like Hamas who seek to see Israel disintegrated from within.
There is no excuse for the wanton vandalism and assaults we've been witnessing. Though there is a fair share of irony in the emergence of the major players involved.
The unchecked violence of Arab gangs that has ravaged Arab towns is what shifted the narrative in Arab domestic politics to begin with, and the demands to quash it are what turned Mansour Abbas into a legitimate governing partner and potential kingmaker. Under the guise of nationalist fervor, these thugs have now turned their illegal arms and pent-up aggression against Jews as well.
The Jewish hoodlums that have been taking the law into their own hands have been led into battle by the provocations of a Kahanist like Itamar Ben Gvir, who only made it into parliament because of the political boost Netanyahu gave his radical Religious Zionism faction.
And in the middle stands a hapless police force, led by a bumbling chief, that has been undermined by years of Netanyahu attacks against its integrity for daring to investigate him for corruption.
The repercussions of this could be far more devastating and long-lasting that anything Hamas could ever dish out.
Netanyahu the statesman has proved a responsible and deft manager of armed conflicts with Hamas. But for Netanyahu the politician, all these events seem to have brought Israel full circle to the secret of his success and what made him prime minister in the first place: fear.
Thursday night's stately address of opposition leader Yair Lapid struck a different tone. He warned of the "abyss" Israel faced from the "existential threat" within. The answer, though, he said lay in unity and compassion, laying out a vision to bring moderates closer together.
"Especially now, against this chaos and horror, we need to establish a government. The situation won't change if we don't change it. Reality won't improve on its own. The job of leaders is to create a better reality," he said. "A government that instead of weakening us makes us stronger, strengthens the police, strengthens the law enforcement community, strengthens the solidarity between us and Israeli society."
It was the speech of a prime minister. However, in today's Israel, it doesn't look like he'll be one anytime soon.