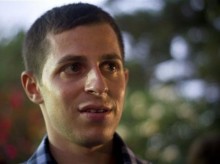 Freed Israeli soldier Gilad Schalit attends a Bastille Day event at the French Ambassador's residence in Tel Aviv. (AP Photo/Ariel Schalit)
JERUSALEM (AP) — Nine months after he was freed from Hamas captivity in a lopsided prisoner swap, Gilad Schalit is emerging from the shadows — showing up at parties, sporting events and even writing a newspaper column.
Even so, the former Israeli soldier remains an enigma. He has refrained from giving interviews and has shared few details about his 5 1/2 years of captivity in a Gaza basement. But he hasn't vanished from sight — quite the opposite.
The slender 25-year-old has morphed into a celebrity from an awkward, anonymous teenager whose plight inspired a nationwide campaign. While he still enjoys widespread public support, some Israelis are beginning to question whether his tragic ordeal has been converted into undue hero status.
Palestinian militants abducted a wounded Schalit from his tank in June 2006 in a brazen cross-border infiltration from Gaza. After years of failed negotiations and mounting public pressure, Israel agreed to free more than 1,000 Palestinian prisoners, including hundreds of convicted killers, in exchange for his freedom. Schalit was joyously welcomed home, but the government also faced criticism for agreeing to such a one-sided swap.
The nation embraced Schalit as a symbol largely because most Israelis his age — men and women — do compulsory military service. Parents of present, future and past soldiers — and that is just about everyone in Israel — empathized with the Schalit family, picturing their own sons in captivity.
Schalit has been recuperating quietly at his home in northern Israel — and in stark contrast, making public appearances.
He has been serenaded at music concerts, spotted at a Davis Cup tennis match, seated courtside at basketball games and even played in a celebrity game himself. Israel's most popular comedy show based a character on him, and Israeli celebrities have lined up to be photographed with him and then rushed to post the photos online.
Recently he became a high-profile sports columnist for Yediot Ahronot, Israel's largest newspaper, traveling to the NBA Finals and the Euro 2012 soccer championships. On Thursday, he was the guest of honor at Bastille Day celebrations at the French ambassador's home in Tel Aviv, where onlookers snapped photos of him on their cellphones.
The superstar treatment follows him abroad. He attended the NBA All-Star game in Orlando, where he hung with Israeli player Omri Casspi, and the Israeli consul-general's office in Miami posted a picture of him on Facebook interviewing University of Miami star running back Mike James. In Florida, he attended a baseball game and was hosted by the NBA Miami Heat's Israeli-born owner Micky Arison.
Schalit has been named an honorary citizen of Paris, Rome, Miami, New Orleans, Baltimore and Pittsburgh. In the most publicized event, former French President Nicolas Sarkozy ceremoniously feted the dual Israeli-French citizen at the Elysee Palace.
Schalit's family has also been front and center. His father, Noam, who led the media campaign for his son, announced less than a month after the release that he was entering politics and would run as a Labor Party candidate. Schalit's older brother, Yoel, met his girlfriend through the campaign — she was an activist — and news of their upcoming wedding made headlines in Israeli newspapers.
Israel's main TV entertainment show covered Schalit's visit to the set of the Showtime hit-series "Homeland," which is based on the Israeli series "Prisoners of War." The theme of the show, about how a released POW returns home to his family, is similar to Schalit's saga in some aspects.
While shooting an episode in Israel, the show's stars, Claire Danes and Mandy Patinkin, met with Schalit.
Such glitz and glamor has angered Israelis who opposed the Schalit deal, for personal or political reasons.
Ron Kehrmann, whose teenage daughter Tal was killed in a 2003 suicide bombing attack in Haifa, petitioned against the prisoner swap that freed those involved in his daughter's killing. Given this baggage, he said it would be more tasteful for the Schalits to keep a lower profile.
"I don't understand how you make an icon out of a soldier who was captured and then traded for so many murderers. Instead of putting that chapter away in a dark, little corner, they are turning him into an icon," said Kehrmann. "He doesn't interest me and I don't want to hear about him. Every time I hear his name, it reopens the wound."
Nine months after his release, the shine may be coming off the Schalit image.
"His legitimate choice to publish a sports column marks a new stage in the relationship between the Israel public and someone who until recently was been known as 'everyone's son,'" wrote Amir Ben-David, a columnist for the Walla news Web site. "It could mark the end of his immunity, his symbolic and practical extraction from the warmth and safety of the embracing consensus."
The sports column, co-written with veteran Israeli media personality Arik Henig, is an informal discussion about random sporting debates, such as who is the best soccer goalie in the world, and which is the greatest basketball team ever.
Schalit is said to be a die-hard sports fan and has said he gained strength from sports during his captivity, keeping up to date on the rare occasions his captors allowed him to listen to radio or watch TV.
Other than that, he doesn't appear to have any expertise, and his column has been dismissed by critics.
"Beyond his name, which is highlighted prominently, it is a column that doesn't have much sporting value. The result has not been very interesting," said Shlomo Mann, a sports critic for "The Seventh Eye," an online Israeli media review.
For the most part, the normally aggressive Israeli media has surprisingly respected his request for privacy and generally portrays Schalit as Israel's "national son" who can do no wrong after losing five years of his life.
Noam Schalit turned down an Associated Press request to interview his son, saying he was not yet ready to face the media — despite his public appearances and his own media presence.
Those close to Schalit also would not discuss his current state. Henig would not return phone calls, and the editor-in-chief of Yediot Ahronot declined comment, citing his privacy, as did a group that aids former prisoners of war.
"If Gilad chooses to be interviewed, that, of course, is his right," responded Orly Lieberman, secretary of a nonprofit devoted to helping former POW's. "Our choice is to allow him to rehabilitate his life without media coverage."