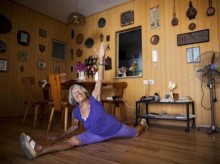 Agnes Keleti, a 91-year-old former Olympic gymnast, performs a split at her house in Herzliya. (AP Photo/Oded Balilty)
HERZLIYA, Israel — One of the world's most decorated Olympians is living quietly in Israel, a country that just wrapped up its participation in the world competition without a single medal.
Agnes Keleti, 91 now, won 10 Olympic medals in gymnastics, including five golds, for Hungary in the 1950s before defecting and emigrating to Israel.
That was just one chapter of her unusual life. Her Olympic heroics began when she was already at an age when most athletes have hung up their shoes — because she spent her prime sporting years escaping the Nazis during World War II.
Now living in an apartment near the beach in the coastal city of Herzliya, north of Tel Aviv, the retired gymnastics coach is still physically fit but has trouble recalling details of her Olympic heyday.
She couldn't find her precious hardware.
''Staying alive is more important than the medals,'' she said, after rummaging in vain through drawers in her apartment. ''The medals have no meaning.''
After the 1956 Games in Melbourne, Australia, she had more of them than any other woman in the world.
At 35, an age when most gymnasts have long retired, Keleti won four gold medals and two silvers, winning three of the four individual events — floor, bars and balance beam — and placing second in the all-around. The showing made her the top medalist of the games and the oldest female gymnast ever to win gold.
Together with her four medals from the 1952 Games in Helsinki, Finland, she became the top female medalist ever, trailing only Finnish runner Paavo Nurmi and American shooter Carl Osburn on the all-time list at the time.
Keleti said she never even wanted to be a gymnast. Her childhood dream was to be a cellist. Those and other plans changed with the Holocaust, when her family was driven from home and scattered across Europe.
She survived by taking on an assumed Christian identity. Her mother and her sister were saved by papers issued by Raoul Wallenberg, the Swedish diplomat in Budapest who rescued thousands of Jews.
Her father and other relatives perished in the Auschwitz concentration camp.
''He was a fantastic athlete,'' she said of her father. ''He's the one who got me into sports.''
After the war she resumed her training.
''For me, sports was really just a way to see the world,'' she said. ''Maybe that's why I never got nervous. People said they got scared before competitions. That never happened to me. Gymnastics was just a part of my life.''
During the 1956 games in Australia, the Soviet Union invaded Hungary, half a world away. Keleti, along with about half the Hungarian delegation, sought and received political asylum.
She emigrated to Israel the following year to compete in the Jewish Maccabiah Games. She married, had two sons and coached Israel's national gymnastics team for decades.
In 2002, she was inducted into the International Gymnastics Hall of Fame.
Now widowed, she maintains an active lifestyle, swimming and walking for more than an hour a day. She has a firm handshake and is flexible enough to touch the floor from a standing a position, hold her leg high above her head and even do the splits.
She followed the just-completed Olympics closely on TV.
Watching the athletes compete, he said she was struck by how much sports have changed and progressed since her days.
''It's developed too much. It's unbelievable the things they can do. It's not sports anymore, it's a profession,'' she said. ''Today I never would have succeeded. The gymnasts today are better at acrobatics than those in the circus. The things I see look impossible.''
Her 10 medals surpass the seven all of Israel's athletes have earned together over 60 years of competition, and she was disappointed with Israel's shutout showing this year.
''It's a shame that Israel didn't get a medal,'' she said, before adding with a smile, ''but I'm Israeli, too.''