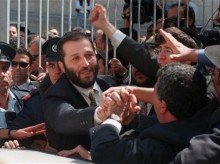 Arieh Deri heading to jail in 1999 (AP Photo)
JERUSALEM (AP) — The popular ultra-Orthodox Israeli politician Arieh Deri is preparing a comeback after a 13-year hiatus that included a brief prison term for accepting bribes.
A return of the former kingmaker to lead the powerful Shas Party could complicate Prime Minister Benjamin Netanyahu's bid for re-election: Under Deri, who is considered to be more dovish than Shas' current leader regarding concessions to the Palestinians, the party may no longer be the automatic Netanyahu coalition ally that it has been.
The spiritual leader of the party, Rabbi Ovadia Yosef, has yet to rule on whether Deri will replace Shas' current chief Eli Yishai. The two contenders have been waging a public battle over the 92-year-old rabbi's blessing.
If Deri is not reinstated as leader, he is expected to start a new party that focuses on social welfare and could steal votes away from Shas. Internal party polls have suggested Shas will fare much better in the Jan. 22 election with Deri at the helm, according to Israeli media.
The charismatic Deri, 53, was a rising young star who transformed Shas from a small, niche party into a major factor in Israeli politics before he went to prison.
Two months after being convicted in 1999, he led Shas to a record 17 seats in the 120-member parliament but could not serve in the next government because of his impending incarceration. He spent two years behind bars for taking bribes from religious seminaries when he was interior minister in return for future financing.
At the time, Yosef announced that Yishai would serve as a "custodian" leader until Deri could return to politics.
Because of his conviction, Deri was banned from running for office for seven years after leaving prison. During Deri's prolonged absence, Yishai solidified his leadership of the party and has become a prominent minister in a series of coalition governments.
Shas holds 11 seats in parliament, making it a midsize but still influential party.
Yishai, who currently serves as Netanyahu's interior minister, is more strongly aligned with the hawkish elements of Israeli politics who oppose broad concessions to the Palestinians. Deri is seen as more moderate, having served in the late Prime Minister Yitzhak Rabin's government when the peace process with the Palestinians began in the early 1990s.
Roi Lachmanovitch, a former Shas spokesman who served under Yishai, said he wasn't certain Deri would strengthen the party's prospects.
"At the end it all depends on the rabbi's decision and it is not based on polls," he said. "It is a principled ruling: Do you stick with the current loyal leader or reconnect with the mythical leader of the past?"
A split would hurt the party, and attempts were being made to find a compromise that would keep both men happy. The current formula looks to have Deri head the party, with Yishai remaining its most senior Cabinet minister in the next government.
As interior minister, responsible for the country's immigration policies, Yishai has been a controversial figure. He has led a much-criticized crackdown on African migrants and was also harshly criticized in an official report for failures in the government's response to a forest fire that killed 44 people in 2010. The Interior Ministry is in charge of the nation's firefighting force.
Shas has historically held enough seats to guarantee the sitting prime minister a majority in parliament. It has leveraged this influence to win powerful ministries with large budgets that can be directed to its core constituency of poorer, religious Jews of Mizrahi, or Middle Eastern, descent.
A Deri-led party, however, would have additional influence. While no official polls have been conducted, Shas' internal estimates are that Deri could draw more votes away from Likud, which is also popular with Mizrahi Jews.
Nitzan Chen, a former journalist who authored a book about Yosef, said the rabbi is interested mostly in whichever candidate can win the most seats — and therefore deliver funding to the party's religious institutions.
That would appear to be Deri, whose political appeal transcends the ultra-Orthodox world and who dreams of turning the party into a national force with broad appeal.
"Deri sees himself as a chairman who is not just an ultra-Orthodox leader, but a national leader," said Chen. "He offers Shas a wider worldview. He looks to represent not only the traditional voters but the proletarian as a whole."
Deri, unlike Yishai, also wouldn't automatically align himself with the prime minister on diplomatic issues.
Polls show Netanyahu and his right-wing bloc to be far ahead of all competitors. Deri is unlikely to change the overall balance of power, but he could make things interesting.
"The bloc is solid, but Deri could soften things within his party and within the coalition," said political commentator Hanan Crystal. "Deri is more seasoned and more pragmatic. He can hurt Netanyahu, he can moderate him, but he can't prevent him from becoming prime minister again."