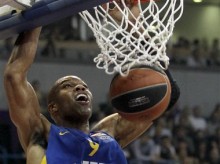 Alex Tyus dunks for Maccabi Tel Aviv in a Euroleague game (AP Photo/Darko Vojinovic)
TEL AVIV, Israel (AP) — Hoping to impress NBA scouts when Maccabi Tel Aviv faces LeBron James and the Cleveland Cavaliers next month, Alex Tyus has an important decision to make — whether to fast the previous day for the Jewish holy day of Yom Kippur.
It's just the latest twist in the remarkable journey of Tyus, a 6-9 power forward from St. Louis who decided to embrace Judaism with his future wife while playing basketball at the University of Florida.
Jewish-American players have long found a basketball refuge in Israel but the Jewish state has never seen anything like Tyus before: an African-American big man with no previous link to the religion who converted and embarked on a path that led him to the Israeli national team and a European championship run with the best team in the country.
"It was not part of the plan," the 26-year-old Tyus said before the team departed on an American tour that will also see them face the Brooklyn Nets. "When I first converted, some of my family members were like, 'Why?' They were really interested to know how did this come about."
For Tyus, the process began when he and Alli Cecchini — a standout volleyball player at Florida — began dating and started thinking seriously about the kind of family they wanted to have. Though Cecchini has some Jewish roots, both she and Tyus were raised Christian and came to Judaism more than anything out of curiosity about what was the best way to raise future children.
"We wanted something to bring them up on, to have some guidance," he said.
In Tyus' second year a Jewish roommate introduced them to the religion and its customs. The couple soon started attending events at the local chapter of Hillel, the Jewish student organization. Next, they turned to a conservative synagogue in Gainsville and quickly began the more than year-long conversion process. Rabbi David Kaiman of the B'Nei Israel congregation said he has encountered many young students seeking information on Judaism as part of spiritual journeys but not many who saw the process all the way through.
From the start, he said Tyus and Cecchini stood out.
"My impression was of an extremely mature couple that was amazingly connected, not only in their questions but also in their solidarity with one another," Kaiman said in a telephone interview from Gainsville, where the university is located. "They stuck to it and they ended up in Israel and embraced Israel so strongly."
Tyus held an NBA Draft party at the campus Hillel chapter in 2011, but he was not selected. With the NBA in lockout and his options limited, he casually mentioned the conversion to his agent, who suggested playing in Israel.
As a Jewish convert, Tyus was eligible for automatic citizenship. He landed in the southern port city of Ashdod, where, in its first season in Israel's top division, he helped the team make an appearance in the finals, averaging 13.3 points and 8.3 rebounds. He also became a stalwart on Israel's national team.
After a year in Italy, he returned to play for perennial powerhouse Maccabi Tel Aviv. The team has dominated Israeli basketball for decades and proved to be a breeding ground for future NBA players such as Anthony Parker, Sarunas Jasikevicius and Omri Casspi. The team also grew into a European powerhouse, winning five titles, but last year's roster was devoid of big stars and entered the European championship as a huge underdog.
After starting the season at the end of the bench, Tyus emerged as a major contributor down the stretch as the team upset heavily favored CSKA Moscow in the semifinals and Real Madrid in the finals to capture the European title in coach David Blatt's final international game before he became coach of the Cavaliers.
Dominated by foreign-players, Maccabi Tel Aviv is often accused by local rivals of being comprised of mercenaries with few ties to the country. But Tyus' spiritual connection has made him a fan favorite. He has many local friends, occasionally attends synagogue services and even speaks some Hebrew.
At this point in his career, Tyus said he could still be on the move and the pair of exhibition games against NBA teams could offer a launching pad toward the NBA dream that eluded him after a college career in which he played alongside future NBA pros Chandler Parsons and Nick Calathes.
"I got some feedback this summer and hopefully maybe I get the opportunity," Tyus said. "If not, I will be totally fine and happy staying overseas."
For now, his major dilemma is whether to fast the day before he may have to guard James. It's not quite Sandy Koufax sitting out a World Series game to observe the day of atonement, but it is part of Tyus' new life as a Jewish athlete.
"There was one time where I fasted and I had a practice and game the next day and it was a huge difference. I was very tired and sluggish," Tyus said. "But I may do it again this year."