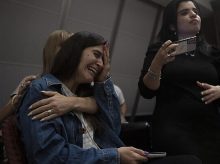 A relative of an Israeli missing since a terrorist attack by Hamas is overcome by emotion during a press conference in Ramat Gan, Israel, October 8, 2023. (AP/Maya Alleruzzo)
We're torn between wanting to know every detail and wanting to unplug and hold our loved ones tight, but the best we can do is counter evil with good. Op-ed published in The Times of Israel
It's been a week. A week since our country, our world and our very lives have been upended.
There is so much to say and yet no way to truly say it, so many ways in which our very existence will never be the same.
It's too early to state for certain the long-term impact of the brutal Hamas massacre of Israeli civilians but it's safe to expect it will affect every aspect of life in Israel and beyond. Much has already been written about the strategic, geopolitical and economic fallout, about how it could reshape Israeli society, the larger Middle East and the Jewish Diaspora. It's sent shockwaves across the globe and reverberated even across the worlds of business, sports and entertainment. It's being analyzed from endless angles. It's touched every walk of life and it will likely become a defining pivot point in our history to which we look back as a before-and-after moment.
But we can't go there yet because the most immediate impact has been psychological.
A week later, we are still a nation in mourning, a nation in shock, a nation in trauma. It's not just those who have been maimed, tortured, raped and abducted. It's not just the families and friends of those who have been murdered and mutilated. It's not just those who have survived this unspeakable pogrom and are still recovering from their physical and emotional wounds. It's all of us.
The sheer scope of the carnage and how closely-knit Israel remains has left few in this country without a first- or second-degree personal connection to the tragedy. Even those less directly connected have been glued to their cellphones and television screens, unable to detach from graphic images and monstrous accounts that seemed unimaginable just a week ago. We want to know everything, but at the same time also want to unplug and just hold our children tight.
We've been bombarded not only with rockets but also information, too much of it to coherently process our thoughts and feelings. Of the thousands of messages and posts that have poured in this week, there is one that I found to have reverberated above all others. It was from an Israeli psychologist named Danny Matos.
"What we are experiencing now is trauma – personal, collective and intergenerational. It's a lethal combination," he wrote. "For most of us, it is the first such trauma of this scale. Even for those accustomed to our security situation this is of a different magnitude. As such, it ruptures our internal systems and that is the reason most of us are left without words, without the ability to grasp it, in a state of paralysis, shock and helplessness."
Indeed, it feels that way and his words have at least given me a small dose of comfort, providing license to feel scared, desperate, frustrated, fragile, angry, overwhelmed and confused.
When you are in trauma, you often respond in the most visceral of fashions: fight or flight.
All around us we are witnessing the full force of the Israeli fighting spirit. Masses are not only being drafted into emergency reserve military service but also volunteering far beyond the call of duty. The mobilization of the home front has been even more impressive with everyday Israelis donating their homes, their money and their blood. There have been countless grassroots initiatives that have drawn such a massive response that it has become very difficult to find volunteer opportunities since every online appeal is addressed immediately in real time.
There is also an understandable instinct to flee for your safety, especially for those with young children and those who did not grow up with the Sabra mentality of bucking up when the going gets tough around here.
As Matos noted, some are also going to hunker down, freeze and struggle to function. "Any of these expressions," he wrote, "is normal inside this larger abnormality."
The shock and suffering are compounded by a string of existential questions that sear the soul and tear at your very being:
Will we ever feel safe again?
Will we ever be able to live as neighbors, let alone still believe in peace, with the people who did this to us?
Will we ever trust our government and military again?
Will our country now come together or continue to tear itself apart?
Is this the kind of place to raise a family?
And if not, where do we go? To the civilized Western world where large groups have publicly and unabashedly celebrated these recent atrocities?
Eighty years after the Holocaust, will Jews ever escape the scourge of antisemitism and find refuge from those that seek to destroy us?
Such questions at this moment are likely the result of bullet point #18 of Matos' 30-point manifesto: "Beware of pathos. Edges will now appear everywhere, because that's what trauma and survival generate – a lot of black and white, and very little grey."
And therefore, now is not the time for grand statements, bold prognostications and major life decisions. That will come later. Now is the time to heal.
Hamas will surely be pummeled. The current Israeli government will likely eventually be toppled for its hubris, misconceptions and misdeeds. And Israel will hopefully rise from the ashes to become a better version of itself.
For now, though, we, the individual people of Israel, must suffice with doing our part in countering evil with good. We must help our country when we can, help others when we should and mostly help ourselves.
"Be kind to yourselves," Matos advises in his final point. "There is a great, deep and abysmal sadness. Maintain a horizon of one day at a time. Surround yourself with love. Alongside the weapon that fires, basic goodness is no less of a powerful weapon."