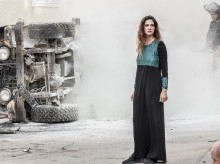 This image released by Netflix shows Rona-Lee Shim'on in a scene from "Fauda,"an action series based on the tedium of the never-ending Mideast conflict. (Ronen Akerman/Netflix via AP)
JERUSALEM (AP) — When the Israeli creators of the Netflix show "Fauda" first came up with its concept, they doubted whether an action series based on the never-ending Mideast conflict would make for must-see TV.
"Why would somebody want to watch in their spare time something that is right outside their door?" pondered Avi Issacharoff, a longtime Arab affairs journalist in Israel. "We wanted it to be realistic, but we didn't know if people who live with this crap 24/7 would be interested."
But even with a primarily Arabic dialogue, it became a hit in Israel, winning awards and accolades for humanizing both the Israelis and the Palestinians.
It surprisingly also garnered fans among Palestinians and other Arabs before earning acclaim in Hollywood for depicting the drama of the conflict and its human cost on both sides. No less a thriller authority than Stephen King lauded it on Twitter as "all killer and no filler."
Netflix, which doesn't release viewership numbers, calls it a "global phenomenon" available in 190 countries. Season 2 will be released on May 24.
Season 1 chronicles the adventures of an undercover Israeli commando team who immerse themselves in the heart of Palestinian society to capture a terrorist behind a wave of suicide bombings.
In addition to the shootouts and chases, it also delves into the politics and personal drama of the commandos and terrorists, depicting their motivations and family lives, often in a sympathetic manner.
The creators, though they identify as Zionist Jews, don't shy away from showing the uglier sides of the West Bank occupation and the struggles of the other side. They even look to smash one of the greatest taboos of all, exploring the possibility of an Israeli-Palestinian romance.
"I think that's the secret of the show — everyone can connect to their narrative and find something to identify with," said co-creator Lior Raz, who also plays the lead role of Doron Kavillio. "I just got a message from someone in Turkey who said she hated Israeli soldiers but now understands the complexities better, and some Israelis have also begun to understand the Palestinians better."
Though the plot is fictional, many elements mirror that of Raz's own life. He too was an undercover commando who carried out operations similar to those depicted in the show, and during his military service he had a girlfriend who was killed by a Palestinian attacker — like one of the characters.
He turned to acting after a stint as Arnold Schwarzenegger's bodyguard. A chance encounter with Issacharoff, a childhood friend, spawned the idea for a show that combined their backgrounds. At first, Israeli distributors didn't want to touch it. Ultimately, the YES satellite network ran a few episodes and then extended its run after it became a local sensation.
Raz said the most he had hoped for was that it would perhaps inspire an American spinoff series, following hits like "Homeland," ″Hostages" and "In Treatment" that were based on Israeli productions. But Netflix went a step further, running it as-is in its original Hebrew-Arabic form.
Raz said he credits the success of "Narcos" for opening the door to non-English language programming in the United States. Netflix has already commissioned Raz and Issacharoff to write two new shows for them.
Einav Schiff, a TV columnist for the Yediot Ahronot newspaper, said the natural interest in Israel and the Middle East was not the primary source of the show's success.
"Bottom line, it is good TV. It's what you would come to expect from American and British productions. It's what an action show should look like," he said.
Delving into such sensitive terrain, though, has not come without its critics. Hamas militants have blasted it as Zionist propaganda. The anti-Israel BDS boycott movement says it aims to "whitewash the occupation" and has called on Netflix to remove it.
Such criticism seems likely to grow given the recent bloodshed on the Gaza border, where Palestinians have tried to breach the fence with Israel and dozens have been shot dead.
Even more moderate Arab voices have been off put by the lovefest for "Fauda," the Arabic word for "chaos."
Columnist Sayed Kashua said the series gave Israelis a sense of superiority by claiming it was popular with Arabs, while it served their own narrative.
"You already have military victories and cultural control in marketing the Israeli occupation policy: At least give the Palestinians the option of hating 'Fauda,'" he wrote in Haaretz. "There is nothing in 'Fauda' that addresses the reality in the territories."
In a case of life imitating art, students at the Palestinian Beir Zeit university in the West Bank captured footage in March month of undercover Israeli commandos arresting the head of the student council there. Israeli TV news broadcasts billed it as a real-life 'Fauda' scene.
The chief antagonist of Season 1, Abu Ahmad, is based on Sheikh Ibrahim Hamed, a Palestinian militant convicted of murdering 54 Israelis. But the Arab-Israeli actor who portrayed him tried to downplay comparisons to the contemporary conflict.
"I think some people are confused. This is art. It's not real," Hisham Suliman said with a chuckle. "In reality, there are no superheros."