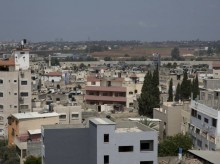 A general view shows a crowded Palestinian neighborhood in Qalqiliya (AP Photo/Nasser Nasser)
QALQILIYA, West Bank (AP) — Last year, Prime Minister Benjamin Netanyahu's government quietly passed one of its most significant concessions to the Palestinians: a plan to alter the West Bank map and turn over a small chunk of Israeli-controlled territory.
But after an uproar by Israeli settler leaders, the government appears poised to cancel the move — a decision that could upset nascent U.S. efforts to restart peace talks and take away a rare piece of relief for the residents of this overcrowded city.
As the West Bank's most densely populated Palestinian city, Qalqiliya has been eagerly awaiting implementation of the Israeli plan that would allow it to double its size by expanding into land that has until now been off-limits.
"We desperately need this plan because of the density," said Mayor Hashem al-Masri. "It will be a catastrophe if we can't expand. It will feel like someone is trying to drive us out of our city."
The fate of Qalqiliya, which lies along the de facto Israeli border and is surrounded on three sides by Israel's separation barrier, touches on one of the conflict's thorniest issues: the battle over the 60 percent of the West Bank known as Area C.
Under interim peace accords reached two decades ago, Area C remained under full Israeli control, and Israel has repeatedly rejected calls to allow large-scale Palestinian development there.
These restrictions have made life difficult for Qalqiliya's 53,000 residents, who live on just over 1.5 square miles (4 square kilometers) of land. Because of the separation barrier, the only way it can expand is east — into privately owned Palestinian lands in Area C where Israel has barred construction. The plan calls for building more than 14,000 new housing units, an industrial park, playgrounds, a waste management plant and a cemetery.
Qalqiliya has been among the quietest cities in the West Bank, and has even been singled out by Israel's nationalist defense minister, Avigdor Lieberman, as a model. Its planned expansion is one of the flagships of Lieberman's "carrots and sticks" policy toward the Palestinians.
Qalqiliya was once a regular shopping destination for Israelis. Palestinians would cross into Israel freely for jobs, and some locals can still fondly recall leisurely riding their bikes to Israeli beaches on the Mediterranean. But all that changed after the second Palestinian uprising in 2000, when a campaign of suicide bombings in Israel prompted tougher security measures and eventually a barrier that cut the West Bank off with walls and sophisticated fences.
It's now a sleepy farming city, best known for its zoo, a decrepit menagerie by Western standards that is famous for the taxidermy of its deceased animals. Earlier this year, a caged bear bit off the arm of a Palestinian child who apparently tried to feed it.
With the backing of the Israeli military, Israel's Cabinet approved the expansion plan last year. But settlers, angry that their own housing construction permits had been limited under U.S. pressure, launched a campaign against Lieberman and Maj. Gen. Yoav Mordechai, who heads the Israeli defense body for Palestinian civilian affairs, accusing them of being soft on Palestinian violence and overstepping their authority.
Settler leaders have derided the plan as a "reward for terror." They also noted that Qalqiliya sits next to a major Israeli highway at the country's narrowest point, just 15 kilometers (nine miles) from the Mediterranean Sea.
Several Cabinet ministers have since claimed they didn't know what they voted for, and Netanyahu has said he couldn't recall the details. He has ordered a new vote on the plan, which is expected soon. His office would not comment.
Education Minister Naftali Bennett, head of the pro-settler Jewish Home Party, said the Palestinians can build "unconstrained" in areas under their authority. But he said the plan involves Israeli-controlled land in a strategic location.
"I think it's a profound mistake," he said in an interview. "It just doesn't make sense." Bennett, a key power broker in Israeli politics, said he expects the plan to be rejected when it comes up again for a vote — reportedly as soon as late Wednesday.
In a tour of a nearby Jewish settlement, Lieberman reiterated the expansion was into private Palestinians lands that Jews had never set foot upon and accused the detractors of pedaling empty slogans.
"Qalqiliya is just the trigger, it is just the excuse. There is a real argument in the right, between a responsible right and a populist messianic right," he said Wednesday.
Under the interim Oslo Peace Accords, areas of the West Bank, which Israel conquered in the 1967 Mideast war, were divided into various categories. The vast majority of Palestinians live in areas A and B, which are under partial or full Palestinian control, but make up just 40 percent of the land.
All Israeli settlements are in Area C, and Israel has been reluctant to give Palestinians construction permits there, often demolishing what it calls illegally built structures. Meanwhile, Israeli settlers have been pushing to expand the settlements.
The Palestinians seek the West Bank as part of a future state and consider all settlements illegal, a view that is shared by most of the world.
As Qalqiliya officials await Israeli approval, residents have already begun building concrete structures in outlying farmlands overlooking Israeli communities, even at the risk of being demolished.
Nimmer Arif, 70, said he had already purchased a plot of land in Area C to build homes for his four sons and four daughters but could not begin construction because it remained under Israeli administration. "I have been waiting for a year and a half to document it and I don't know when this can happen," he said.
Rassem Khamaisi, a professor of urban planning at Haifa University who drew up the planned expansion, says Israel must allow the city to breathe, with or without a peace deal.
"The years of occupation have not allowed for natural growth and it's an injustice to leave people locked in like this," he said. "Qalqiliya will not disappear."
Abdel-Momen Afaneh, a senior city administrator, said the city had a natural interest in maintaining calm since 4,000 residents have permits to work in Israel. But if strangled, he said, the tough conditions could breed violence.
He said the proposed expansion, already scaled back to address Israeli security concerns, is the absolute minimum needed for a city projected to reach 80,000 residents within 20 years. "If this is rejected, the city will not rise again," he said.
At City Hall, the mayor rejected any warnings that its expansion would harm Israel.
"Who is threatening whom?" al-Masri asked. "We just want our rights, our natural right to grow."