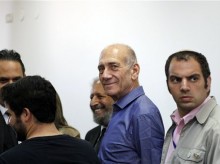 Ehud Olmert after hearing his verdict (AP Photos/Ariel Schalit)
JERUSALEM –An Israeli court cleared former Prime Minister Ehud Olmert on Tuesday of the central charges in a multi-case corruption trial that forced him from power, but convicted him of a lesser charge of breach of trust.
The verdict was seen as a major victory for Olmert, who stepped down as prime minister in 2009 to battle allegations that included accepting cash-stuffed envelopes from a supporter and pocketing the proceeds from a double-billing scam on overseas travel.
His conviction on the lesser charge of "breach of trust" made him the first Israeli prime minister ever convicted of a crime. Beating the main charges could significantly rehabilitate Olmert's public standing and shift the focus to questions on whether an overzealous prosecution unnecessarily hounded him from office.
Olmert's legal troubles are far from over, however. He will be sentenced in September and is currently standing trial in a separate real estate bribery case. For now at least, a return to politics for the 66-year-old Olmert appears unlikely.
Casually dressed in a blue button-down shirt, Olmert appeared calm and relieved as the verdict was delivered in the Jerusalem district court. As he left the courtroom, the former prime minister had a wide smile and kissed defense lawyers and advisers.
"There was no corruption. There was no taking of money. There was no use of money. There were no cash envelopes. There was nothing of what they tried to attribute to me," Olmert told reporters defiantly afterward, saying the lone conviction was merely a "procedural lapse" from which he would draw the necessary lessons.
The verdict, which capped a two-year trial, covered three separate allegations: illegally accepting funds from an American supporter, double-billing Jewish groups for trips abroad and channeling state grants to companies linked to a close friend. He was acquitted in the first two cases and found guilty in the last.
The first case was the most dramatic, with Jewish American businessman Morris Talansky flown in to testify that he handed the former Israeli leader envelopes stuffed with hundreds of thousands of dollars in cash, painting him as a high-living traveler fond of fancy hotels and first-class travel.
The second case of double-billing assured his resignation, with Olmert unable to withstand public pressure to step down as the corruption charges multiplied.
The court convicted a close Olmert aide, Shula Zaken, of fraud and breach of trust in that case, but said there was "reasonable doubt" that the prime minister knew what had happened. It noted that Zaken refused to testify in the case, making it difficult to convict Olmert.
In the third case, the court convicted Olmert of breach of trust for steering job appointments and contracts to clients of Uri Messer, a close associate, when he served as minister of industry and trade. The court called it a "harsh conflict of interests between his commitment to the public as a senior public servant and his personal commitment to advocate Messer."
The charges were filed after Olmert became prime minister in 2006, but stemmed from his time as mayor of Jerusalem and later as a Cabinet minister.
After he was indicted in 2008, he announced his resignation but remained prime minister until February 2009 elections that brought his successor, Benjamin Netanyahu, into office.
The proceedings involved 152 court sessions over two years, producing 4,000 pages of testimony. The case first broke more than four years ago.
Olmert still faces many more months in court. Any thought of a political comeback would likely have to wait until the conclusion of his other trial, involving a bribery scandal surrounding a controversial Jerusalem real estate project.
Moshe Negbi, Israel Radio's legal analyst, said the Sept. 5 sentencing will decide Olmert's political future. If the court says the conviction amounts to "moral turpitude," he would be sentenced to at least three months of prison time or community service and be barred from re-entering politics for seven years.
"As for the moral turpitude, I am not sure because even though Olmert failed, his breach of duty was not accompanied with any benefit for himself," said Emanuel Gross, a legal analyst at the University of Haifa, adding that a jail sentence appeared highly unlikely.
Olmert's lawyer, Eli Zohar, said there was no legal precedent for jail time on a single count of breach of trust. He said he would not appeal this conviction, and that it posed no deterrent for Olmert to eventually return to political life.
"He was almost totally acquitted of all the charges he was charged with, despite one which is insignificant for his future as a possible candidate," Zohar told The Associated Press. He said the conviction amounted to an ethical breach, rather than a legal crime.
Prosecutors took solace in the lone conviction, saying the court ruled a public servant could not engage in matters in which they had vested interests. They said they would study the 742-page verdict before deciding whether to appeal.
Olmert entered politics in 1973 with the hardline Likud Party. But late in his career, he underwent a transformation, adopting dovish views in favor of broad concessions to the Palestinians.
He bolted the Likud with then-Prime Minister Ariel Sharon to form the centrist Kadima Party in 2005, leading it to victory in elections the following year after Sharon suffered a debilitating stroke. As prime minister, Olmert conducted intense peace talks with the Palestinians, offering a near-complete pullout from the West Bank before the talks fizzled at the end of his term.
Olmert claimed to be close to an accord just as he was driven from the premiership and the pileup of corruption charges undermined his efforts of reaching a peace deal with the Palestinians. Negotiations have been largely frozen since, leading some to bemoan how a bombastic case that altered Mideast peace efforts ended with a whimper.
"Of the indictment that led to the changing of the government in Israel, and in effect the course of history, remains a very small and insignificant piece," said Jacob Galanti, a top Olmert aide.
Olmert's term was also marked by the 2006 war with Lebanon's Hezbollah and a bruising offensive in Gaza in early 2009 that largely halted years of Palestinian rocket fire. Popular support for his Kadima also slipped dramatically in the three years since Olmert left politics.
Israel's leadership has been tarnished multiple times by convictions in recent years, and members of Olmert's own Cabinet are currently sitting in jail. His former finance minister was sentenced to five years for embezzlement, and another member of his Cabinet was sentenced to four years for taking bribes. Neither case occurred while the two were in the Cabinet.
And last year, former Israeli President Moshe Katsav was sentenced to seven years in prison after being convicted of rape and other sex crimes prior to his presidency.