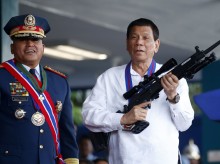 Philippe President Rodrigo Duterte posing with rifle (AP Photo/Bullit Marquez)
JERUSALEM (AP) — The first-ever visit of a leader of the Philippines is sure to be touted by Prime Minister Benjamin Netanyahu as another success in his campaign to enhance Israel's relations across the globe. But critics say this outreach has come at a cost, with Netanyahu cozying up to authoritarian leaders, some of whom are guilty of human rights abuses.
Netanyahu takes great pride that under his leadership Israel has found new friends in Europe, as well as in far-flung countries in Asia, Africa and Latin America that long sided with the Palestinians at the United Nations and other global bodies.
But while many of Netanyahu's new allies have offered blanket support for Israel, or at least indifference to its conflict with the Palestinians, some have also voiced borderline anti-Semitic sentiments and adopted a revisionist approach to the most painful chapters of Jewish history.
The Philippines' foul-mouthed president, Rodrigo Duterte, who has cursed out everyone from former U.S. President Barack Obama to God, arrived in Israel on Sunday for a four-day visit. It's the first Philippine presidential visit since the countries established diplomatic relations in 1957. He is expected to lunch with Netanyahu, meet other top officials and visit the country's Holocaust memorial. He is also expected to sign a major oil deal and view an arms display.
His forces are accused of killing thousands in anti-drug raids since he took office in 2016. Duterte drew outrage that year when he compared his anti-drug campaign to the Holocaust, and himself to Hitler, saying he would be "happy to slaughter" 3 million addicts. He later apologized. More recently, he forcibly kissed a woman on stage and said there would be many rape cases in a Philippine city "if there were many beautiful women."
Israeli human rights activists plan to protest the visit and have encouraged President Reuven Rivlin not to meet Duterte. "Certainly there is no place for a mass murderer and a person who supports rape, shooting women in their sexual organs and bombing schools to meet with Israel's president," wrote the group, headed by human rights attorney Eitay Mack.
Netanyahu's critics accuse him of giving a pass to authoritarian leaders out of political considerations. Here's a look at some of Netanyahu's other friends on the world stage:
___
VIKTOR ORBAN
Netanyahu welcomed the four-time Hungarian prime minister for a visit in July as a "true friend of Israel."
Orban drew criticism last year for praising Miklos Horthy, Hungary's World War II-era ruler, who introduced anti-Semitic laws and collaborated with the Nazis.
Critics have also accused Orban of employing anti-Semitic tropes against the Jewish Hungarian-American billionaire philanthropist George Soros during his re-election campaign. In denouncing Soros, Orban said Hungary's enemies "do not believe in work, but speculate with money; they have no homeland, but feel that the whole world is theirs."
Despite global Jewish condemnation of those remarks, Netanyahu praised Orban for combatting anti-Semitism and thanked him for Hungary's pro-Israel stance.
Orban, who has exhibited increasing authoritarianism at home, has cast himself as the champion of a Christian Europe and adopted an aggressive stance to halt the flow of African and Muslim migrants through Hungary.
___
ANDRZEJ DUDA
Netanyahu took a lot of heat for striking a deal with the Polish president over his country's controversial Holocaust speech law, which would have criminalized blaming the Polish nation for crimes committed against Jews during World War II.
Critics said Netanyahu appeared to capitulate to the claim that Poles were only victims of the Nazis, while historians say anti-Semitism was deeply rooted in pre-war Poland and many Poles collaborated in the genocide.
Poland and Hungary have increasingly sided with Israel in the Mideast conflict, in contrast to Western European powers, which have sympathized with the Palestinians and pressed for renewed peace talks.
Duda's Law and Justice party, meanwhile, has steadily chipped away at Polish democratic institutions while aggressively trying to minimize its citizens' role in killing Jews during and after the Second World War.
___
VLADIMIR PUTIN
Netanyahu is one of the few world leaders to enjoy warm ties with both the Russian and American presidents. Netanyahu has made frequent visits to Moscow in recent years to meet with Putin and coordinate Israeli operations in neighboring Syria with those of Russian forces.
Though Russia has traditionally backed Israel's Arab neighbors, Netanyahu has indicated the Putin backchannel has helped keep Israel out of trouble in Syria's civil war and would be beneficial in getting arch-enemy Iran's forces out of there as well. He has been wary of ever criticizing Putin, who has been accused by the West of meddling in the 2016 U.S. election, poisoning former spies and cracking down on dissidents.
___
DONALD TRUMP
After a rocky eight-year relationship with Barack Obama, Netanyahu has relished Donald Trump's warm embrace. In a break from his predecessors, Trump has refrained from criticizing Israeli settlement activity and delivered Netanyahu two major international gifts — recognizing Jerusalem as Israel's capital and pulling out of the Iran nuclear deal. Trump has also won Israeli praise for drastically cutting funding for aid to the Palestinians.
Netanyahu has vouched for Trump when the president's critics have accused him of failing to counter the anti-Semitic rhetoric of some of his supporters and of downplaying the rise of white nationalists, including those who marched in Charlottesville last year under the slogan "Jews will not replace us."
At times, Netanyahu also has seemed to follow Trump's lead. The Israeli leader has denounced the media, the legal system and other perceived opponents in the face of growing legal problems — often using social media platforms to unleash his attacks.