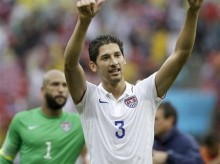 United States' Omar Gonzalez celebrates after qualifying for the next World Cup round following their 1-0 loss to Germany during the group G World Cup soccer match. (AP Photo/Ricardo Mazalan)
SAO PAULO (AP) — Landon Donovan is still playing a role for the U.S. World Cup team: supporting defender Omar Gonzalez, his Los Angeles Galaxy teammate.
After injuring his left knee during a Major League Soccer game May 3, Gonzalez was supplanted in the U.S. starting lineup by center backs Geoff Cameron and Matt Besler. Gonzalez sat out the Americans' opener against Ghana, made his World Cup debut during second-half injury time against Portugal and replaced Cameron in the starting lineup for Thursday's 1-0 loss to Germany, when he made several outstanding clearances.
Watching from California after being cut from the roster, Donovan supplies tips.
"I send messages back and forth with Landon," Gonzalez said. "He's been great for me, just giving me advice, and it's been great having him there just to talk about things."
A three-time MLS All-Star, the 6-foot-5, 210-pound Gonzalez is one of the league's top defenders and helped the Galaxy win back-to-back titles in 2011-12. He agreed last August to a multiyear contract paying $1 million in base salary this year and $1.25 million in total compensation, and a strong showing at the World Cup could lead to the 25-year-old being sold to a European club.
After whiffing on a third-minute clearance, when the ball bounced through his legs, Gonzalez was a defensive force against the Germans, blocking shots and hoofing the ball to safety.
Born in Dallas to Mexican parents and eligible to play for both nations, Gonzalez played for the U.S. at the 2005 Under-17 World Cup. He was seen as a key player for this four-year cycle and made his national team debut during an August 2010 exhibition against Brazil in New Jersey — the Americans' first game after losing to Ghana in the second round of that year's World Cup.
He was voted MLS Defender of the Year in 2009, but his career was sidetracked in January 2012, when he was loaned to Nuremberg of Germany's Bundesliga. In his first training session, he tore his left anterior cruciate ligament in a collision with Timmy Chandler, his American teammate. He returned that July 4 but didn't rejoin the national team until January 2013 after a two-year absence.
Gonzalez started the U.S. team's first eight games last year in the final round of World Cup qualifying and seemed set to start in the tournament before the latest injury. When the Americans opened training last month at Stanford, California, he worked on his own before joining the full training sessions about a week in. He was limited to second-half substitute appearances in the warmup games against Azerbaijan and Nigeria, and he didn't appear at all against Turkey.
Then U.S. coach Jurgen Klinsmann told Gonzalez he was starting against Germany.
"I just said, 'OK, I'm good to go,' and there wasn't much else to be said," Gonzalez recalled Saturday. "For me, not playing in the lead-in games and being on the bench in the first two games, you can get down on yourself, but the good thing is that I have good people around me."
One of his biggest backers is left back DaMarcus Beasley, the first American to play in four World Cups.
"He's young, he's hungry and he always wants to do more. He wants to better himself every day," Beasley said. "From an older guy looking on a younger guy, you know it's always great to see that the U.S. program is in great hands with guys like that, with that mentality."
Gonzalez said he didn't know whether he would start Tuesday in the Americans' second-round game against Belgium. He's just happy to be healthy and helping the U.S.
"I keep on telling myself: 'Wow, I'm here playing at the World Cup in Brazil,'" he said. "I don't think it is really going to set in until a few weeks after I'm back home and just have time to really sit down and think about this amazing experience."